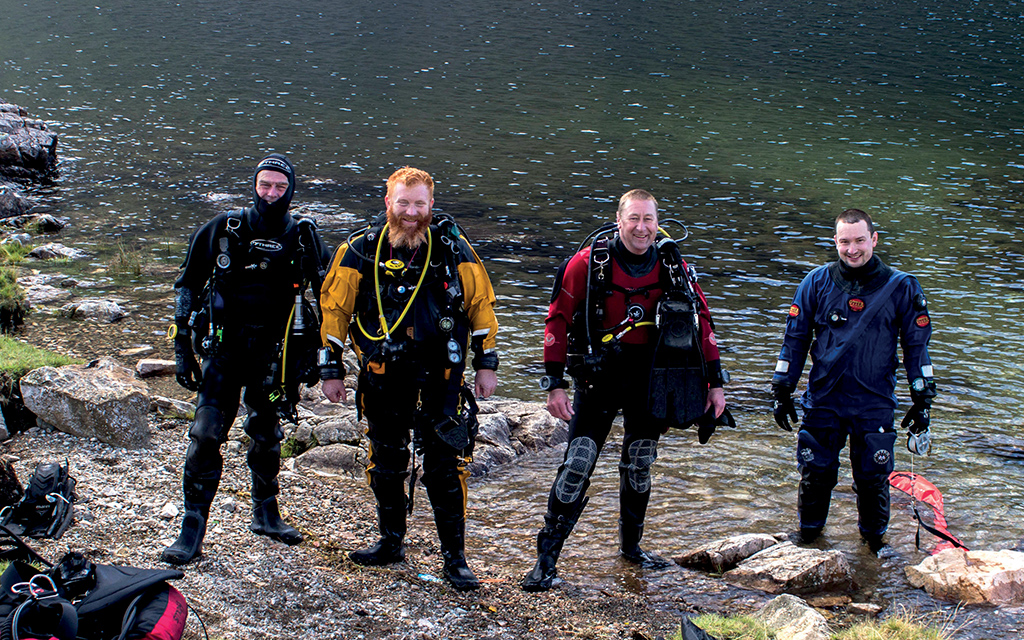 Kristina Pedder interviews a Lake District dive club with a rich history, now looking to recruit young members.
At 50 years young, Kendal and Lakes Sub Aqua Club is changing the way it attracts and trains new members by forging a relationship with a local school, using the eLearning and other offers from BSAC, and engaging in a local centre partnership. Members of this lakeside club have a wide variety of interests, including scenic diving, wreck and technical diving, all reflected in the offer to new members.
When was the club formed?
In 1972 a group of like-minded people who had already started diving got together as a dive club. In December of that year, that club joined BSAC to become branch number 546. Our main social event of 2023 will be a dinner to celebrate the club's 50th anniversary. We have been actively tracing and inviting past members of the club, especially from the early times. If that's you, then please get in touch.
Tell us something from your club history…
A few years back, members discovered a mortar bomb in Windermere while on a regular club dive and contacted bomb disposal. It was made safe by the Royal Engineers before (the then) Prince Charles was due to visit Windermere. Back in 1997, club members discovered a body in Coniston Water, a find that culminated in an arrest and prosecution. On another occasion, members recovered a safe that was thrown in the river Lune at Devils Bridge in Kirkby Lonsdale. On land, we always help out at the Cumbria annual steam gathering by manning the ticketing and providing marshalling, for which we receive a very welcome donation to club funds.
Who are your current members?
They are a mixture of people; with a core of active, older divers, as you tend to see in many branches. Only one is a youth member, but it is great that they have qualified as an Ocean Diver. At the start of the season, we had: two trainees, two Ocean Divers; four Sports Divers; five Dive Leaders; eight Advanced Divers and a First Class Diver in our ranks.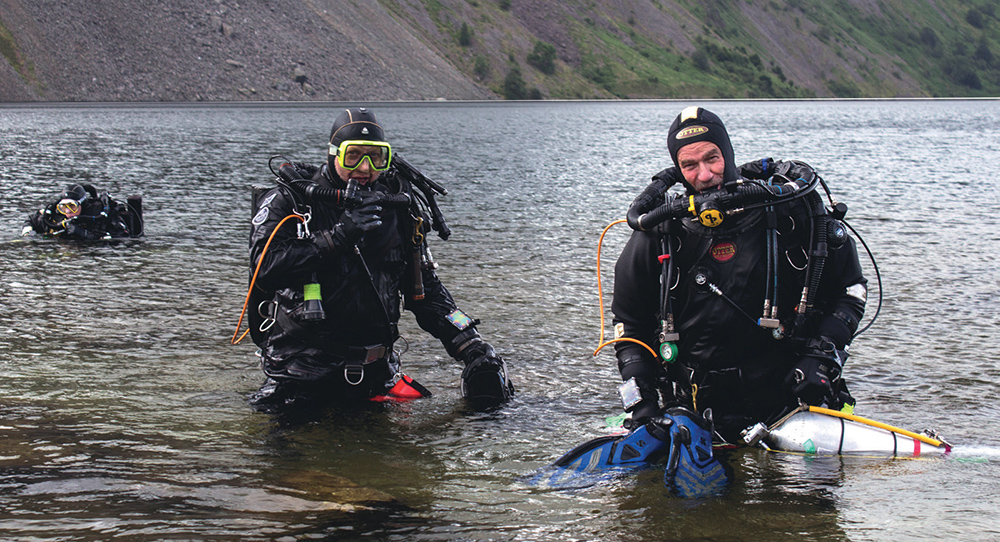 Is the membership growing or shrinking?
We are still recovering from lockdown and have just 22 active members. Numbers were shrinking before and during Covid, but are now showing good signs of growth in 2023. We want to increase our membership further, hoping to lower the average age at the same time.
How will you do this?
We asked some questions and the answers showed that we needed to be more accessible to people. To start with, we did simple things like updating all the links on our website and renewing out-of-date contact details for the branch on the HQ website, which brought tangible, immediate results. By contacting Sandra at HQ and completing a simple form, we made it so that anyone could join our branch online, via the BSAC website. We enabled the option to pay branch subscriptions monthly, which was popular. People value a quick response and now everyone who contacts us gets a reply within 24 hours. Anyone wishing to join our branch can do so with a few clicks.
How soon did you see results?
These simple steps have dramatically cut the time for those wanting to join our branch from weeks (in the past) to a few minutes. We started the process during February and to date have 24 potential new divers listed. Seven have joined as full members already, and we invited the rest to a try dive.
How did you manage a bigger group of trainees?
One of the main barriers to training is always time and availability, not just of physical resources but also of instructors and students, who frequently have work and other commitments. We looked at ways to cut down the training time for students and now centre the learning around the needs of the student. By concentrating on unblocking training and introducing multiple pathways to learning – using traditional club-based, BSAC eLearning, Zoom sessions and teaming up with a partner dive centre – we offer a variety of routes for newer divers wanting to join us in the water. We have reworked our pricing structure to take account of different methods, so new members are now offered a choice.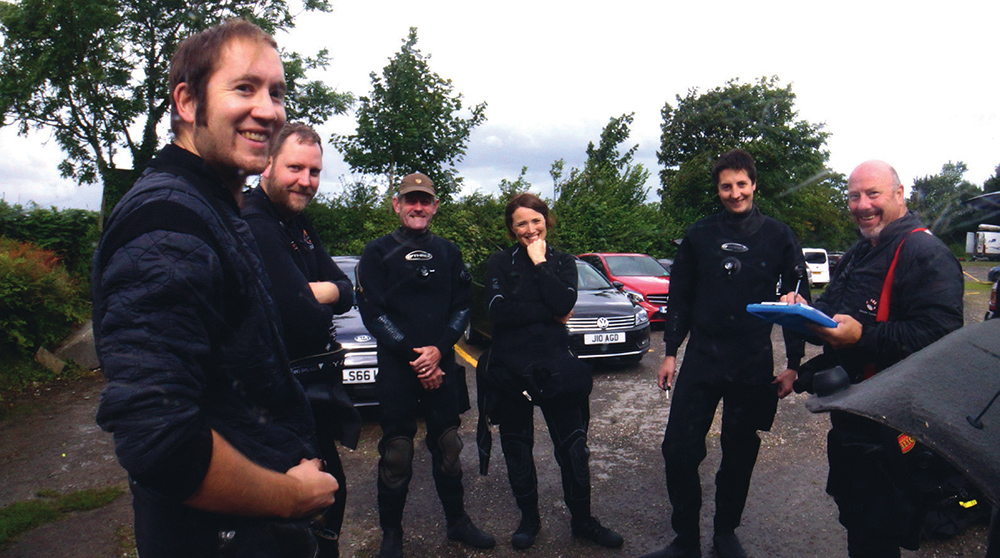 Does the club have many resources?
Our main attraction has to be the compressor and gas-mixing facility, which benefits all members from our newest trainees to our mixed-gas closed-circuit rebreather divers. It enables us to offer specialised training such as compressor courses, nitrox mixing and gas blending. We have just negotiated time at a local school pool, which will allow us to more easily train students within the branch, something that has been a barrier in the last couple of years. We have offered the school a series of try dives for their students, and have received a very positive response, so we are busy arranging dates.
How many active trainee divers do you have?
We have two divers just starting training, with a potential four more starting Ocean Diver soon. We are fortunate to have a strong instructor team so we can organise training as needed rather than making students wait. A Sports Diver course is already underway with a different instructor team, another benefit of having plenty of instructors among our members. One Dive Leader trainee is in the middle of practical skills training and we have offered Advanced Diver training to five members. We have found the new BSAC app very useful because instructors can easily follow the progress of students as they complete each stage of the theory course.
Who is in the instructor team?
We have 10 instructors just waiting to help you with your training: an Assistant Diving Instructor; five Open Water Instructors; four Advanced Instructors; three of our team are also Snorkelling Instructors. Depending on how much time an Ocean Diver student has, we can arrange training with the help of our local partner commercial centre or in the traditional BSAC way on a weekly basis with the club. Two of our most recent new members used the centre partnership method.
What other training is popular with members?
To start the season in January we ran a basic life support, automated external defibrillator and first aid update evening for our whole instructor team, to make sure we were all up to date. A recent photo workshop with upcoming underwater photographer Roisin Maddison proved very popular with members. Accelerated Decompression Procedures probably gets the most interest of the Skill Development Courses. Compressor courses are a must for anyone wanting to fill cylinders and we are encouraging all members to take part in a Rescue Management course in the near future.
Where do you carry out your training?
Pool access is very limited in this area, and when available it is expensive. As we mentioned earlier, we have just successfully negotiated pool time with a local school and are planning some try dives. For sheltered water training, we use the nearby inland dive site Capernwray, which has suitable staged platforms and lots of interesting objects. As depth for more advanced diver grade training progresses, we can easily go to one of our favourite local lakes: Coniston Water (the fifth largest lake in the Lake District) where we can easily dive to 30-40 metres; or Wast Water (the deepest lake in England), where 70m is possible. We can easily run technical courses and we expect to be running a MOD 2 CCR course this year when the water warms up.
How much diving does the club organise?
We have a branch dive at least every second weekend during the season and members organise further dives (with the Diving Officer's permission) that the branch supports. We dive and train throughout the winter, although this is more limited as temperatures drop. Inland sites are the easiest to visit, as our nearest coastline at Morecambe Bay is very shallow (and that's when the tide is high).
What sort of diving?
Our members use kit configurations ranging from open circuit scuba, through to twin-set divers and rebreathers, most of whom are mixed-gas qualified. Interests in the club vary from Seasearch wildlife and habitat recording, to wreck diving and underwater photography.
You are so lucky to have stunning lakes on your doorstep…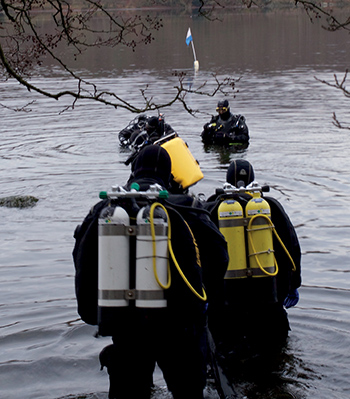 We are well placed for freshwater shore dives. Favourites are Coniston Water, Wast Water and Windermere. We also dive Crummock Water (maximum 40 metres) and Ullswater (maximum 40 metres). The overall favourite scenic dive is probably Wast Water, with its amazing underwater cliffs. On surfacing, you have views of Great Gable and Scafell, both handy for anyone interested in a short stroll between dives.
Our sea diving this past year has mainly been on charter boats in Scotland; we are going back this year to dive with commercial RIB operator Wreckspeditions. We also have a Jutland trip and another one to Scapa this year, alongside Oban and the Farne Islands. We have a trip planned to Chuuk Lagoon in 2024 and we are planning a Red Sea trip before that. The club is going to take part in the 2023 Kernow Dive Fest, which is another expedition for us; it's nearly 400 miles to get from Kendal to Cornwall.
Do you have any diving projects on the go?
We have a couple of local 'search and photograph' projects on the back burner at the moment; we can't be more specific at this time, but they may include possible recovery. We also do beach and underwater litter picks at local beauty spots in the Lake District; the last one was in Windermere. While we tend not to organise those ourselves, we do respond positively when asked.
Anything else you'd like to tell SCUBA magazine readers about?
We are always happy to help out visiting clubs, so if you are making a trip to the Lakes, we can offer to organise cylinder refills and retesting when needed, plus Sofnolime and gas mixes for BSAC divers, just contact us in advance.
The BSAC network is working together to keep people connected to the sport. With online training, special interest webinars, competitions, support to clubs and the trade, and much more...we'd love you to join us.
This Club Focus was originally published in SCUBA magazine, Issue 136 June 2023. For more membership benefits, visit bsac.com/benefits.
Want to know more about diving with Kendal and Lakes Sub-Aqua Club? Please contact John Adams, Training Officer via john.adams@bsac.com, or visit www.kld.org.uk
Images in this online version may have been substituted from the original images in SCUBA magazine due to usage rights.