Photo by Jane Morgan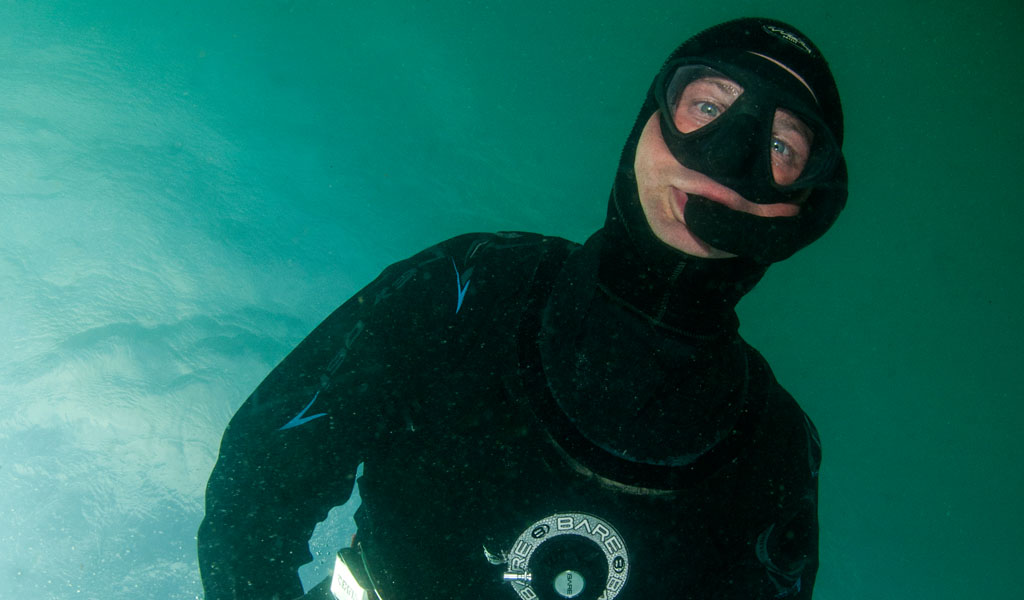 Andy Torbet interviews the ever-modest Dan Bolt, an award-winning British photographer who takes many of his photographs while snorkelling.
A member of Totnes BSAC, Dan is the man of mystery behind many award-winning winning images. He has won awards including:
British Wildlife Photography Awards (BWPA)
Underwater Photographer of the Year (UPY)
British & Irish Underwater Photography (BIUPC)
Ocean Art
and was the British Underwater Photographer of the Year 2016

He now co-manages The Underwater Photographer of the Year Competition and co-authored the South West Nudibranchs e-book, is a Sealife Collection Ambassador and to top it all he must be credited with 95% of any decent shot you've ever seen in my Torbet on the Tube column.
He continues to be as passionate about the underwater world and the recording of it through stunning images as the day I met him seven years ago and still humbly maintains photography is 'just something I love to do'. Every image in this feature of SCUBA was taken by him while snorkelling.
Andy finds out more about Dan Bolt
Andy: Can you remember your first snorkelling experience?
Dan: When I was in primary school we were lucky enough to have a beach hut on Corbyn's Head beach in Torquay. So my earliest experiences of snorkelling were around the rocks in this sheltered part of Torbay and it was these experiences that formed my still on-going fascination with the marine world. The old-boy in the hut next to ours was a spearfisherman and I'd often follow him out into the deeper water to watch him hunt for Bass. Happily for me he wasn't a very good shot, so most of the time was spent pointing out the different species that inhabited the world beyond the 'deep water' poles.
A: What's been your best snorkel ever?
D: This is a tough one! I've snorkelled with basking sharks and whale sharks, with thousands of spider crabs and huge shoals of fish too. But for me the sheer life-affirming joy of snorkelling with seals cannot be beaten. Nothing puts a smile on your face like than having half a dozen seals fighting over who gets to play with you next. And not having scuba kit on means it's possible to try to do a (very poor) imitation of one of them twisting and turning through the water too.
A: What is your favourite snorkel site?
D: The island of Lundy off the north Devon coast has to be on my list: it's my go-to site for seal snorkelling. But I'd also say Thurlestone in South Devon too. Not only can the visibility be exceptional here, but there's also a shallow wreck (about 8m deep it's called the Louis Sheid) and actually breaks the surface on a spring low tide. Golden sand, lots of fish life and a local seal population who sometimes come to check you out mean there's something for all levels of snorkeller here.
A: Where have you never snorkelled but want to go?
D: I would love to have the chance to get in the water with blue whales; how amazing would it be to be in the water with the largest animal that ever existed! That would be at the top of my list for sure… but a close second would be to have just one of my trips with Andy where the visibility is better than 1m. And it's not raining. Or blowing a gale.
A: When is snorkelling a better option than scuba?
D: I know it sounds odd that not having a tank on your back could actually be an advantage but sometimes it can be. I prefer to snorkel when I'm out exploring for new sites (mostly off my kayak), because it gives me the flexibility to quickly explore a new spot and move on. No need to worry about decompressing, running out of air, or lugging heavy kit around all day. And if you are reasonably good at being a breath-hold diver it can be a distinct advantage when photographing twitchy fish. It's the quietest way to be in the water that doesn't involve a rebreather!
A: You are known for your award winning underwater photography, have you any advice for taking photos while snorkelling?
D: Stop that, you'll make me blush – but yes my most successfully awarded images have all been taken while I was snorkelling. My number one tip would be to take the time to observe your surroundings. So much knowledge can be gained by just quietly floating at the surface and see what happens around you. Then pick subjects that you can easily get to – no photo is worth putting yourself in any danger. Also, make use of the abundance of light at the surface. This will make your images really pop with colour and help non-snorkellers make sense of the scene if there is some surface suggestion in the photo. Finally, take time approaching your subjects and be aware of your large fins if you use them – please don't damage the environment you are enjoying.
A: What top tips can you pass to your fellow snorkellers?
D: At any time of year, if you've got a sunny day try leaving a bottle of soapy water on your car's dashboard behind the windscreen. When you come out you'll have some nice, warm (sometimes too hot!) water to have a quick shower with. [Maybe leave a bottle of fresh water out as well, for rinsing off the soap – Cleanliness Ed] Getting the right float / SMB means you have a platform to keep water, lunch, camera and sun-screen. Some can even double as a seat to have a rest during a long day out.
This sounds ace! I'm ready to learn to snorkel, help me find my local BSAC club
Send your postcode to hello@bsac.com and we'll send you your three nearest scuba clubs. Or if you fancy a chat call us 0151 350 6226 (Mon - Fri, 9 - 5:30).
If any of you have any suggestions, I'd love to hear them. Drop a note to me through the editor's email at SCUBA or on my social media below:
Facebook: OfficialAndyTorbet
Instagram: @andy_torbet
Twitter: @andytorbet
Article by Andy Torbet for SCUBA magazine, issue 87 February 2019.

Images in this online version have been substituted from the original images in SCUBA magazine due to usage rights.

Find out more about learning to snorkel or discover snorkelling in the UK.