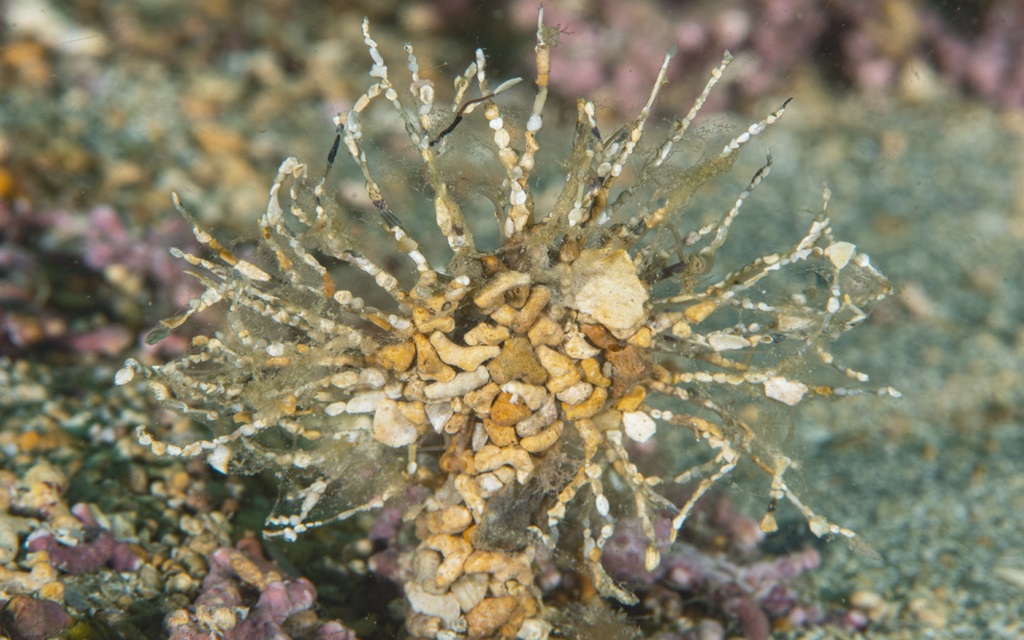 Jane Maddocks gives her column over to Seasearch tutor Karen Boswarva, who sets out the importance of our shallow sea habitats.
Snorkelling is a very accessible sport. It costs very little and gives people enormous fun exploring underwater. I was lucky enough recently to talk to Karen Boswarva about the contribution that snorkellers can make to recording marine life in shallow seas. Karen is a Seasearch tutor and is one of four Seasearch coordinators in Scotland. She was recently involved in running a Seasearch Observer's course for snorkellers; her understanding of marine life is something she really wants to share. The words below are hers, not mine, and are directed at all those who enjoy snorkelling and want to take it further.
Snorkelling for conservation
As an island nation we are truly spoilt when it comes to finding the perfect sea view. Our expansive coastline, including over 6,000 islands, extends over some 19,260 miles. It is a remarkable treasure trove of sea cliffs, caves, bays, inlets, channels, beaches, and rocky reefs exposed as the tide ebbs, all shaped by a rich geological history. It is these very features, combined with our tides and currents that provide a plethora of habitats that suit such a rich and diverse array of marine life.
Fringing our shallow seas, as deep as sunlight allows, are underwater forests as lustrous as any rainforest. Who has not marvelled at the sight of a kelp forest, packed together so tightly that it forms a three-dimensional feast of marine life from frond to holdfast? Or the lushness of vast underwater meadows formed by seagrass, home to stalked jellyfish, seahorses, and the like. Two very different habitats, connected in their ability to provide both shelter and food for the micro to the megafauna.
Our intertidal and surrounding shallows are no exception, the plants and animals that live here are truly extraordinary, perfectly adapted to life on the edge of two worlds but so often overlooked. Walk on a beach at a low tide and it is peppered with signs of life beneath the sand.
As earthworms aerate the soils and keep them healthy, our burrowing tidal communities offer the same service to the seas. Other shallow species such as oysters are important for keeping our waters clean and clear. Historically, they formed dense beds, providing habitats that would otherwise not be present. Likewise, beds of maerl, a hard and spiky looking pink seaweed bind together and raise the seabed, creating space for species to colonise and thrive.
We are starting to take a greater interest in these shallow-water ecosystems both as a sustainable resource and for their intrinsic worth, in particular, the importance of protecting and restoring areas which promote long-term colonisation of these 'ecosystem-engineers'. A key aspect is finding and recording where these optimal areas are and identifying historical, healthy populations as well as those in need of help.
Snorkelling offers the perfect opportunity to get up close and personal with the shallows and, fortunately, there are many initiatives popping up around the country that offer you the opportunity to get involved in some citizen science which plays a big part of this amazing feat, wherever you live. The Seagrass Spotter app allows you to record seagrass beds as and when you come across them.
How to get started
Seasearch courses have been adapted to promote the collection of snorkelling and intertidal records; check online for a course near you. Fancy recording oysters? Get your branch involved in Operation Oyster. Worried about making that first splash? Why not run or join a BSAC snorkelling course; or become a Snorkelling Instructor or have a look for a snorkel trail or guided snorkel session near you.
Throughout the UK there's a wealth of snorkel trails set up for all experience levels, meaning you can leave the cylinders and dry suits at home, dust off your wetsuit, grab your mask, fins and snorkel and go off exploring your local coastline… you never know what you may find.
Find out more about snorkel training.

BSAC promote and develop the 'best practice' in snorkelling safety for snorkellers in the UK.
This column was originally published in SCUBA magazine, Issue 119, October 2021. For more membership benefits, visit bsac.com/benefits.
Images in this online version may have been substituted from the original images in SCUBA magazine due to usage rights.