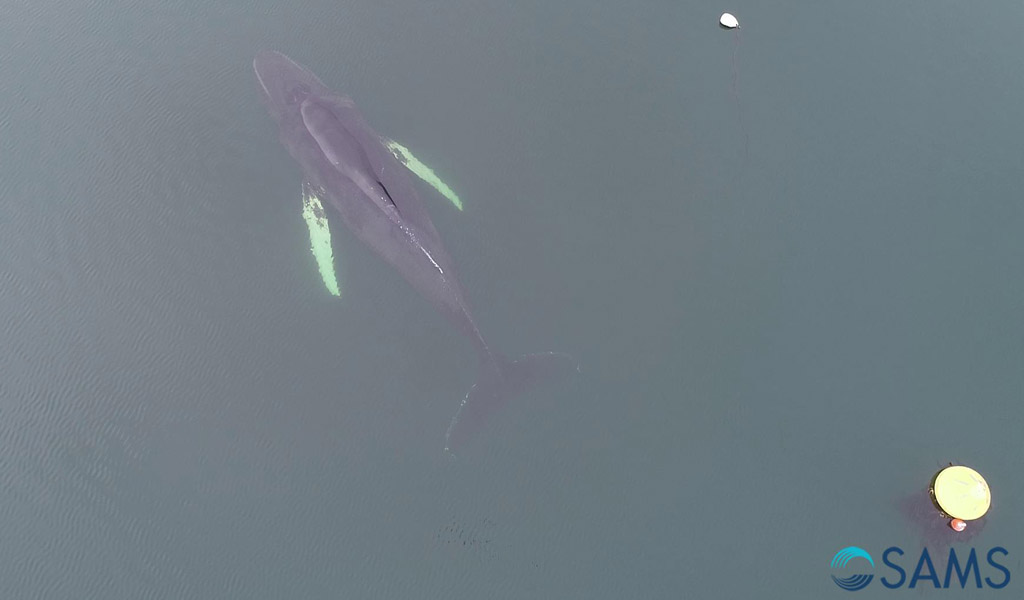 Students at the Scottish Association for Marine Science had a real life marine conservation lecture when a young humpback whale appeared close to shore, pretty much outside their classroom.
The whale was spotted by a member of the public in Dunstaffnage Bay, just metres from the SAMS campus. Staff and students helped to monitor the whale, before it managed to free itself on the rising tide and return to open water.
Fear for young humpback whale
Marine mammal ecologists at SAMS feared for the young whale, which initially appeared to be grounded on the shore near the research laboratory and the pontoon where the research vessels are moored. There have been recent instances of humpback whales becoming entangled in fishing equipment or mooring line in Scottish waters and there was concern that this might be one such case.

To monitor the animal, the scientists deployed an acoustic device to listen for underwater sounds and also observed the whale's breathing pattern.

Marine ecologist Prof Ben Wilson, who heads up SAMS' marine mammal research, said:
Humpback whales have been more commonly sighted of Scotland in recent years, as they travel northwards to feeding grounds off Norway and Iceland. However, it is still unusual to see one, particularly this close inland.
'Always been interested in marine life and want to have a closer look? We can help you get started '
We can help you get started Send your postcode to hello@bsac.com and we'll help you find the right scuba club for you for a Try Dive Taster Session in a pool.
Or if you fancy a chat call us 0151 350 6226 (Mon - Fri, 9 - 5:30).