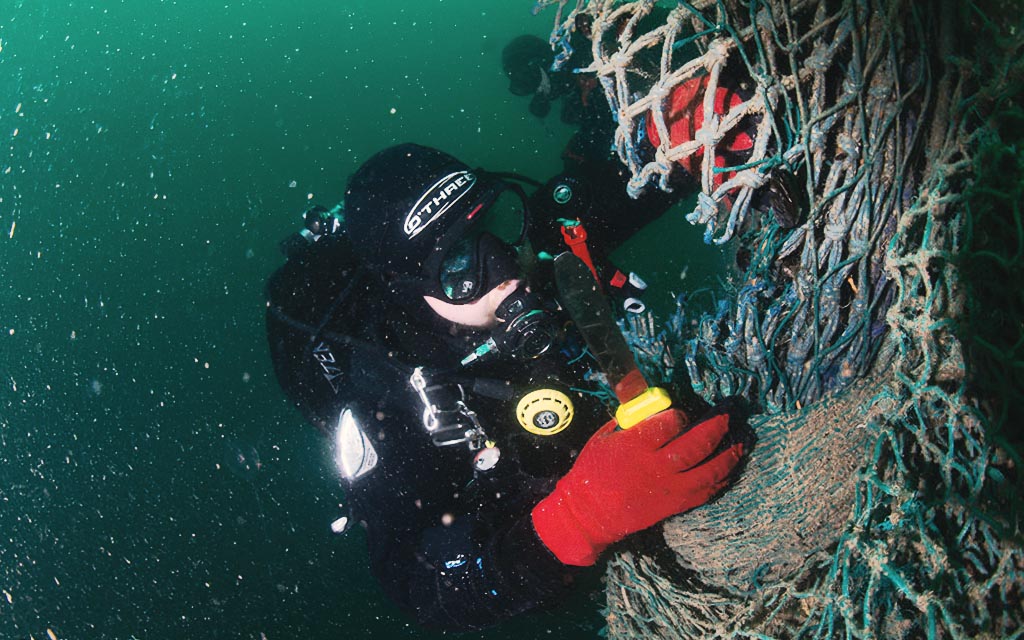 As divers and snorkellers, one thing we can do to help our seas is to report abandoned discarded gear, as BSAC Heritage Advisor Jane Maddocks explains...
If you find abandoned, lost and discarded fishing gear on your dive then Ghost Fishing UK would love to hear from you so that they can deal with it.
Following on from the webinar with Dr Richard Walker on 24 November (which can now be watched on catch-up), we wanted to publicise Ghost Fishing UK's report form and pick up on some of the things in there so that those new to reporting ghost gear can submit the electronic form with confidence.
What is ghost fishing gear?
We can play our part by observing and noting down what we can see, then using the Ghost Fishing UK report form. It is always useful to know what we need to record before we try to fill in a form for the first time.
There are no real surprises on the form…
A good start is noting the date the gear was seen.
Then where was the ghost gear seen? This needs to be precise so GPS positions are always useful. Then if it is on a wreck the name of the wreck, exactly where it is on the wreck. For example is it caught up on the bow, or draped over the boilers? If the site is a reef, exactly where on the reef? Is it on the north-facing side, all over the south-east drop off, or has it draped itself over the top of a pinnacle?
It is always useful to give the depth of the abandoned, lost or discarded gear (ALDG) as that will have implications for which team members can be involved in the recovery.
Then it is useful to note what the gear is. Are we talking whelk pots, trawl nets, monofilament nets, monofilament lines or other pots? Then is it in good or poor condition or is it a remnant. This can be a bit of a judgement call – just go with your instinct. If it is a remnant say that. If it is very small and I can pack it into my litter bag then I might do that – but otherwise reporting is the safe option. It can be helpful to estimate the size of the problem e.g. monofilament net, about 15 metres long, four metres deep, floating free, except for an attachment on one of the bollards in the stern.


Finally, you will need to check if anything is trapped – is the gear still fishing is really the question. If you are species aware, then record that. If not, then just identifying that it is catching fish and crabs will be enough. It will also be useful to check what the ALDG is caught on.
In summary, a useful checklist could be:
Date
Name of site
GPS reading
Where on the site
Depth
Type
Possible size estimation
Condition
Catching?


Always remember that reporting is the best and safest option. If Ghost Fishing UK recover it then it may well be recycled. It is never an option to recover without knowing its immediate destination.
The BSAC network is working together to keep people connected to the sport. With online training, special interest webinars, competitions, support to clubs and the trade, and much more...we'd love you to join us.