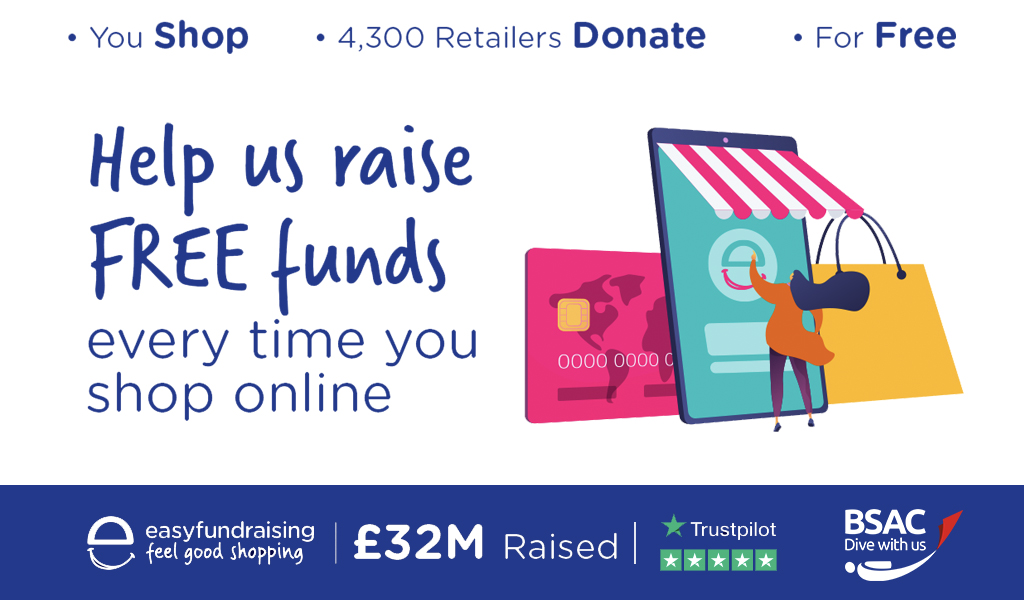 Remember to sign up to the Easy Fundraising scheme to help support BSAC and raise money while you shop.
This summer BSAC partnered with charity fundraising site Easy Fundraising in order to raise money to help support its members and the organisation as a whole during this difficult time. The scheme works by donating a percentage of sales to BSAC for every pound spent through their network of high street and online retailers.
Easy Fundraising is free for members and all money raised will be at no extra cost to you.
After setting up an account via easyfundraising.org.uk, members can choose from over 4,000 online retailers, including travel, electrical, energy suppliers, fashion and homeware. Just some of the big names who are signed up to the fundraising scheme include Marks and Spencer, Amazon, Booking.com and John Lewis, as well as some of the big-name utilities, such as Sky, BT and USwitch.
BSAC CEO Mary Tetley wants to encourage members to do what they can to help the organisation thrive through these challenging times. Mary said:
The more people we can get shopping through the Easy Fundraising site, the more we can raise for projects that will directly benefit our clubs, our members and our underwater environment. It's one to remember before you start your Christmas shopping!
How to help out
Set up an Easy Fundraising account via easyfundraising.org.uk
Select 'BSAC – British Sub-Aqua Club' as your chosen charity
Set up the donation reminder – this means that whenever you go shopping online, your browser will tell you if you could be donating while you shop!
Start raising money while you shop!


For more information on the Easy Fundraising scheme, check out the FAQs.
The BSAC network is working together to keep people connected to the sport. With online training, special interest webinars, competitions, support to clubs and the trade, and much more... we'd love you to join us.