Andy Torbet packed his snorkel to meet April, a rescued turtle who was to receive a new lease of life in the little-known tropic of Scotland
I normally deal with British stories and issues in this column, but this story starts in the tropics. Bear with me though, because we do return to Britain in the end.
I was asked by the Sea Life Trust, a marine conservation charity, to follow the story of April the Turtle from a rehabilitation centre on the island of Kuda Huraa in the Maldives, to her new home in Scotland. April is an Olive Ridley Turtle, the smallest of the seven marine turtle species.
April was found wrapped in ghost netting, and her ordeal had led to her losing her front right flipper, alongside some lung damage. It was the latter which had the greater impact, as it left her unable to control her buoyancy – she was permanently positive. She could no longer leave the surface of the ocean, which meant she couldn't feed, escape predators or take shelter from severe sunlight. Left to her own devices she would have suffered a slow, tortuous death.
The aim of any good animal rehabilitation centre, turtle or otherwise, should be to nurse the creature back to a state of health, where it is safe to release it back into the wild. And during our visit we released young turtles that had arrived at the centre as sick hatchlings but were now fit to be returned to their natural world.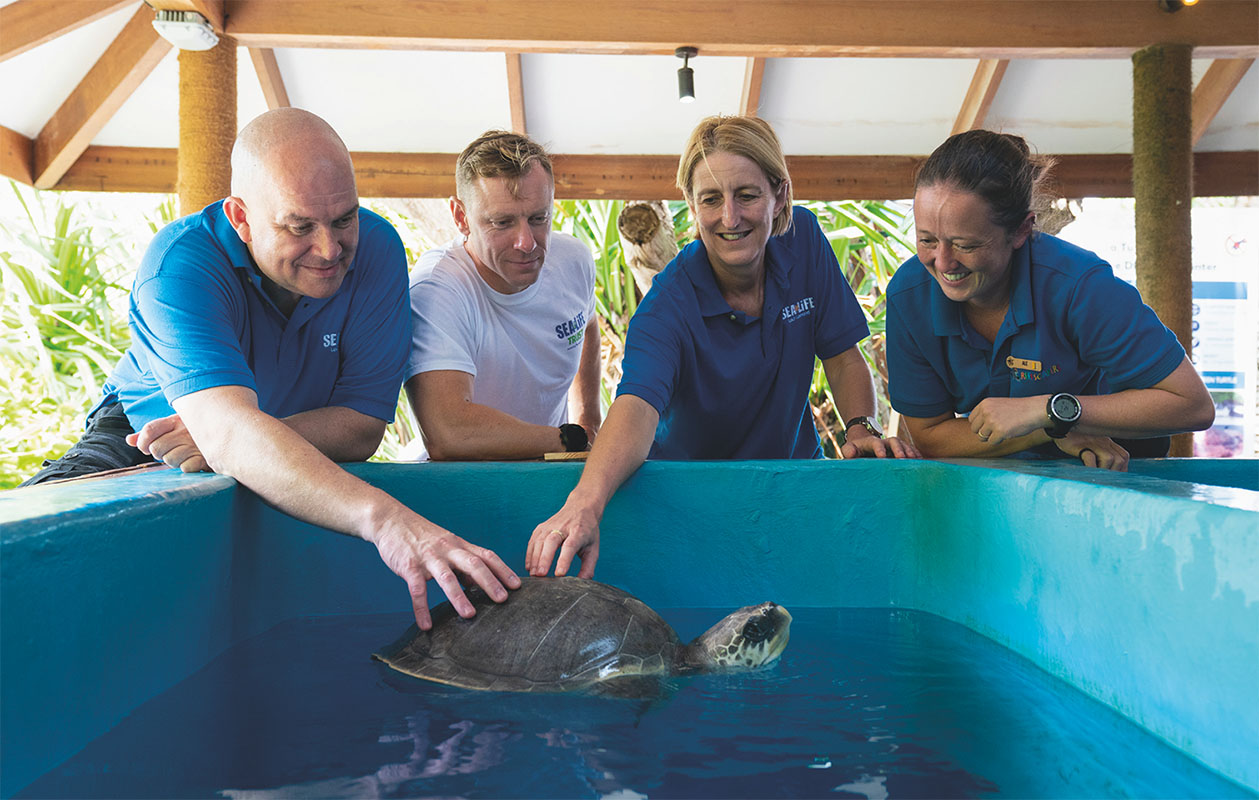 Andy, along with the team from SeaLife Loch Lomond, meet April
April was not so lucky. Her injuries were so severe that she wouldn't survive without constant human care. With that care she could expect to survive from her present five or so years for many decades. However, the rehabilitation centre is small and not designed to home animals permanently. April had to be moved for her own welfare, and also to free up what is in effect a 'turtle hospital bed' for the continuous stream of injured reptiles. So the decision was made to move April to the extensive tropical reef tank at Sea Life Loch Lomond.
I was fortunate enough to spend three days with April and the team looking after her in the Maldives and took the opportunity to get out snorkelling on the reefs around our island. I also took the opportunity to snorkel with April on one of her regular supervised swims in the sheltered bay by the rehab centre.
These swims gave her valuable stimulus, and a chance to swim among the coral and creatures of her natural habitat, something the Sea Life aquarium would be able to recreate, up to a point. Still, it would be safe and it would be a great deal more naturalistic than her sterile hospital tank in the Maldives.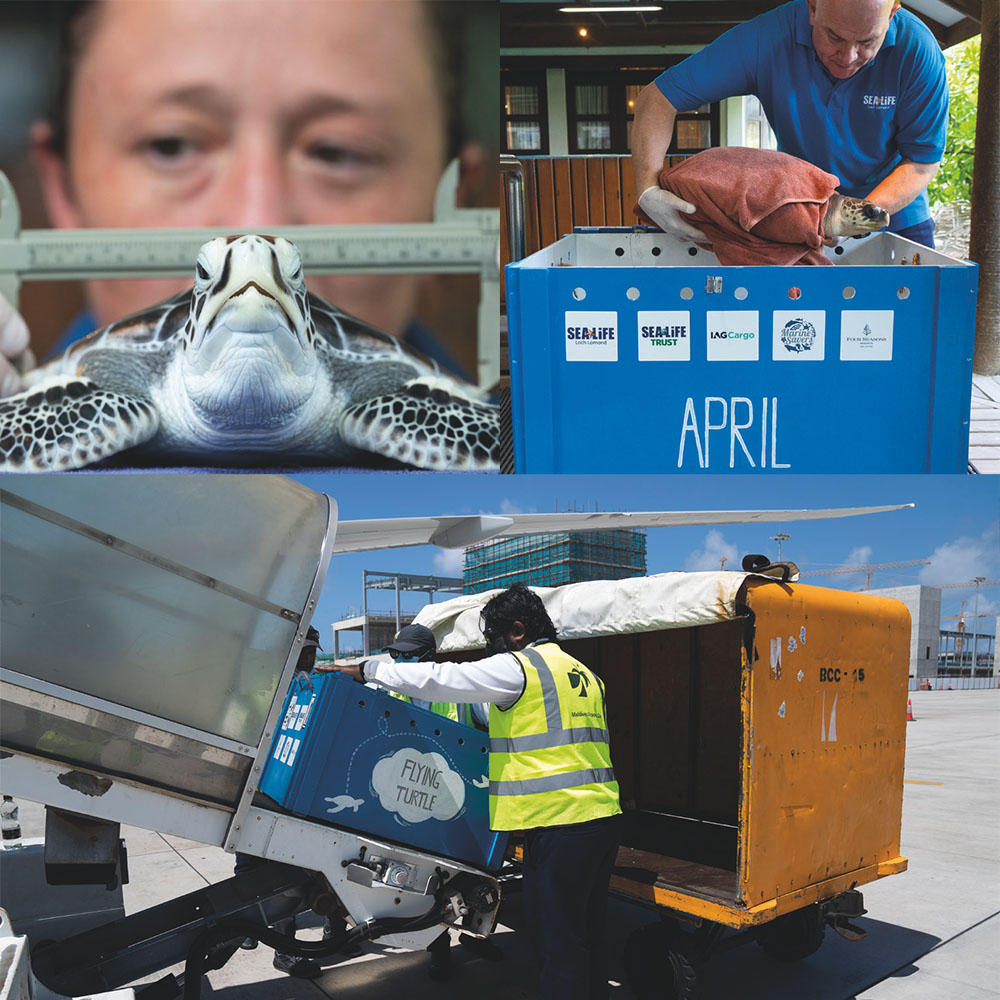 Clockwise: Head marine biologist Alejandra Carrera makes final health checks before releasing turtles back into the wild; Mark Hind, Head Curator, carefully prepares April for the journey; April makes her way onto the plane
I also managed to assist in the release of several young turtles, following them into the azure blue waters, although only briefly – it's incredible how fast a turtle as big as my hand can swim. The winds had been up and the visibility was relatively poor, which I hoped would provide some cover and safety for these young turtles. We also 'planted' some coral frames. Under this system, coral is carefully removed from existing clusters and attached to these frames, which are in turn placed in the sea to 'seed' the area with more coral.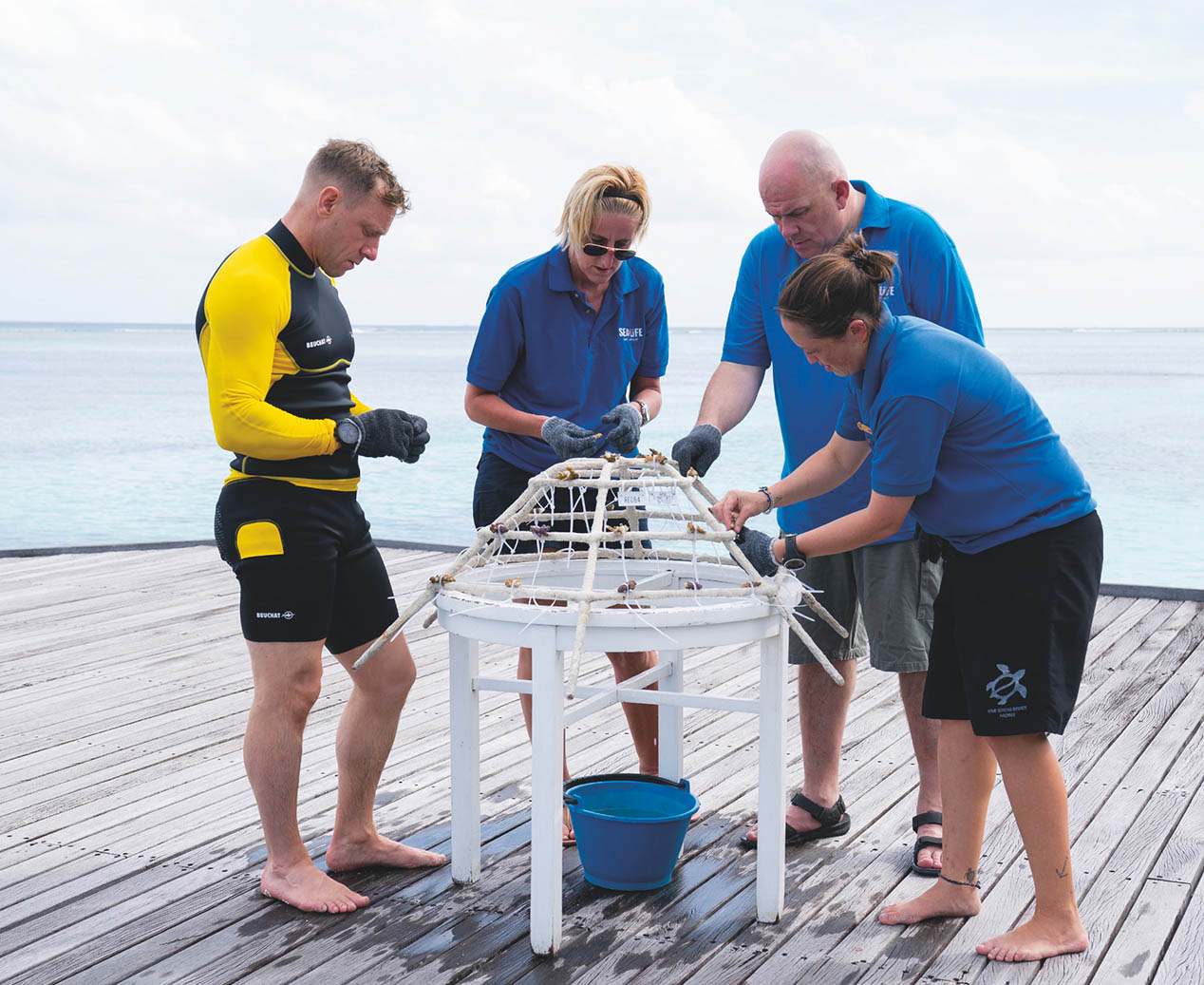 Andy joins the SeaLife team as they attach coral 'cuttings' to a frame before placing it on the reef
It was, if you pardon the pun, a drop in the ocean compared to what will be required to save our blue planet. But the world is a complex matrix of billions of systems, each in turn made up of other systems, ecosystems, species and individual creatures all interacting with each other.
To build a wall, you first have to place a single brick. I hope that April's public presence will help visitors to Loch Lomond understand the problems of plastic pollution, ghost netting and the plight of our underwater world.
Find out more about snorkel training.

BSAC promote and develop the 'best practice' in snorkelling safety for snorkellers in the UK.
If any of you have any suggestions, I'd love to hear them. Drop a note to me through the editor's email at SCUBA or on my social media below:
Facebook: OfficialAndyTorbet
Instagram: @andy_torbet
Twitter: @andytorbet
Article by Andy Torbet for SCUBA magazine, Issue 123, March 2022. For more membership benefits, visit bsac.com/benefits.
Images credits: Kirsty O'Conner
Find out more about learning to snorkel or discover snorkelling in the UK.