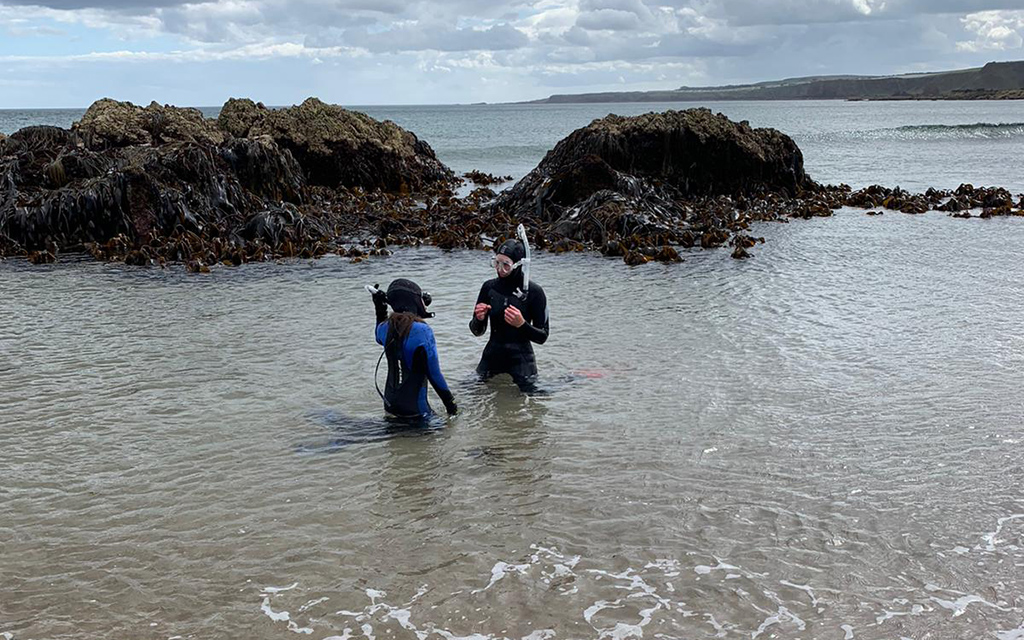 Small gestures can wind up making a big difference, says Andy Torbet, as he sets out ways of treading lightly when we enter the water.
As divers and snorkellers we have grown more aware of the impact of plastic, pollution, over-fishing and other damaging practices on the underwater world than most. And for far longer. So, what small steps can we consider to make our snorkelling a little bit greener?
1. Kit choices
This can be difficult when there's so much to weigh up. Where the product is made; how it's transported and what it's made from can all add to its negative impact on the environment. Increasingly, equipment is coming from more ethical sources as manufacturers chase the green dollar. Recycled plastics, recycled fishing nets and even plant based neoprene are now available.
2. Lubes and laundry
How you get into your wetsuit and wash it out is also worth considering. For those of us who have unlined wetsuits (called Open Cell) you can only get these suits on with some kind of lubrication. The most commonly used option is shampoo or conditioner. However, these hair care products can wash out of your suit and potentially leach harmful chemicals into the food chain.
Instead, choose a biodegradable, environmentally friendly brand that's 'Sea Safe'. The exact same considerations can be applied to whatever you use to wash your kit. Even simple items such as towels can be upgraded. Micro-fibres from fabric in washing machines run into our rivers and seas and accumulate a huge amount of plastic pollution. Micro-fibre collection bags can be used to counter this. You stuff your washables into the bag and it filters out tiny microplastics that may be loose in the wash.
3. Entry and exit
When it comes to getting in and out of our snorkel site, we should all consider the immediate environment. The plants and animals in the littoral zone (the area between high and low tide) tend to be pretty hardy here in the UK, but we should still minimise how much we scramble over them and erode the landscape. Don't hang about!
4. Do not disturb
It should go without saying but I will say it anyway – don't interfere with the wildlife or vegetation. Chasing seals or basking sharks may be tempting, but it is unnatural behaviour that interferes with their normal routines. The feeling of seeing wildlife, amazing as it can be, would be overshadowed by guilt if that encounter comes at the detriment of the creature. There are a number of Marine Wildlife Codes of Conduct from nations and organisations within the UK. They are all similar in their application of common sense, and prioritising the animal's welfare over our fun.
5. The humble litterpick
A simple one, that can be conducted at any time during your dive from getting changed in the car parks, through entry and exit and during the swim – pick up some litter. Unfortunately, I can guarantee you that you'll see some. Whether it's cans, bottles or masks on the beach or fishing line and plastic bags in the sea it's an ever-present certainty in our seas today. You may not have dropped it, but rack up some karma points and take a little home to recycle. It may seem insignificant but it's a small step in being part of the solution.
There's more we can all do, myself very much included, but when we start to address the small things, we begin to expand our awareness of the problem. We can only start to correct a problem once it has been recognised, after all.
Learn more on snorkelling with BSAC.

Become a snorkel instructor.
Teaching snorkelling can be hugely rewarding. Book onto a two-day snorkel instructor course today. Find out more.
Article by Andy Torbet first published in SCUBA magazine, Issue 128 September 2022. Images in this online version have been substituted from the original images in SCUBA magazine due to usage rights.