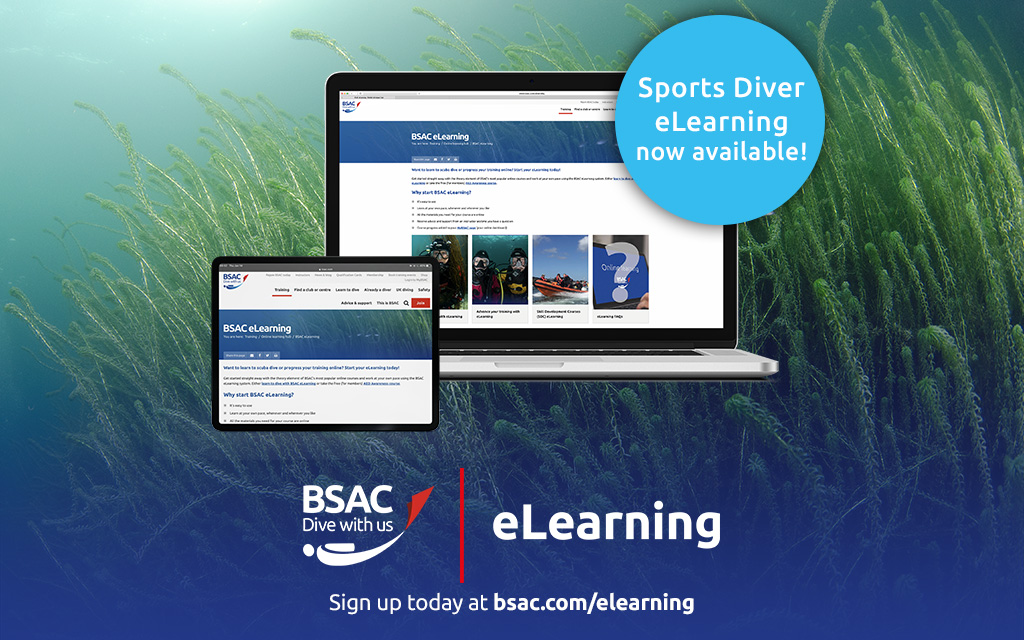 BSAC is encouraging clubs and members who have yet to take advantage of the new eLearning system to utilise it for Discovery Diver, Ocean Diver and Sports Diver trainees.
Launched back in August, the new eLearning platform has been designed to support Direct members, club instructors and their trainees' progress by giving students the flexibility of completing their theory modules online.
With the latest Covid-19 lockdown once again putting a hold on physical training, eLearning can be a particular boost to trainees as it enables them to progress and remain engaged in their training. It can also work alongside clubs' own online training and webinar programmes.
According to the recent BSAC club survey, over half of clubs have already accessed or decided to use the eLearning system, which currently offers the theory modules for Discovery Diver, Ocean Diver and Sports Diver.
BSAC's Business Development Officer, Adrian Collier, who worked on creating the eLearning platform, now hopes even more clubs will make the most of the online system while lockdown prevents face-to-face training.
The eLearning platform is not intended to replace the physical delivery of theory sessions, which is an invaluable way for clubs to train their divers. However, it is an excellent support resource that gives students the option of virtual learning in their own time.

And, as a back-up for BSAC clubs as they navigate through the challenges of training new members during lockdown, the eLearning system is another option to access as part of a club's training programme.
One club which has already taken advantage of the eLearning platform to progress their Ocean Diver training during lockdown is Lancashire-based Lunesdale SAC, who trialled the system with two of their Ocean Diver trainees.
Instructor Alf Yates said the option to complete their theory online meant new members Becky Townend and Sarah Mulliner could start their Ocean Diver training despite the summer lockdown.
"We were very conscious that we had two very keen trainees wanting to begin training and we didn't want them to lose that commitment in the lockdown," Alf explained. "The eLearning system enabled them to engage with us, begin their training and become as fully involved in our club community as the restrictions allowed."
With both Sarah and Becky eventually able to complete their open water training to become qualified Ocean Divers before the second lockdown, Lunesdale now plans to integrate eLearning into their diver training programme.
"Incorporating the option of the eLearning platform enables us to be a more inclusive club which is forward-facing and able to meet the needs of any new trainees who want to train with Lunesdale," Alf added.


For more information on eLearning and the Diver Training Programme theory modules currently available, go to bsac.com/elearning