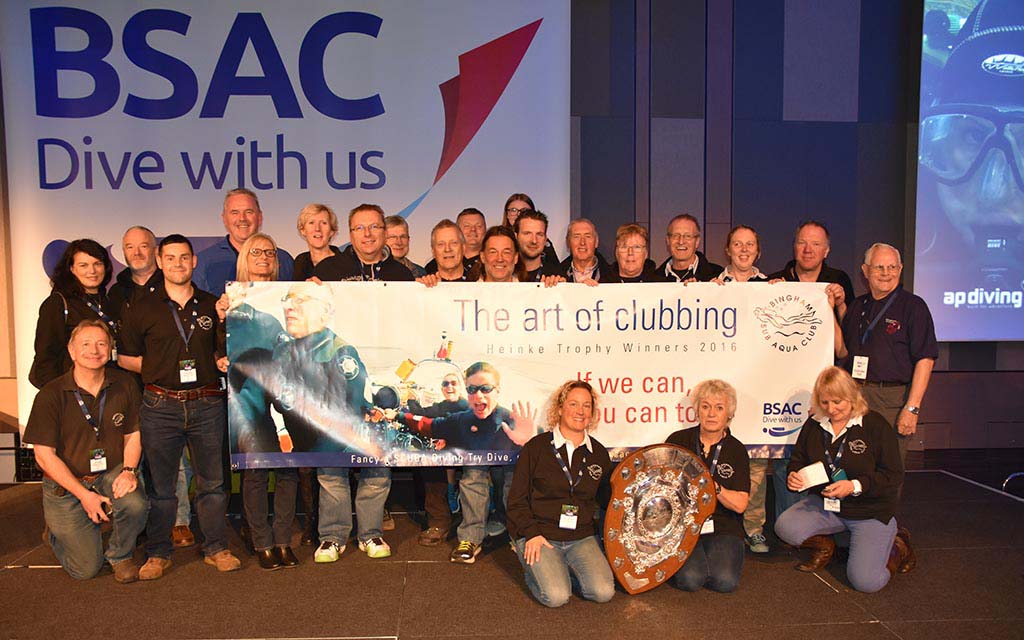 Do you think your club has what it takes to be a Heinke Trophy winner? Registration is now open for entries to the 2018 Heinke Trophy and all BSAC clubs are invited to apply.
The Trophy is BSAC's longest standing annual award and is a fantastic way to put the spotlight on your club's achievements and proudest moments over the last year.
2017 saw Bingham SAC scoop the award and the search is now on for our 2018 winners.
Bingham SAC's Helena Robertshaw said she would encourage other BSAC clubs to make the most of what the Heinke Trophy can offer.
Entering the Heinke Trophy provided us with the opportunity to showcase our members and their achievements from 2016 and to collate the history, photographs and secrets that may otherwise have been forgotten. Winning helped attract new members and keep existing ones, as members are left in no doubt what a great club they belong too!
Read our top five reasons to enter the Heinke Trophy.
How to enter the Heinke Trophy 2018
The Heinke entry process has been refreshed to make it easier for clubs to enter, including the option to submit a digital/electronic entry.
STEP 1: Register your club's intention to enter the Heinke Trophy by completing our online registration form. Deadline to register is 31 February 2018.
STEP 2: Submit your final entry by midnight, 31 May 2018.
Bingham SAC's Helena has also offered some practical advice on entering this year's award.
If you are thinking about going for the Trophy, form a small group of enthusiasts and delegate each section and other major jobs. The enthusiasts then need to work to gather the information, photographs and data needed. Produce a time-line and stick to it!
We started with a huge mind-map linked directly to the criteria. Investigate every bit of the year; you may be surprised what you find. It was such a worthwhile exercise which has breathed new life into the club!
For more information and to register go to Heinke Trophy 2018.