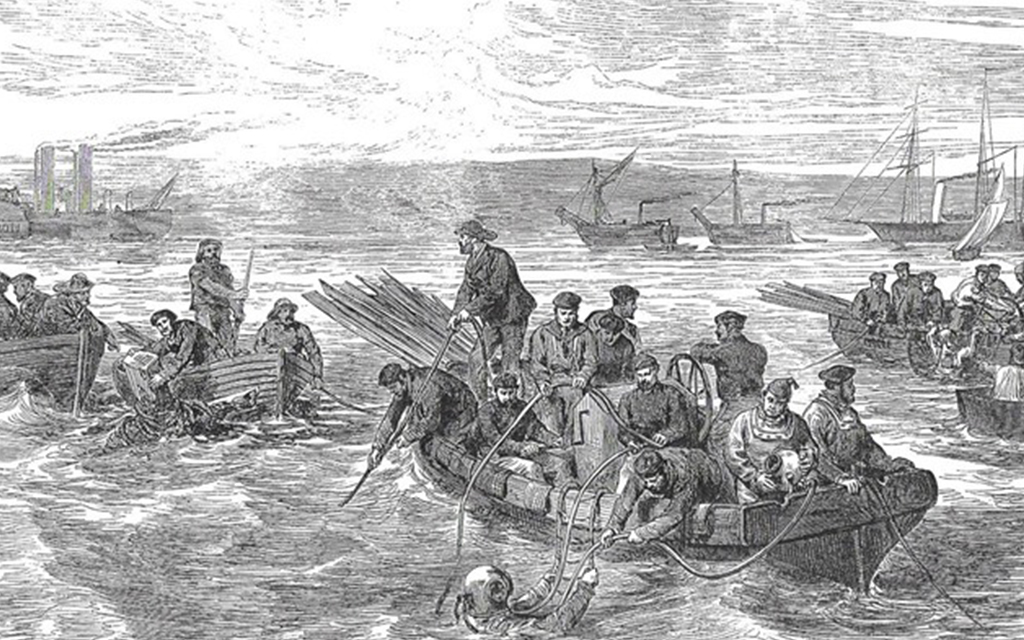 BSAC has collaborated with the Historical Diving Society to bring members and divers an exciting series of webinars covering some of the best underwater stories and adventures.
Starting on the 4 March at 19:30 and then every Thursday night until the 29 April, the weekly webinar event will feature a total of nine online presentations, each one exploring a fascinating diving tale of exploration and adventure.
Starting with the salvage of gold from HMS Edinburgh, 246m down, each webinar aims to bring the recent and not so recent past of scuba diving to life and will appeal to anyone with a love of underwater adventure.
Mark Paisey, BSAC Coaching Adviser and Online Learning Hub coordinator, said the partnership with the Historical Diving Society (HDS) meant divers and non-divers could delve deep into scuba diving's fascinating past.
The HDS has a passion for exploring, preserving and recording our diving heritage, which fits so well with BSAC. Anyone with an interest in our diving heritage will enjoy the opportunity to engage with the webinar topics, with many being presented by speakers who were there.
One highlight of the series will be the story of the disappearance of Commander 'Buster' Crabb and will be presented on 22 April by Anne Bevan, based on her late husband John Bevan's book. John was a BSAC National Instructor as well as the founding Chair of the Historical Diving Society.
HDS is a charity, and so there will be a small charge for each webinar as a donation. Webinars are priced at £3 for members and £5 for non-members, and places can be pre-booked online. Each webinar needs to be booked individually so you can choose which one you want to attend.
The Historical Diving Society exists to promote and preserve our diving heritage. Being able to bring these webinars to our membership, and wider, means we can continue to support their essential work.
You can book your place on the HDS webinars at bsac.com/webinars (non-members can book by emailing drt@bsac.com).
Please note: the webinars are live events and will not be recorded so each one must be watched on their broadcast date.
The full programme includes:

Thu 4 Mar
19:30 - 20:30

Salvaging the gold from HMS Edinburgh
HMS Edinburgh was a British Royal Navy Town Class light cruiser sunk following a naval action with a German submarine and three German destroyers on 2 May 1942. At the time, she was acting as lead escort to a returning Russian convoy. 58 Royal Navy sailors perished as a result of the engagement. She took with her to the bottom of the Arctic four tons of Russian gold destined for the USA in exchange for the allied support being provided to Stalin. In 1981, following technological advances in deep diving, driven mainly by the offshore oil and gas industry, a salvage agreement between the UK and Russian governments led to the successful salvage of four tons of gold from a depth of 245m.

Mike was the Diving Superintendent responsible for the diving operations and his talk will address the naval engagement and subsequent salvage.

Mike O'Meara, HDS Chairman

Thu 11 Mar
19:30 - 20:30

Virtual tour of 19th-century submarine engineers' factory
This webinar is a virtual tour of C.E. Heinke & Co's factory which was situated at 87-89 Grange Road, Bermondsey, London.

Charles Edwin Heinke and his brother John William founded their submarine engineering c1820's. The company amalgamated with the India rubber manufacturers, Williams & Foster, in 1904. Heinke moved to the Bermondsey factory. This lecture is possible because of a collection of photographs recording the working environment of a submarine engineering factory in 1905.

Gary Wallace-Potter, HDS founding member

Member booking: £3Non-member booking: £5
Thu 18 Mar
19:30 - 20:30

Historic diving in Ireland
The research from the volumes of Shipwrecks of the Irish Coast that Edward prepared some years ago yielded many accounts of early diving in Ireland from the 1588 Armada to Victorian times. Several of the early pioneers of helmet diving worked in Irish waters mainly seeking sunken treasure from wrecks. In the earlier period, free divers raised cannon from the Armada wrecks. Diving bells were used on harbour works and in some limited shipwreck exploration. From the 1830s, helmet divers sought treasure wherever it was suspected. Edward has managed to link stories of diving often with vague locations to specific wrecks and traced any newspaper accounts relating to their adventures. The talk will explore these pioneers, their work and degree of success.

Edward Bourke, HDS member

Thu 25 Mar
19:30 - 20:30

Submarine diver lock-out operations in the Argyle Field 1976-1978
As a result of the rapid development of the North Sea oil and gas production in the 1970s, the North Sea became a driver for the ever-demanding technological advancement of offshore oil and gas diving. Challenges which has to be addressed involved progressively deeper and longer operational demands, diver heating and vessel stability.

For a brief but exciting period, diving companies introduced the use of diver lock-out submarines. These brought with them their own challenges and a range of potential single-point failures, including limited power, poor diver heating and limited gas supplies. For sound safety and practical reasons, submarine lock-out operations were abandoned and replaced by purpose-built support vessels equipped with integral saturation diving systems, dynamic positioning, and many layers of redundancy.

For two years, Mike was the Diving Superintendent employed by Strongwork aboard the Star Pisces, responsible for the diver lock-out operations from a diver lock-out submarine working on the first field to produce oil in UK waters - the Argyle Field.

Mike O'Meara, HDS Chairman

Thu 1 Apr
19:30 - 20:30

Underwater welding
This talk deals with various methods of welding directly in water that have been successfully used by divers on offshore operations. It describes the invention and application of underwater, covered electrode, electric arc welding known as "wet welding". It reviews applications of the process during the past century and describes research into the effect of increased water depth on weld quality. The semi-automatic Wet Flux Cored Arc Welding system developed at The Paton Institute in Ukraine, used in the USSR and brought to the UK in the 1990s is also described. In addition, the development of Underwater Friction Stud Welding as used by divers and with Remotely Operated Vehicles (ROVs) is reviewed and some significant offshore projects done with this system are discussed.

Dave Gibson, BSAC Dive Leader & welding engineer

Member booking: £3Non-member booking: £5
Thu 8 Apr
19:30 - 20:30

William Walker: the diver who saved Winchester Cathedral
This lecture is about what is probably the most unusual diving job of all time and the diver whose job it was to save a cathedral. Working in complete darkness diving beneath the cathedral, underpinning its foundations; a task that took five and a half years to complete. Gary has been researching William Walker for many years and still finds the story fascinating. Gary is currently writing a book on Walker's life which he hopes to publish when completed.

Gary Wallace-Potter, HDS founding member

Member booking: £3Non-member booking: £5
Thu 15 Apr
19:30 - 20:30

The salvage of the Dixilan Field 83 rig
The Dixilan Field 83 was a 6,500-ton three-leg jack-up rig on contract to the Oil and Natural Gas Company (ONGC) of India. She was working on the former Bombay High field, 80 miles from Mumbai when the starboard leg 'punched through' the seabed causing the DF83 to rapidly lose stability and roll over.

Fortunately for the crew, the vessel did not capsize completely at that time and the crew were all able to evacuate. Shortly afterwards, the starboard leg collapsed and the entire vessel sank to the seabed in 240ft of water.

Mike was the Diving Superintendent responsible for running the diving operations throughout the 104-day demanding offshore salvage operation. The operation involved a 3,000-ton heavy lift crane barge, 1,000-ton A-frame lifting barge, three heavy-duty tugs, and many days spent underwater cutting, rigging and lifting, as well as penetrating the wreck and coordinating heavy crane lifting all before the monsoon season arrived.

Mike O'Meara, HDS Chairman

Thu 22 Apr
19:30 - 20:30

The disappearance of Commander Crabb - what really happened?
On 19 April 1956, Commander Lionel 'Buster' Crabb, former Royal Navy Clearance Diver, carried out a secret spying mission for MI6 under a Soviet warship in Portsmouth Harbour. It was carried out against the express direction of the Prime Minister, Anthony Eden. The dive went disastrously wrong and Crabb did not return from the dive. A cover-up was hastily attempted and the government imposed an immediate embargo on disclosure of the facts.

Daily Mail reporter Peter Marshall was first to expose the deception, followed by a host of others representing the press, radio and television. The cover-up inevitably led to a raft of speculation and a host of claims and theories about what happened to Crabb. When the classified information was due to be released, the ban was extended to cover 100 years from the time of the incident. Why?

Without an official account of the covert operation and consequent events, speculation continues to fuel the mystery. This talk examines the facts and attempts to explain what really happened.

Ann Beavan, Commander Crabb expert

Thu 29 Apr
19:30 - 20:30

The raising of the Kursk
The Kursk was a Russian nuclear-powered Oscar class submarine. She left her home base of Vidiayevo on 10 August 2000 with a total crew of 118 to participate in military exercises in the Barents Sea. Tragically, she sank as a result of an onboard incident on 12 August, killing all 118 personnel onboard.

After some internal delays, the Russian authorities requested international assistance, however, the initial delays in reporting her loss combined with inadequate early intervention caused lost opportunities for successful lifesaving intervention.

Mike will share his experience as part of the three-man team hastily mobilised at short notice to travel to St Petersburg to negotiate and plan with the Russian senior naval command, as well as the first stage of the salvage operation.

Mike O'Meara, HDS Chairman
The BSAC network is working together to keep people connected to the sport. With online training, special interest webinars, competitions, support to clubs and the trade, and much more...we'd love you to join us.