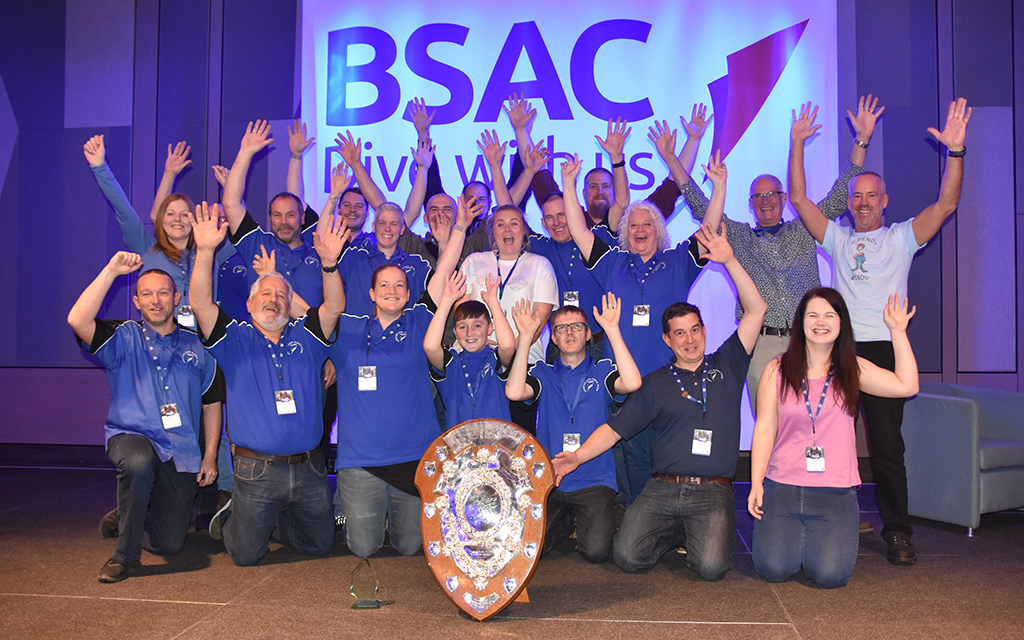 BSAC's premier award, the Heinke Trophy, is now live for 2023, and all clubs are invited to take part.
For the past 65 years, the Heinke Trophy has recognised the significant contribution BSAC clubs and members make to the growth and development of scuba diving, both in the UK and worldwide.
Each year, the trophy is awarded to the BSAC club considered to have done the most to further the interests of its members and BSAC. For the Heinke Trophy 2023, the award adjudicators are particularly keen to showcase how clubs are innovating how they dive, train and organise themselves as we continue to experience cost of living as well as post-Covid challenges.
Participating clubs will need to register for this year's Heinke Trophy by 31 July and then submit their Heinke report by 30 September. Each report should cover the period 1 January to 31 December 2022 and showcase a year in the life of your club and the impact it is having on the growth and enjoyment of recreational club diving today.
Heinke Trophy adjudicators Phil Harrison, Tony Marshall, and Kevin Phillips said they hoped as many clubs as possible would participate in this year's award.
Phil Harrison explained:
Entering the Heinke Trophy offers the chance for clubs to showcase what they have learnt and achieved as well as put the spotlight on their own diving and club activities... and by sharing these experiences, other clubs and BSAC diving as a whole also benefit.
The winning club will be revealed towards the end of the year and will be presented with the Heinke Trophy as well as a cheque for £1,000 to spend on its club activities.
How to enter the Heinke Trophy 2023
The Heinke Trophy is open to BSAC clubs of all sizes – UK-based and overseas, diving or snorkelling (or both), well-established or new.
To take part in the Heinke Trophy 2023, interested clubs have until 31 July to register their intention to enter.
They will then be required to compile their Heinke Trophy 2023 report, which must be submitted by 30 September. Each report should cover club activities between 1 January and 31 December 2022 and can be either in a digital or traditional format.
Our Heinke Trophy 2023 winner will be announced by late Autumn.
To register your club's intention to enter the Heinke Trophy 2023 and for further information on this year's award as well as past winners, go to bsac.com/heinke
Five reasons to enter the Heinke 2023
Showcases your club. You can share your club's achievements as well as learnings, which can benefit other BSAC clubs too.
Great fundraising tool. For many, the Heinke Trophy winner title has helped in grant funding applications.
Cash prize. The winning club receives a £1,000 cheque to be spent on club activities.
Boost for your members. Numerous previous winners have commented on the motivating impact applying for the trophy has had on their members.
Increased publicity. Previous trophy winners have successfully used their award to get publicity in their local media.
The final word on how the Heinke Trophy can be a real boost to your club comes from some of our previous trophy winners:
"The Heinke Trophy provides a great opportunity to reflect and record your successes and experiences. It also generates a focus and energy that brings club members together and gives you something to look back on in the years ahead." Fiona Lemaire, Chair of RAHSAC - Heinke Trophy winners 2022
"Winning the 2020 award gave us real confidence that we are continuing to do the right things for our members and are delivering a programme we can rightly be proud of." Nick Barter, Clidive – Heinke Trophy winners 2020
"The whole process has brought the club closer together and has given us the drive to progress further in the future." Martin Holloway, Chester SAC – Heinke Trophy winners 2019