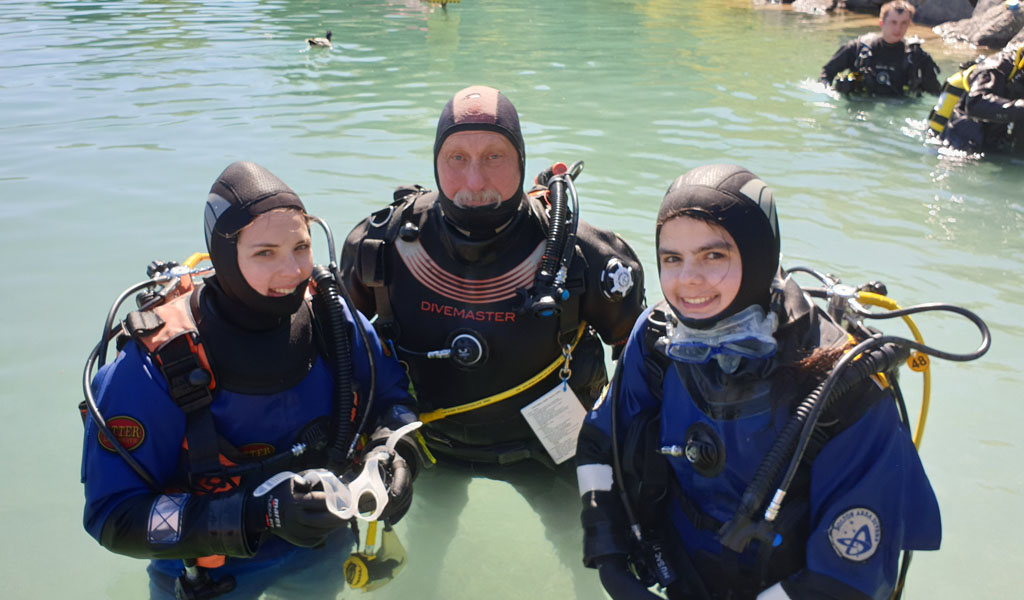 Now that diving is on the cards for some, Yo-Han Cha addresses an ironic aspect of summer diving in the UK – sunny days in a drysuit can be stifling.
I sometimes find going diving means dressing contradictory to the weather, particularly in the spring. The sea (or quarry) hasn't had time to warm up yet and can still be very cold, yet the weather could be bathing me in glorious sunshine. No really – it does happen – the British weather isn't always completely miserable! And so, in weather that is better suited to T-shirt and shorts, I find myself getting changed into thermals and getting zipped into something that can turn into a pretty effective portable sauna.
I first found myself in that scenario on my second ever UK dive trip and my first dive trip to Eyemouth, which shouldn't be surprising as it's always sunny in Scotland. On my first day, quite aware that I was new to UK diving and that I took a bit longer than average to get kitted up, I was very keen and got into my drysuit, hood and gloves as soon as I could.
Apparently, heat exhaustion isn't just something theoretical in scuba diving manuals. I can only describe it like a fog descending on my brain, making me think and act slower than usual. My most vivid memory of getting ready for my first dive off Eyemouth is seeing my sweat run down the inside of the mask. I, of course, said I was fine throughout – never underestimate the stupidity of the male ego. As soon as I got into the sea, the fog immediately lifted as I started to cool down (a slightly leaky drysuit helped on that front) and that's when I realised that I had become far too warm for my own good.
I had always thought that regulating my body temperature while diving in the UK meant staying warm (it certainly meant that on my one and only previous UK dive trip to the Farnes – the weather was a bit damp). The words 'cold water diving' and 'don't get too hot' didn't seem to go together, until they did.
I usually find it pretty easy to prevent myself from getting too hot in the UK. Staying well-hydrated is always the first step. I've also learned to only get fully zipped up later rather than sooner. Hoods and gloves go on last, especially if I need to trek from the car park to the water's edge; a cold, wet hood feels so good on a sunny summer's day in Capernwray.
If possible, I'll take off some undersuit layers between dives. If it's not, then you'll often find me splashing seawater over my head to stay cool. Sometimes, unexpected delays occur, as happened one time in Connemara. It was a scorching hot day, which apparently does happen in Ireland, and much to the amusement of the rest of the group, I waded into the sea and lay down on my back to cool down. My drysuit kept me afloat as I bobbed about in the shallows until I cooled down. I may have received some weird looks, but I managed not to overheat!
BSAC members save £££s every year using BSAC benefits.
Join BSAC today and start saving on everything from scuba gear, diving holidays and diver insurance, to everyday purchases on food, online shopping and retail with BSAC Plus. Click to join BSAC today.
This column was originally published in SCUBA magazine, Issue 102 May 2020.
Images in this online version may have been substituted from the original images in SCUBA magazine due to usage rights.