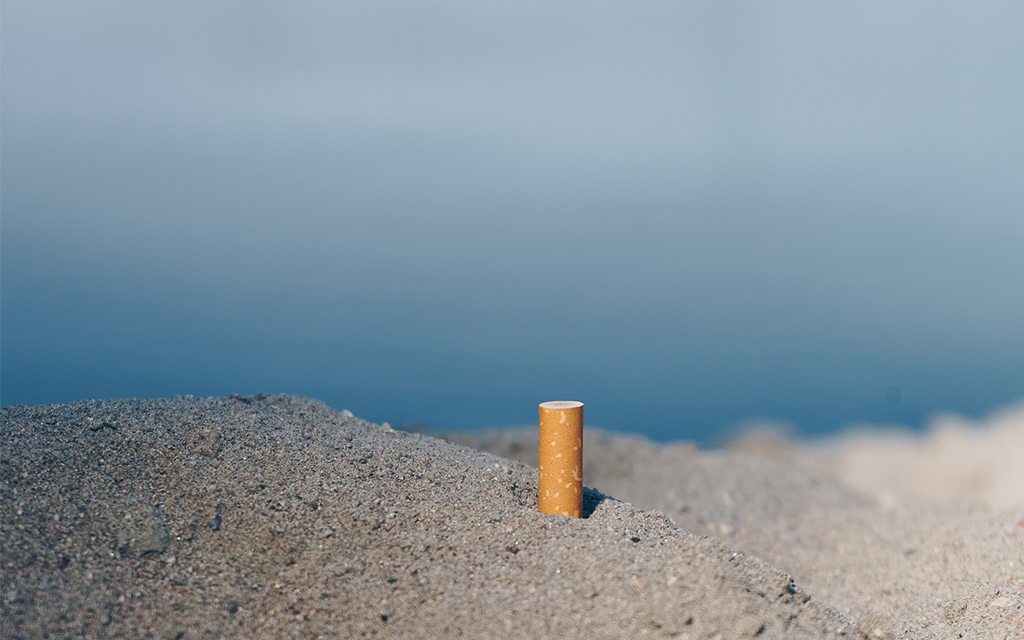 Marine Conservation Society and ASH (Action on Smoking and Health) Scotland tell Cabinet Secretary to put cigarette filters alongside straws and cups.
Last week two Scottish charities wrote to the Cabinet Secretary for Environment, Climate Change and Land Reform, Roseanna Cunningham MSP, asking her to include cigarette filters, alongside plastic straws and single-use coffee cups, in her brief to the Scottish Government Advisory Expert Panel on Environmental Charging and Other Measures which advises on sustainable changes in consumer and producer behaviour.
The Marine Conservation Society (MCS), based in Edinburgh, and ASH Scotland – the charity that takes action to reduce the harm caused by tobacco - say that with cigarette butts clearly identified as one of the key components of single-use marine litter, it is hard to see how a credible action plan to reduce single-use plastic waste in our oceans could possibly exclude them.
Last year's MCS-organised Great British Beach Clean saw volunteers record over 1,500 cigarette stubs on the 135 Scottish beaches they cleaned and surveyed in just one weekend, whilst globally a staggering 2,412,151 were recorded by volunteers on the Saturday of the International Coastal Clean-up last September.
In their joint letter to the Cabinet Secretary, MCS and ASH Scotland, said almost all of the four billion cigarette butts discarded each year in Scotland are made of a cellulose acetate plastic. They state:
Whilst this form of plastic does degrade in certain conditions, it can take up to 12 years, breaking down into progressively smaller pieces while at the same time leaching out thousands of chemicals, many of which are toxic to marine life.
The letter concludes: 'We believe that plastic cigarette filters should be categorised alongside plastic cotton-bud stems, straws and cups as optional consumer choices, and be the subject of appropriate regulatory action. Yet cigarette filters have been a neglected element of the plastics debate.
'The European Union, through the Single Use Plastics Directive ("Reduction of the impact of certain plastic products on the environment"), has recognised cigarette butts as one of the top 10 most commonly found items on our beaches. However, unlike some other single use plastic items which have been subject to a ban or reduction, cigarettes will only be subject to an Extended Producer Responsibility scheme which will contribute to covering clean-up costs.'
Photo by Natasha Ewins, inset by Catherine Gemmell
MCS's Catherine Gemmell (inset) will be speaking at BSAC's Conference this year
In her talk – Environmentally-responsible club diving – Catherine will offer a practical guide for clubs to help them become even more environmentally responsible.
John Watson, Deputy Chief Executive ASH (Action on Smoking and Health) Scotland, said: "Interestingly the tobacco industry suggests that filters should be not be included in current considerations because they "are not made of a petrochemical plastic". It seems to me that the question is not over where a product comes from, but where it ends up and what harm it causes when it gets there. This would include the world's oceans, where cigarette butts release toxins and could be ingested by wildlife."
Catherine Gemmell, MCS Scotland Conservation Officer, said:
To stop the plastic tide for good we need radical change at every level – yes we need those who use cigarettes to dispose of them properly, but can't we also have action at the top of the supply chain? Do they have to be made of plastic in the first place?
If the Expert Panel can investigate measures to change or reduce the amount of plastic entering our oceans from cigarette filters and then have the Scottish Government lead the way in implementing them, we will have taken a massive step towards the plastic free seas Scotland deserves.
For more information visit:
Not yet a BSAC member? Let us help you find your local BSAC club
Send your postcode to hello@bsac.com and we'll help you find the right scuba club for you. Or if you fancy a chat call us 0151 350 6226 (Mon - Fri, 9 - 5:30).