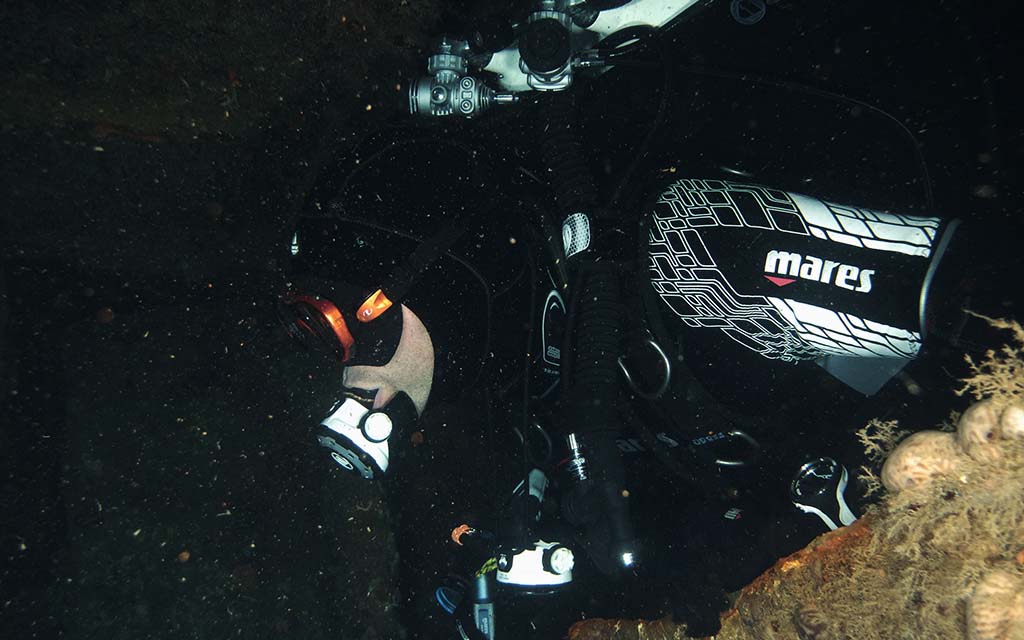 Tash Scott and Steven Baker report from Cyprus, where they have been covering BSAC's Advanced Wreck Diver course on the famous Zenobia.
'Run an Advanced Wreck Diver Course', they said. 'It will be fun,' they said. Well, actually it was! It had been planned for some while, however, with the uncertainties of these times, our trip to Cyprus has been pushed back three times. In fact, Cyprus was meant to be plan B when our trip to Chuuk Lagoon was cancelled... is nothing sacred?
After a fair bit of UK diving, including the annual team Scapa trip and with plenty of wrecks to penetrate, some of our team felt ready to take on the course. Armed with lines, reels, line direction markers and cookies [line markers, not biscuits], we were ready to go. We were spending most of our week diving the Zenobia in Cyprus. A huge roll-on, roll-off ferry that went down in 1980, she offers some of the most intricate wreck penetrations in the Mediterranean.
At 175m long and full of vehicles and features she offered the perfect environment for us to complete the course in warm water with great visibility. Lying on her port side, she bottoms out at around 42m but is 16m at the shallowest point.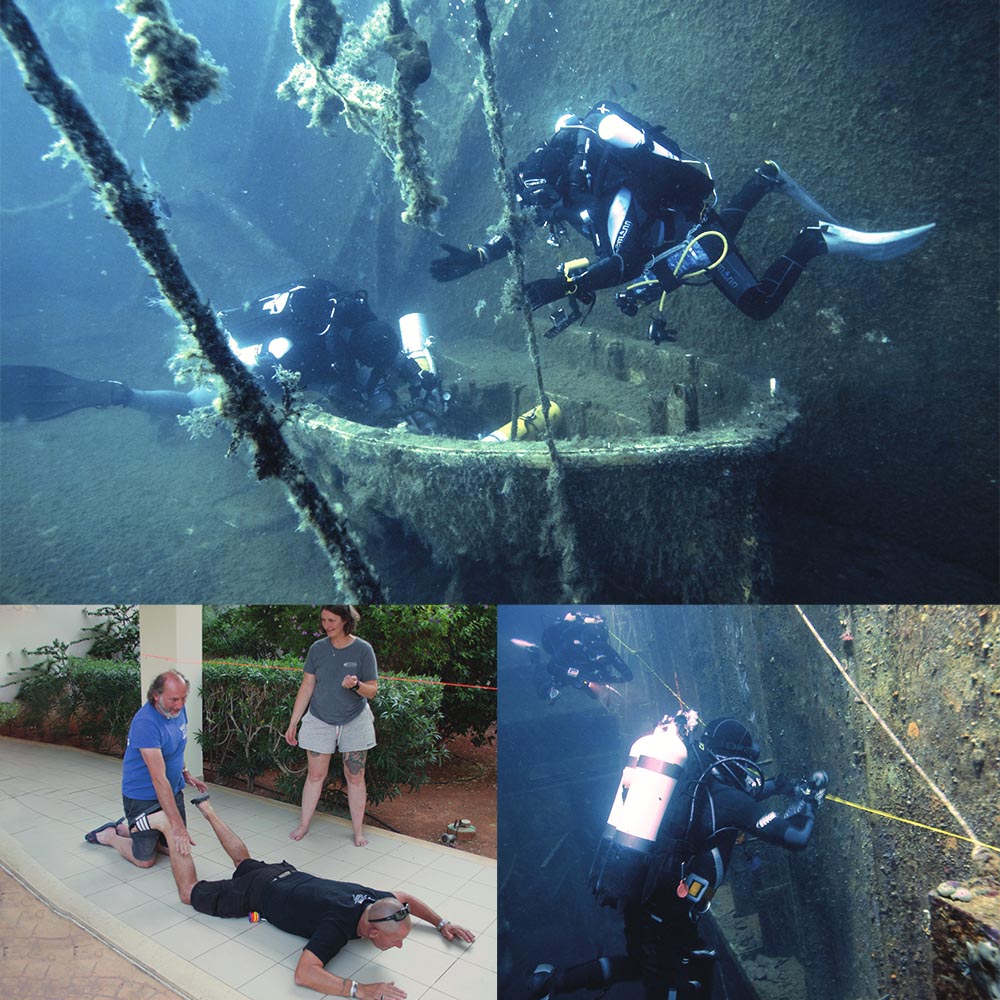 Clockwise: Emergency stages in the life raft; Steve and Chris laying line; Tom and Chris practice their silt-out comms
Why go for Advanced Wreck Diver?
Well, the point is safety. The course is designed to extend your skills and knowledge learned during the Wreck Appreciation and Wreck Diver Skill Development Courses (SDCs) and to give you the skills and confidence to execute a well-planned and safe penetration of a wreck with no immediate access to the surface. Simple……or is it? You see, I haven't noticed many of these courses running. Why? Well, it's a lot of hard work for instructor and student alike. However, it's very rewarding and with new skills to master, such as a controlled buoyant lift (CBL) inside a wreck (quite up-front and personal, I can tell you), everyone walks away smiling.
Being honest and open about wreck diving in the real world, I think it's safe to say many of us have penetrated wrecks in the past and neglected to feed a line out to mark the exit route. People go into wrecks, not having considered their communications in blackout scenarios, or how the hell they could CBL someone from inside a deep dark engine room. Well, this is what Advanced Wreck Diver is all about.
Who can do the course?
You should be a minimum of a Sports Diver, be a qualified BSAC Wreck diver or equivalent. The student should also have experience of twinset diving/CCR with experience of carrying bail out/back up gas.
There are five theory lessons, three dry practical lessons and seven open water lessons, which combine a mixture of non-overhead, partial overhead and full penetration dives. There is plenty of using a reel to line out and back in, new communication skills in blackout conditions, and confidence-building. It ends with a debrief, which is also the sixth theory session.
Meet Steve Baker, one of our club members who decided to take the plunge. Already a twin set diver and Dive Leader, he had completed the Wreck Diving SDC between lockdowns and was ready! Tom, a CCR diver with the club, also decided to join in; again, Tom had done his Wreck Diver qualification in lockdown. Chris Haywood crossed over to BSAC in Cyprus and also wanted to extend the skills he had already learned on a wreck course with another agency. We also had Chris Martin from Alpha Divers, which is already a BSAC Technical Centre. Once we told him what we were doing, he was keen to add this to his extensive list of BSAC instructor qualifications, so he hopped on board too!
We didn't want to let the course completely take over our holiday. So we dedicated specific dives to the course, leaving plenty of time for some chill-out diving. I think it's important that the training does not overload the student.
Plenty of time was dedicated to the dry practical sessions. It's really important to get that muscle memory going in nice safe conditions which can then be consolidated on the dive. I think we all found this beneficial.
We practised lining-out, both in sighted (you can see) and in blackout (you can't see) conditions, practising comms and primary and secondary tie-offs and lost line drills. This is a bit of a giggle and a bit like playing a child's party game when you were 6! At every opportunity, I had the guys practising the skills, by the pool, in the street when we broke down, on the boat, in the water!
Diving in blackout conditions
Our first dive was on the Elpida, a scuttled wreck in 30m. A very open deck and a mixture of partial, overhead and full overhead environments. It gave us a fabulous opportunity to get some skills and drills out of the way and introduced line work in simulated blackout conditions with touch signals.
The second dive was on an old oil platform, where linework could be practised with no overhead environment in blackout conditions, including lost line drills.
For the rest of the week, we were on the Zenobia, where we could develop the skills learned in deeper and darker conditions. It's a very different experience doing a horizontal CBL in amazing conditions, to then having to do it inside a wreck with a silt-out!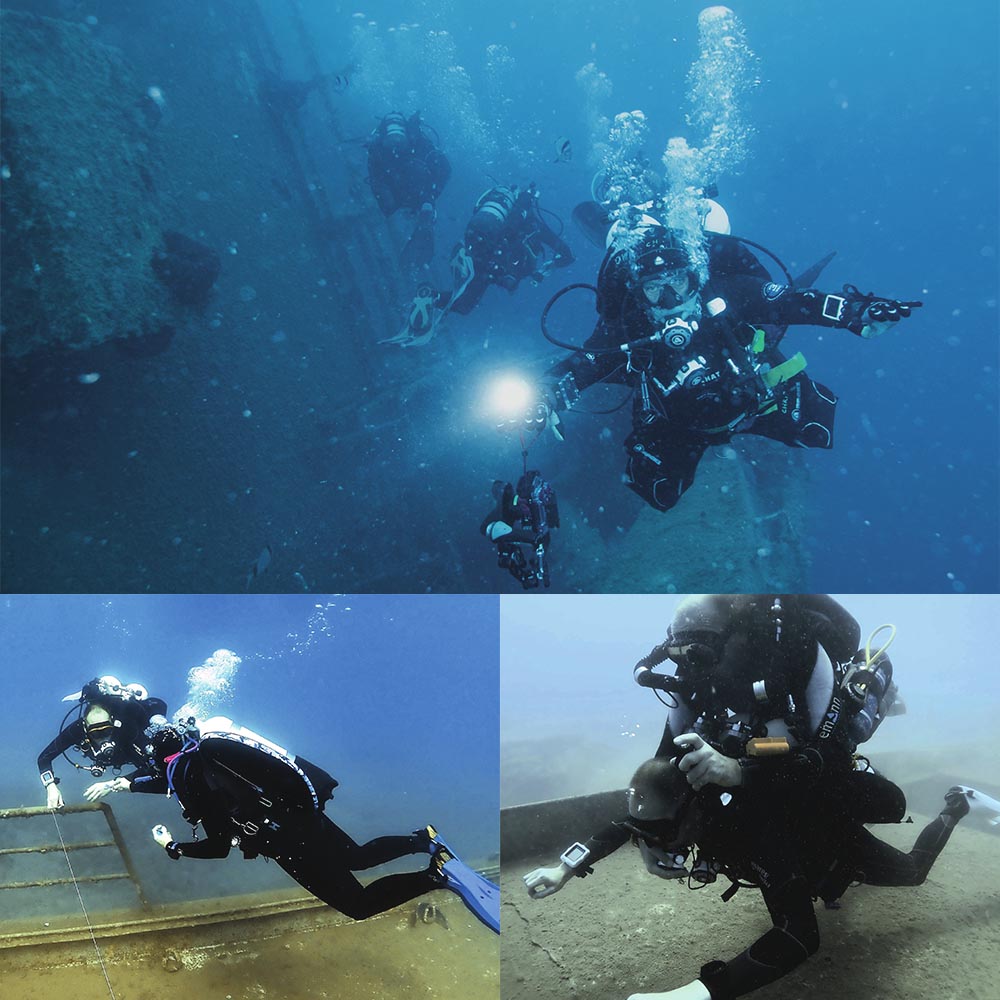 Clockwise: Chris is dwarfed by the huge Zenobia; Tom practises horizontal CBL on Steve; Steve under instruction from Tash
During the third dive, we kicked off with long hose deployment while following a line. You really know why you bought that long hose when you are one in front of the other. For CCR divers this also involved cylinder handoff.
Consolidating skills
By the end of the week, our final dives were a matter of just getting out there and having a proper dive, reeling out in a deep dark engine room and getting home safely. We kept practising skills to ensure the students had consolidated their training. Our last dive was a full black-to-black dive into some very undisturbed areas, absolutely fascinating. The term blue-to-black refers to coming in from the blue, or sea with external visual references, but we were building up to black-to-black penetrations. This means going through different areas of the internals of the wreck with absolutely no immediate reference to the outside.
Luckily, there were two of us qualified to teach the course – myself (Tash) and my husband George Scott, which helped spread the load. George is also a MOD 3 CCR diver, so that really helped with Tom and ensured the instructor was carrying the correct bailouts for the student.
The take-home lessons were to be prepared and make sure your kit is ready. We had one example where the student could not untie his reel. This meant I had to do it for him to continue, in reality, that could have stopped someone penetrating, or even worse taking the risk of entering without a line. You need a sense of humour on the course – it's long, hard and doesn't always go right first time. It's okay if it doesn't go right at first; the instructor should just remember to keep it safe and enjoy the ride.
Thanks to Alpha Divers, who were really great. They made sure they could accommodate our desire to cover the course alongside the leisure dives we had planned. Big thanks to George Scott, who chipped in on the course. Finally, thanks to O'Three, who supplied me with some warm kit for the lengthy run times.
The student's perspective
My name's Steven Baker, or Stevie B as the guys in our club call me. I've been diving for a few years with a different agency but wanted to be a bit more active in a club environment. After working on my trim over a couple of years, I felt ready to start the technical journey, so I approached George, my Diving Officer, to ask what could be done to support me. Slightly apprehensively, I started with Buoyancy and Trim before quickly progressing through accelerated decompression procedures, which really built my confidence in Scapa early this summer.
However, neither were particularly geared toward wreck penetration. George had been speaking to me about an advanced wreck penetration course BSAC was bringing to fruition, so I started pressing to see if this was something we could do as a club.
I won't lie; I didn't realise just how much was going to be involved in the course. With a bit of careful research and timely club planning during lockdown, I was to get my wish as one of three students carrying out our training on the Zenobia. Anyone with a taste for rust will be salivating at the size of this wreck. I'd dived with the club on the Salem Express [another ferry, albeit one that sank in tragic circumstances] in the Red Sea, but the Zenobia is nearly double its size. It's huge!
Practice makes perfect
Anyway, from my perspective the presentations were good, and we managed to cover a fair bit of the theory in Cyprus. It worked really well, as we could do a theory lesson then directly afterwards go outside for a dry-run prior to going anywhere near the water.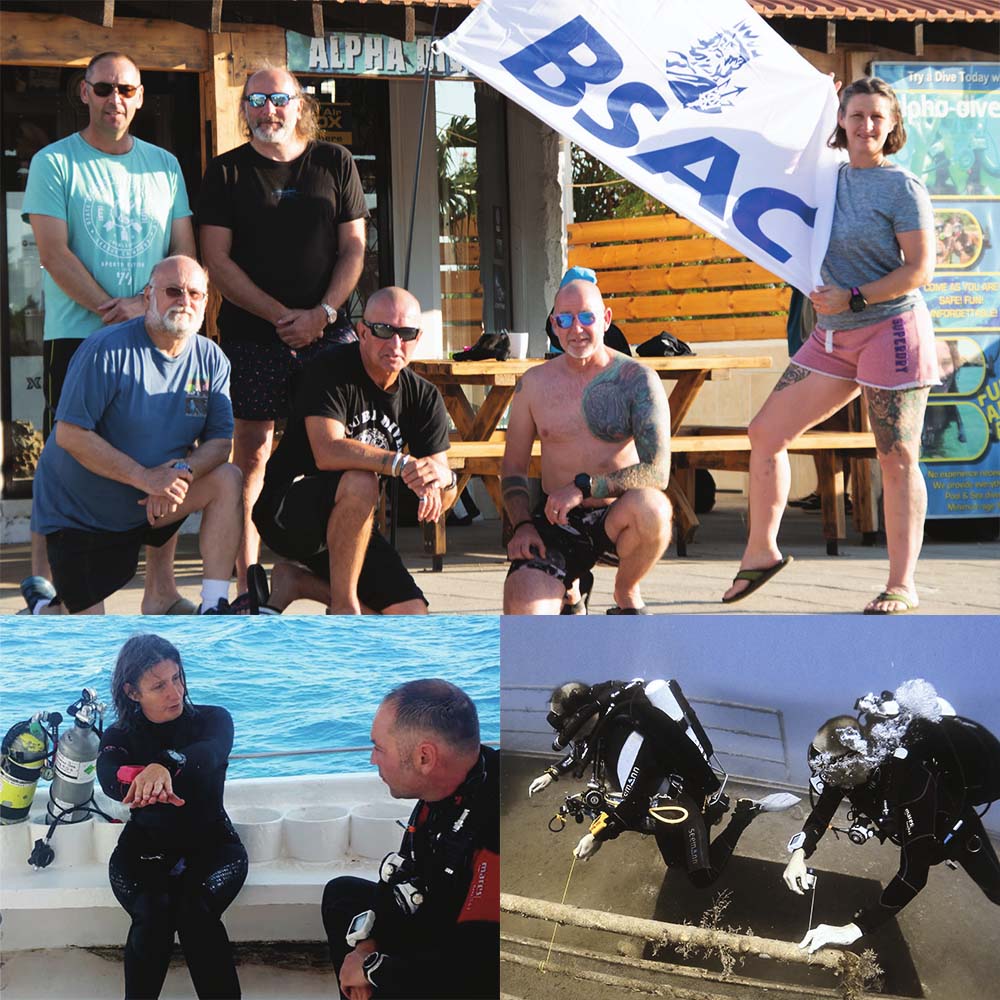 Clockwise: Styling it in Cyprus; Tom and Steve rehearse tie-offs; Tash describes line protocols
It gave us a chance to talk things through, and clarify how to do some of the trickier elements, but repetition and practice are undoubtedly key to this course. Our DO's mantra for the week was "more sweat in training, less blood in war", which initially made me roll my eyes. But when our car randomly sprung a puncture (DO's shocking parking skills, was the team consensus), Tash had us laying line with primary and secondary tie offs from lamp post to lamp post while waiting to be rescued.
By the time we started laying line underwater, I oddly felt like I had already developed some form of muscle memory. It definitely helped when it came to masked communication drills on a line, as it allowed us to focus on communication by feel, rather than have other additional stressors. It's surprising how a simple thing like following a line with your eyes covered really gets your heart thumping, but the dry drills really helped with that too.
In the belly of the beast...
One particular skill I enjoyed was the controlled buoyant lift of a casualty, laterally guiding them through the wreck. Tash took the open circuit guys on this skill, and George took the closed-circuit student. It's surprising really; I thought it would have been so much harder for Tom on his rebreather, but apparently, there are just different considerations, such as hand placement on the casualty's loop before starting to inflate.
Once we got to grip with in-wreck rescues, we really felt like we could make the most of the Zen. Our final qualifying dive involved more than 40 minutes of advanced overhead environment penetration, routing through the engine room and lower levels of the Zen. We were in the belly of the beast!
I commend this course to anyone a little unsure of which direction to take their diving, perhaps still early in their technical diving career. Take my advice – go and speak to your Diving Officer to see if your club can set up what ours did. It is without question worth the effort, and a really great course to develop your wreck penetration confidence and skill.

BSAC members save £££s every year using BSAC benefits.
Join BSAC today and start saving on everything from scuba gear, diving holidays and diver insurance, to everyday purchases on food, online shopping and retail with BSAC Plus. Click to join BSAC today.
This Learning Curve article was originally published in SCUBA magazine, Issue 122, January 2022. For more membership benefits, visit bsac.com/benefits.
Images in this online version may have been substituted from the original images in SCUBA magazine due to usage rights.