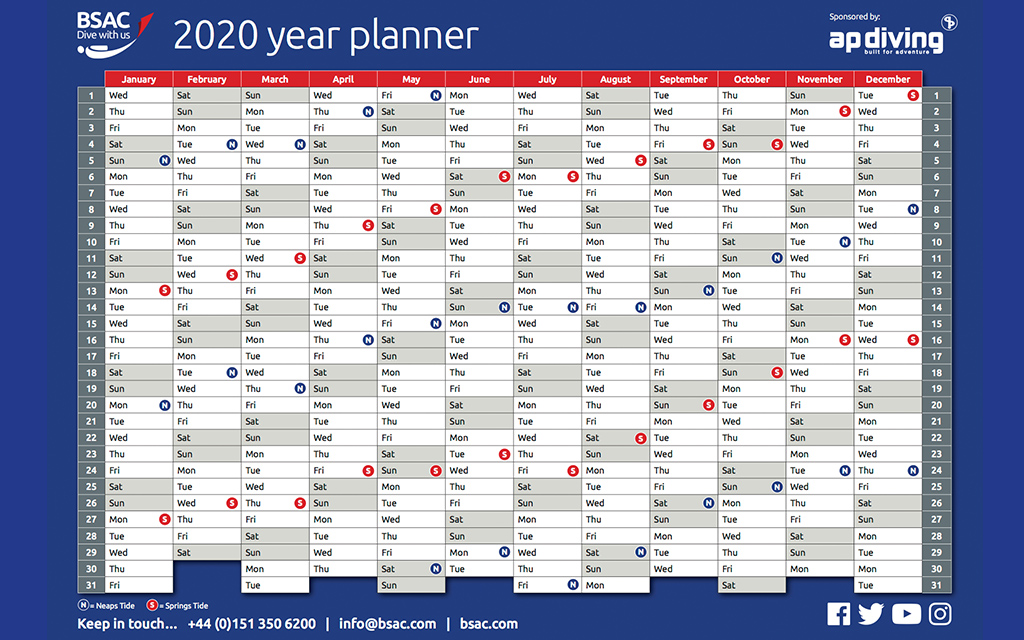 Every year BSAC produces a year-view wall planner with the Spring and Neap tides which is free to download in a variety of sizes.
With the tides for the coming 12 months, the planner can be used to map out both yours and your club's dives for the new diving year.

Many thanks to our friends at AP Diving for sponsoring the planner this year so we can provide A2 copies for the BSAC Diving Conference delegates on 26 October.
The PDF can be printed off in either A4 or A3, perfect for the dive club noticeboard or the planner can be downloaded in larger sizes – A2 and A1 – which can be sent to your local printers or copy shop if you need a large size.
Download the 2020 year planner
Please click below to download the PDFs.

If you want to use an editable PDF but don't have the software then you can use free websites like this to personalise your year planner.
Got your conference ticket yet? Claim your seat today!
Get the latest news and developments from BSAC, hear from world-renowned guest speakers and network with other members.
Tickets include:
● Free access to the Dive Show all weekend (advance tickets £9.50 per day)
● Free parking (normally £16 on the day)
● Various freebies - including reusable delegate bag and water bottle, tea/coffee and a beer (or something else) at the end of the day courtesy of blue o two.