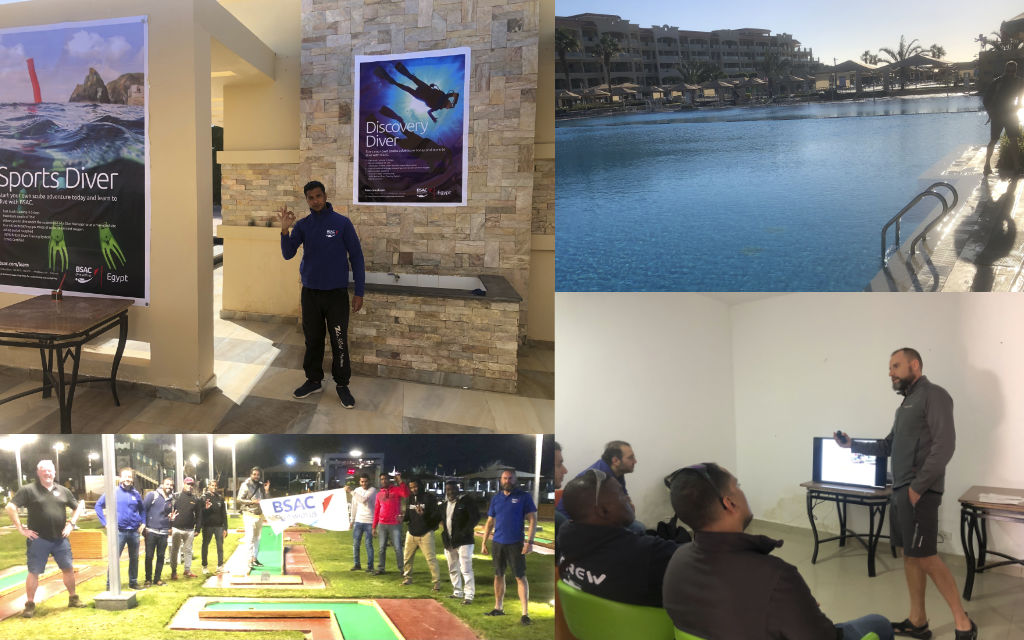 It's all go for BSAC Egypt as it works with BSAC to increase its capacity to deliver training in the Red Sea.
Last year BSAC announced an exciting new licence agreement for the creation of BSAC Egypt that is set to take diving, snorkelling and training in the Red Sea to a whole new level, with many more BSAC Diver Training Centres set to be created.
As travel restrictions ease, the BSAC Egypt project is progressing well. Two National Instructors (Adrian Collier and John Potten) have travelled to Egypt and are currently training BSAC Egypt Dive Leaders to become BSAC Open Water Instructors. They are also crossing over instructors from other agencies to become BSAC instructors. The training process (Instructor Foundation Course/Open Water Instructor Course/Practical Instructor Exam/Theory Instructor Exam) is the same as in the UK and the delegates will receive the same instructor qualification.
Adrian and John will spend two weeks instructing in Egypt. They have just finished the Instructor Foundation Course for eight students and are now moving onto the Open Water Instructor Course (OWIC). There is already a high level of demand for more BSAC instructors and it's expected there will be training for many more instructors as part of the BSAC Egypt project.
BSAC Head of Diving and Training Dom Robinson said:
More BSAC instructors in Egypt is great news and we're really looking forward to providing further support to BSAC Egypt as they continue to grow.
The focus is not just on diving, either. BSAC will also train Snorkel Instructor Trainers to deliver Advanced Snorkel Instructor training. The Advanced Snorkel Instructors that qualify will then be able to train Snorkel Dive Managers (also known as Snorkel Guides) throughout the Egyptian Red Sea.
The BSAC network is working together to keep people connected to the sport. With online training, special interest webinars, competitions, support to clubs and the trade, and much more...we'd love you to join us.