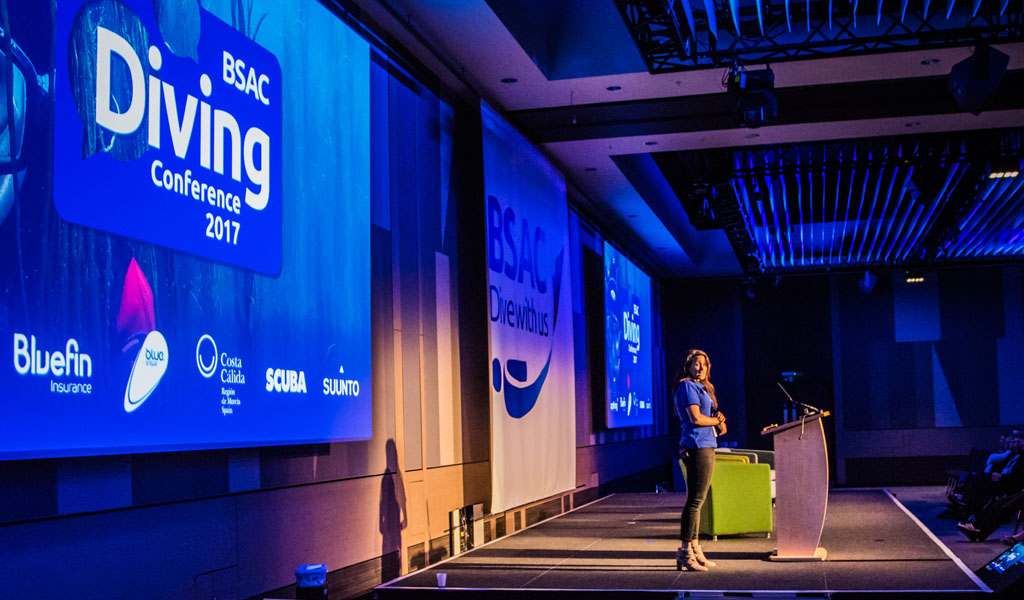 Tickets have gone on sale for BSAC's event of the year, the annual Diving Conference on Saturday 26th October.
Building on the success of the last sell-out conference, the 2019 event will have more of what members love – breakout sessions, an impressive external speaker line up and plenty of networking opportunities – all in the top-rated (by previous delegates) venue, The Vox at the NEC, Birmingham.
BSAC's National Diving Officer Dai Atkins who is overseeing the event said:
It's fantastic how the conference has grown over recent years and the line-up this year looks like the best yet. I can't wait. Members really don't want to miss this!
As previous years, the conference is open to all members but is most relevant for Diving Officers, Training Officers, Instructors and Branch Officers (and very importantly, members aspiring to be one or more of those things!).
A few things you can expect at this year's conference…
World-renowned diving medicine expert Dr Neal Pollock will take to the BSAC stage to talk on 'The future of diver protection'. Neal will consider the changing nature of equipment dependency in our sport and juxtapose human physiology alongside recent, emerging and future technologies to demonstrate how both risks and protections are evolving and are likely to continue evolving.

A much-sought after speaker on the international dive event circuit Professor Simon Mitchell will also deliver a talk to conference. In his talk - The shortest road to increased safety in diving – Simon will surprise those familiar with his talks and delight all, as he draws deep on his wealth of professional experience and knowledge to distil for us all, what every diver wants to know…how to deliver extraordinary gains in our own personal diving safety.
Other guest speakers include:
Diver RNLI crew members will be sharing their experience and insights from diving 'shouts' with delegates in their talk: Saving divers at sea. They'll be getting everyone involved with what's planned to be an interactive talk with members.

Mental health expert and BSAC Instructor Trainer Eugene Farrell will talk about how the diving community can play a positive role in mental health.
Scotland Conservation Officer at the Marine Conservation Society (MCS), Catherine Gemmell will offer a practical guide for clubs to help them become even more environmentally responsible.
Lieutenant Jen Smith will be sharing new images and 3D Photogrammetry models of HMS Royal Oak, now a designated war grave, lying in 33 metres of water in Scapa Flow.
Also at the event:
Hear from your National Diving Officer, Dai Atkins
Choose from 14 breakout session options from the popular Diving Officer workshop through to Q&A with Dr Neal Pollock
2019 Incident Report and lessons learned
Post-event beers (or something else) for all, thanks to blue o two
Conference dinner at Hilton Metropole – all members invited
More to be announced!
New for this year the event will be encouraging more Sports Divers to attend with dedicated Dive Leader lectures to support members in achieving this milestone grade.
As last year, conference tickets will give members access to the Dive Show all weekend (short walk from conference venue).
Early-Bird conference tickets are now available.
Early-Bird conference tickets are available until 21 July at the special rates of £27, or £62.50 for the conference and dinner package. Early-Bird ticket holder benefits:

- Entry into a prize draw to win a Suunto Eon Steel computer
- Free onsite parking worth £16
- Save up to £10 on the standard ticket prices

More info and tickets