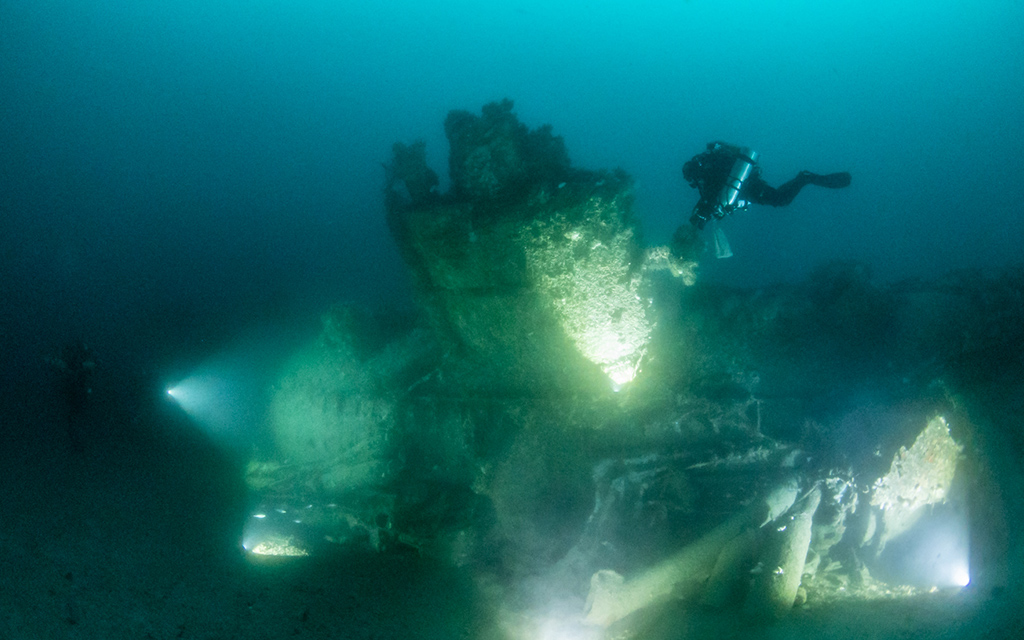 Working with US-based U-boat historian Michael Lowrey, a team of BSAC divers organised by Steve Mortimer has conclusively identified a U-boat lying in 70m of water off The Lizard, Cornwall.
There had been considerable debate about the identity of this U93-U98 class submarine. Claimed as rammed and sunk by merchant ship SS Braeneil on 7 January 1918, the Royal Navy's official attribution was that it was U-93 – but that was later questioned as that boat was assigned to operate off Brittany and subsequently sank two ships.

By 2004, Alain Richard and others had located a U-boat of the same type off Hardelot, France in the eastern English Channel. Considering propeller markings, they assumed the wreck to be U-95. In 2006, Innes McCartney identified the wreck off The Lizard as "probably" U-95. The dives last week were planned to clarify this puzzle.
The team of divers was led by BSAC's Steve Mortimer, who also helped Michael Lowrey identify the wreck of the first modern submarine, HMS D1, last summer. The team also included Rick Ayrton, Fran Hockley, Craig Holdstock, Jacob Mackenzie, Barbara Mortimer, Dom Robinson, and Tim Wallis.
Diving from Atlantic Scuba's dive boat Moonshadow and constrained by the depth and notorious Lizard currents, the team scrubbed one of the propellers and found an inscription of the U-boat series and an attachment date. Comparing the dates on the two submarines' propellers tells us that they were fitted after launching – a new development. It is thus clear that the Lizard wreck is U-95 and the Hardelot one U-93.
All other U-boats from the U93-U98 type were either surrendered at the end of WWI or their location is known.
Photographs and video from the recent dives are still being analysed to try to confirm the cause of the sinking. The original ramming claim remains a real possibility.
The BSAC network is working together to keep people connected to the sport. With online training, special interest webinars, competitions, support to clubs and the trade, and much more...we'd love you to join us.
Feature image: Rick Ayrton