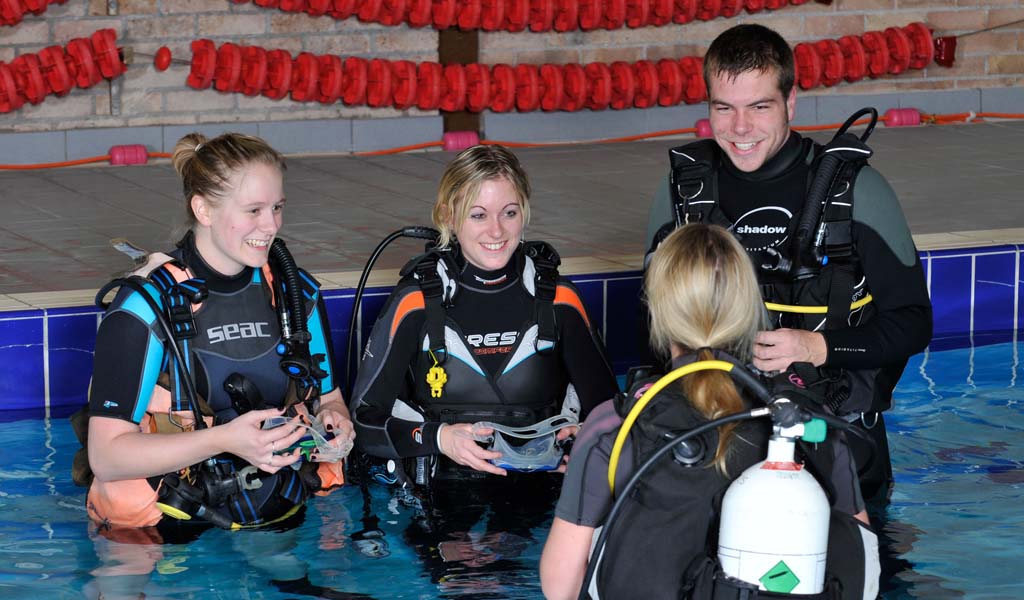 Learning to dive can be a life-changing experience, bringing a whole host of exciting underwater opportunities and friends to enjoy them with.
BSAC's Ocean Diver course is the first step on this adventure. Over a series of classroom lessons, practical pool training and sheltered water sessions you will be progressively taught the core scuba skills until, before you know it, you're a fully qualified BSAC diver ready to go out and explore the underwater world!
If you are a new Ocean Diver trainee – or have yet to start – here are some answers to the immediate questions you may have to help you get the most out of this fun and enjoyable course.
Ready to get started? Find your local club and book a Try Dive today
Book a Try Dive with a BSAC club Ocean Diver Course Details
All you need to know about the BSAC Ocean Diver course
National Instructor Marg Baldwin answers your questions about BSAC's diver training course for beginners, Ocean Diver.
How long is the Ocean Diver course?
The Ocean Diver course is made up of: classroom lessons; a theory assessment; a basic swimming assessment; sheltered water lessons (usually carried out in a pool) and open water lessons (also known as going diving!)
Many clubs run Ocean Diver training over consecutive weeks, completing the classroom and the sheltered water (pool) lessons as part of their weekly club meeting and pool night. After a successful theory assessment, the open water lessons start. Going diving can be in a lake, a flooded quarry or, of course, in the sea. All lessons are performance-based so you progress at your own pace.
Instructors in BSAC clubs are volunteers and may have other commitments. If you need your training delivered more quickly than your club can manage, all or part of your training can be completed through a BSAC centre. The Ocean Diver course and its Qualification Record Book (a record of your training as it is delivered) are designed so that any suitably qualified BSAC instructor can record lessons completed, other instructors can see your achievements to date and continue your training.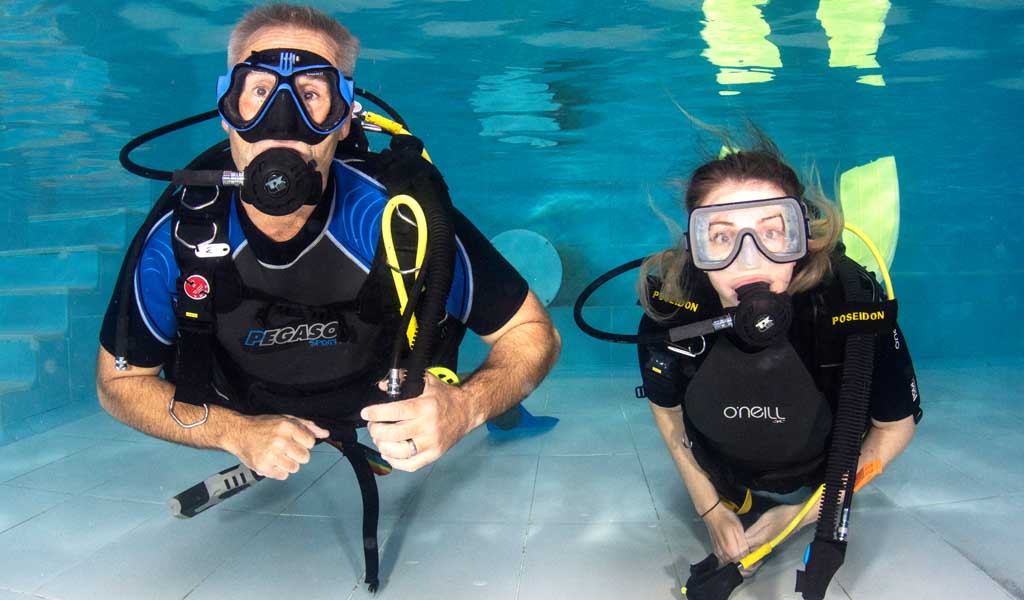 Scuba Instructor and Ocean Diver trainee in the pool practising skills
There is a swimming assessment but I am not a brilliant swimmer. Will I cope?
You do not need to be an Olympic swimmer but being comfortable in the water is essential for all divers. This is evaluated during the swimming assessment which is a 200 metre – or eight lengths of a 25m pool – freestyle swim (meaning any stroke) in basic swimwear.
You need to complete it comfortably, speed is not important. Should you need time to practice your swimming, this can be accomplished in parallel with your underwater lessons. The swimming assessment has to be completed before you start open water diving.
I don't have any equipment, is the kit included?
Clubs often have the core scuba equipment that you need – cylinder, regulator and buoyancy compensator (BCD) – during your training. There may be a small fee for using it.
Many clubs also provide basic equipment such as mask, fins and snorkel to help get you started, while some clubs may also be able to provide diving suits. Most dive shops have equipment available to hire.
I have been to the local dive shop, and I really want to buy some equipment - where do I start?
One of your early classroom lessons provides information and advice about equipment, particularly about selecting your mask, which is an important piece of personal kit. But if you can't wait for the lesson, talk to your instructor and get some advice including how to try a mask for fit.
Mask fit is very important so resist the temptation to buy on the internet and visit a dive shop where you can try on different makes and models until you find one that you are really happy with. As you progress through your training and get to know what equipment your club has available, the next items you need to buy will become apparent. If possible, take every opportunity you can to try different makes and styles of equipment before buying. You will never be short of things to put on a Christmas or birthday list! Remember, size and fit are important. Check out our starter guide to scuba kit on page 26 for more advice.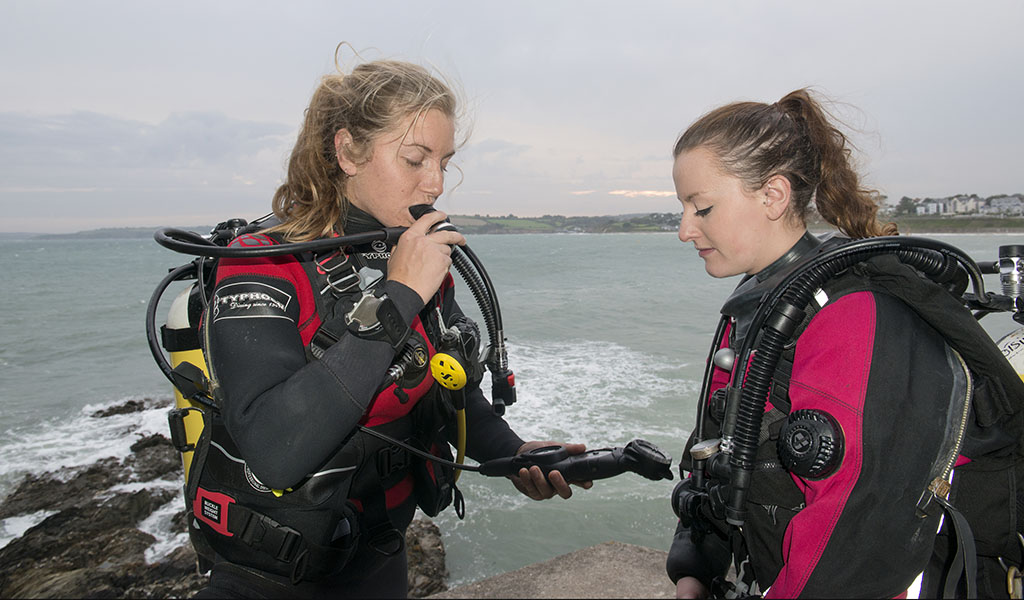 Dive buddies carrying out a buddy check before an open water dive
I've heard that I have to take my mask off underwater – is that true?
The short answer is yes, BUT as with all of your BSAC training, you build up to doing that in small steps. The starting point is learning how to prepare and fit your mask, followed by getting used to wearing and using your mask underwater. How to deal with small leaks of water into your mask is another step. Then you progress to the point where you are comfortable and confident enough to remove and refit your mask underwater. Your training is performance-based so you can progress at a pace that suits you.
Why do I have to complete a medical self-declaration form?
Being medically fit is important for both the diver's safe enjoyment and for the safety of diving as a whole. BSAC requires all members to complete a self-declaration medical form on joining and then annually on re-joining.
If you tick 'yes' to any of the questions on the self-declaration form or if a medical condition arises after you complete it, you will need to consult with a local Medical Referee – who is a specialist diving doctor – for further advice. For more information on completing your medical self-declaration form visit the Medical Matters webpage or call the BSAC team on 0151 350 6203.
How does the Ocean Diver Qualification Record Book work?
When you sign up for the Ocean Diver course, you will receive a full training pack, which includes your Student Workbook and a Qualification Record Book. Often referred to as the QRB, this is a record of your progress through the Ocean Diver training. After the successful completion of each module, your instructor signs the relevant section. Once all the sections for Ocean Diver are satisfactorily completed, the Ocean Diver certificate will be signed by your club's Diving Officer, awarding you the qualification of Ocean Diver.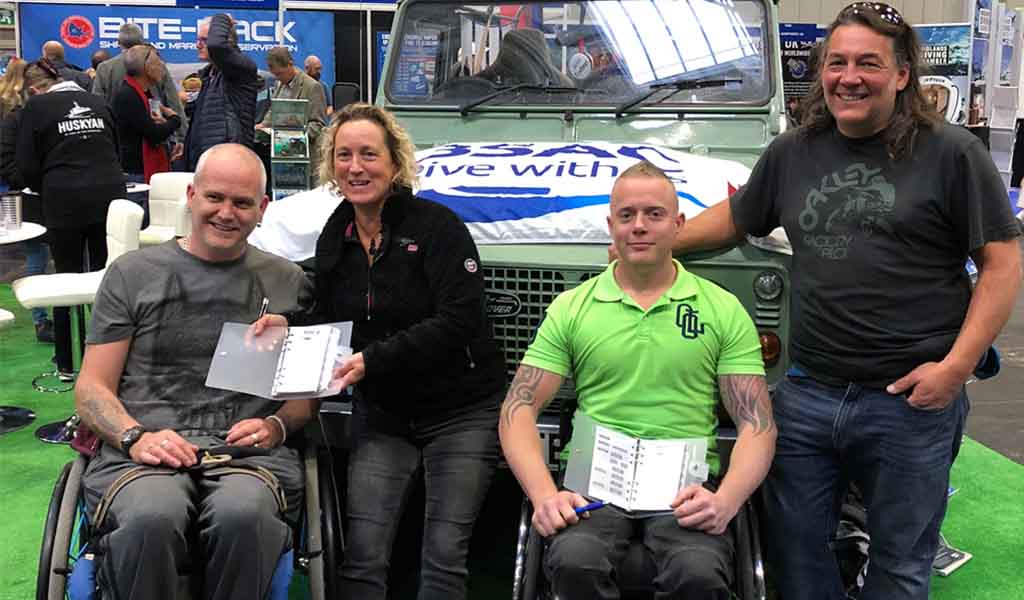 Qualification Record Books signed by Diving for All Scuba Instructor for Ocean Diver trainees
How can I measure my progress in the Ocean Diver theory lessons?
Your instructor will take you through each theory lesson and make sure that you understand the details. The Student Workbook is arranged so that you can read the same material in your own time before or after the lesson. The quizzes at the end of each lesson are there so you can test your knowledge and understanding of a subject. The answers are in the back of the book. Should there be something that is unclear, do ask your instructor.
When do I have to do the Ocean Diver theory assessment and what is the pass mark?
The theory assessment can be taken any time after completion of the classroom lessons and ideally, you should have successfully completed it before the final open water lesson. There are 30 multiple choice questions. We need to test your diving knowledge and recognise that written assessments don't suit everyone so it is possible for an oral assessment to be arranged. The pass mark is 24/30 – 80% – and if necessary there is the opportunity to take the assessment more than once.
Will I be tested on my underwater skills?
Your instructor will introduce the underwater skills one at a time and allow you the time to become familiar with them to a level where they become second nature. This ongoing skill development and assessment takes place throughout your Ocean Diver underwater training, so there is no formal assessment.
What is open water? Where can I complete my open water dives?
Open water is, as the name suggests, a body of water that is open to the elements. This can be the sea, for your first dives a sheltered cove of a suitable depth may be chosen. Other options include inland dive centres, which are lakes or flooded quarries. As with your pool training, the open water dives are designed to develop your diving skills and build up your experience at your own pace of depth and different diving conditions. Just enjoying being underwater and getting used to the environment are important parts of your open water dives.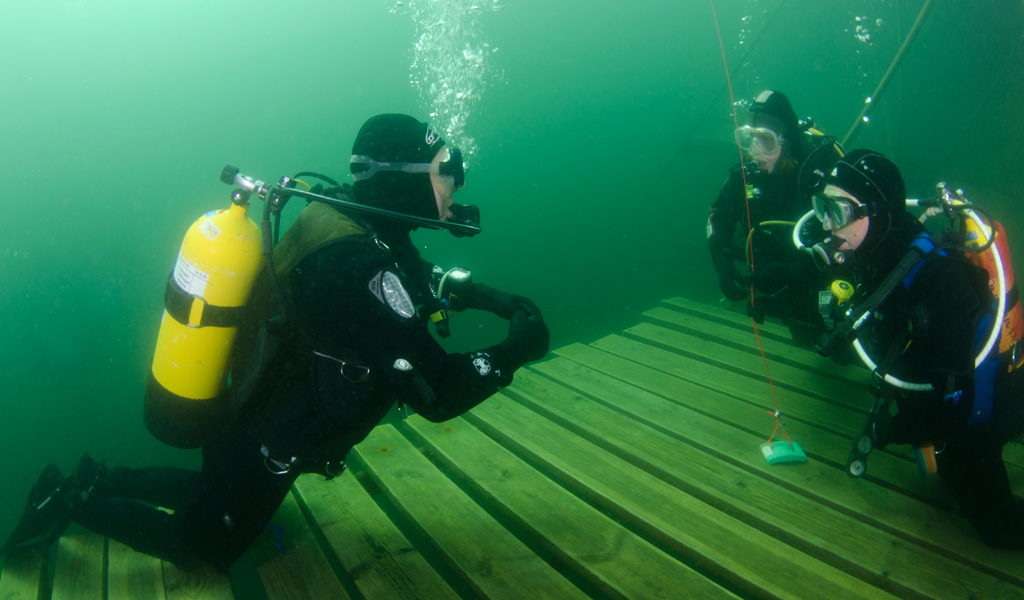 BSAC scuba Instructor training Ocean Divers in open water
Do I have to do all the open water dives to complete my training – can't I do it any quicker?
It is important as divers that we have the time to develop and consolidate our underwater skills. Remember, your open water lessons are dives, and there is every chance when diving in a lake, quarry or sea you will enjoy some 'distractions' such as fish swimming past, maybe a wreck or other underwater feature. Your adventure has already started – enjoy your diving!
As a qualified Ocean Diver what diving can I do?
Ocean Divers are strongly advised to dive at all times with a buddy who has more experience and holds a higher diving qualification. Ocean Diver is classified as an autonomous diver by the European Underwater Federation. As such an Ocean Diver may dive with another Ocean Diver within the conditions and depths they have experienced during training, provided that they have the supervision and the support of a Dive Manager on the surface. The maximum depth for any Ocean Diver is 20 metres.
I am not sure about the idea of diving in cold water – can I do my open water dives somewhere warm?
It is possible for you to complete all the classroom and pool elements of your training with your local BSAC club and then go to a BSAC club or centre somewhere warm to complete your open water dives. Should you decide to do this and in the future decide you would like to dive in the UK, you will need some further training to acclimatise yourself to the diving conditions. This may include the training needed to use a drysuit.
I am worried by the references to assisting a casualty – is diving that dangerous?
Diving is an adventurous sport with a very good safety record. No matter how safe an activity there will always be some small risk of something going wrong. Your Ocean Diver training equips you to help yourself and your buddy get to the surface should either of you experience a problem underwater.
What happens after I have finished my Ocean Diver training?
Go and enjoy diving – you are now a qualified diver who can dive within the limits of the Ocean Diver grade anywhere in the world! Remember you are advised to dive with an experienced diver who holds a higher qualification so can keep building up your own experience. When you are ready, the next step is to start working up the BSAC diving qualification ladder by doing your Sports Diver training which will open up even more diving opportunities.
Need help finding the right scuba club for you?

Please email hello@bsac.com and we'll send you your three nearest scuba clubs. Or if you fancy a chat call us 0151 350 6226 (Mon - Fri, 9 - 5:30).