We are a proud island nation with a rich maritime heritage. Over the centuries significant shipping tonnage has been sunk off our coasts by the power of nature or unrestricted warfare.
It's not surprising that you'll find some of the very best wreck diving in the world along the coastlines of the UK. From battleships and merchantmen, through to steamers and tankers, our seabed is littered with shipwrecks, with the oldest dating back to 900 BC and the Bronze Age.
Join a BSAC club and start exploring today!
Photo by Bob Anderson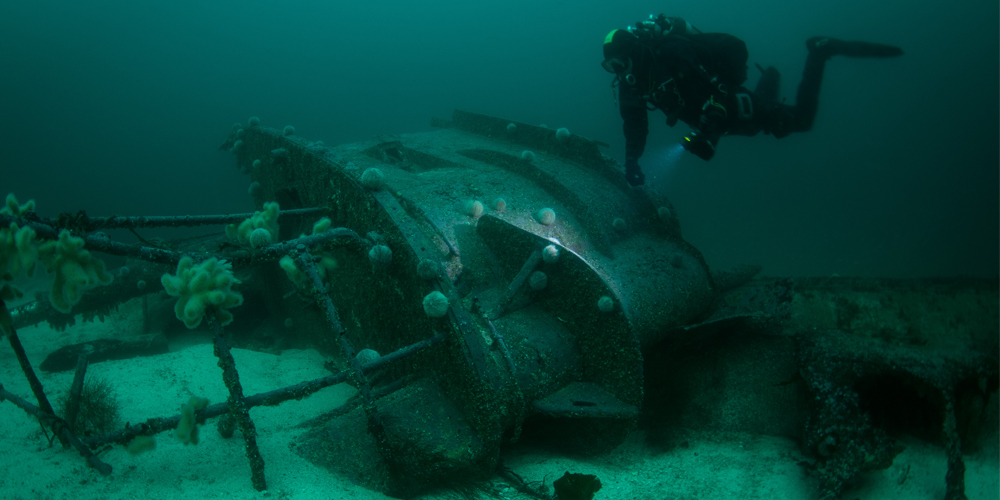 Windows into history
Each wreck provides us with a unique window into history. When a handful of Spanish galleon wrecks were found off Ireland and Scotland, artefacts recovered from this ill-fated Armada of 1588 were examined and preserved by experts. They soon got a clear picture of the scale and intent of the planned invasion of England by King Philip II of Spain.

Wrecks are never pristine; they tend to be pretty, naturally attracting marine life, and evolving into beautiful reefs that teem with life. Wrecks are a sanctuary, providing a foundation for corals and a shelter for critters.

A shipwreck is not just some random piece of metal. Every wreck has its own evocative, poignant story. How she came to be built, who sailed her, and what happened on her final voyage.
Photo by Steve Jones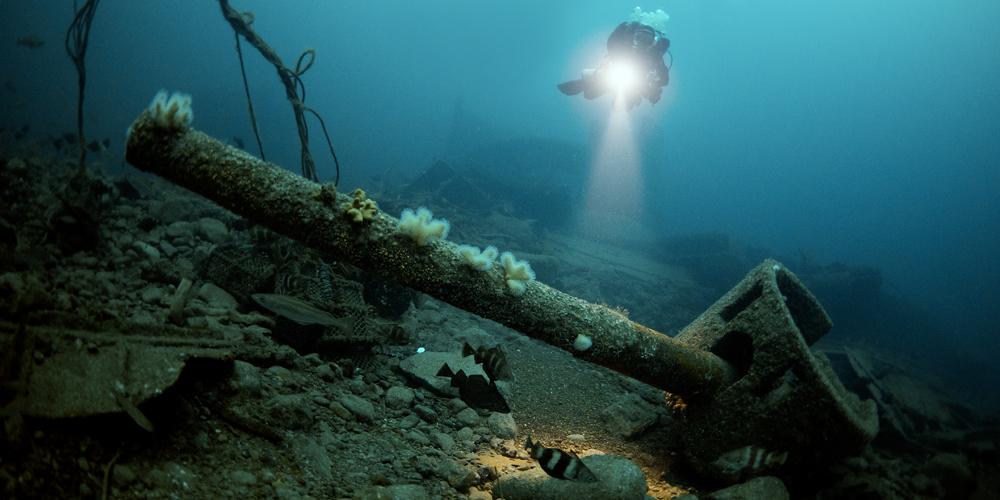 HMS Audacious, the first British Battleship to be sunk in World War 1. Super-Dreadnought class. Lies at 65 metres depth.


Did you know?
With BSAC's member liability insurance you're covered for wreck penetration and technical diving (within the BSAC or other tech agency qualification limits).
Wrecks around the UK
We are lucky that in the UK we can dive a submarine aircraft carrier (M2), a blockship that sunk twice (Tabarka), an ironclad steam clipper carrying gold (Royal Charter), a P&O Liner that won the Blue Riband for the fastest crossing of the Atlantic (Salsette) and Operation Tiger D-Day Landing Ship Tanks (LST-507, LST-531) fatally lost at Slapton Sands.

Wreck diving is special. As a member of BSAC we will teach you how to read a chart, plan a dive, tie a bowline and even how to coxswain a boat, enabling you independently to execute your own British wreck diving adventures.
Start your UK diving adventure and go wreck diving with a BSAC club
Find your local club and book a Try Dive Already a diver? Switch today