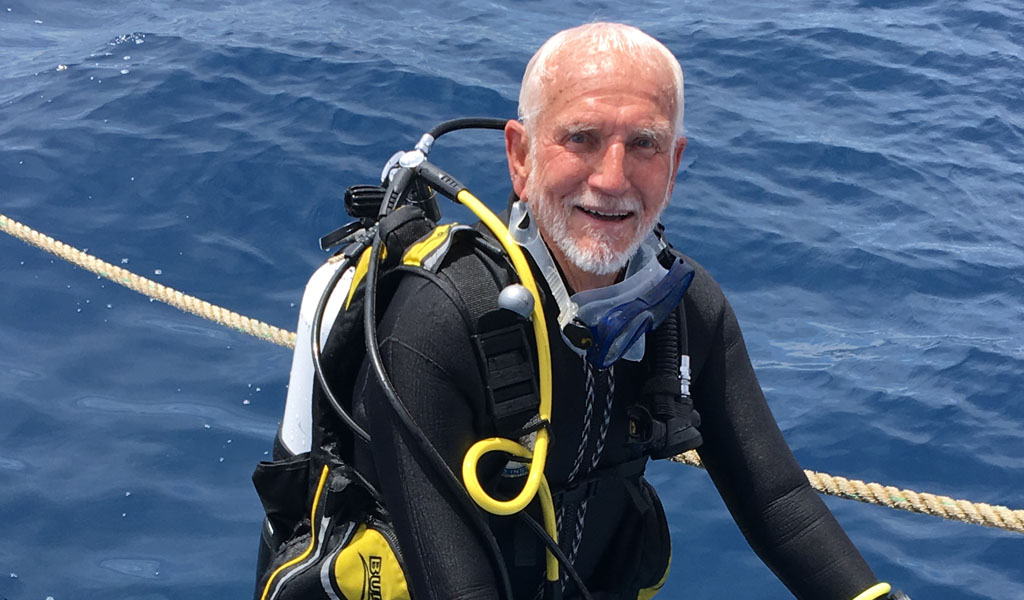 BSAC member Ray Woolley, 95, has broken his own record as the world's oldest scuba diver with a 44-minute dive on the Zenobia.
Just 12 months after officially obtaining the 'world's oldest diver' accolade from the Guinness World Records on his 94th birthday, Ray took the plunge again off the coast of Larnaca in Cyprus, where he now lives.

World War Two Veteran Ray, who is originally from the Wirral and is a member of Western Sovereign Base Area SAC at RAF Akrotiri, enjoyed his recordbeating dive with other members from his club. He dived to a maximum depth of 40.6m on the Zenobia, a wreck he first dived in 1982, two years after the cargo vessel sank.

Ray started diving in 1960 with Portland and Weymouth SAC and continued when he moved to Limassol after retiring in 1999. He had originally been posted to the Mediterranean island after the war. Ray hopes to be able to retain his record by repeating his dive on his 96th birthday in August 2019. His world record is the latest in a series of diving challenges including a 90ft dive on his 90th birthday and a plan to do 39 dives in his 93rd year resulting in an actual total of 51.
I am trying to prove to myself, and I hope to other people, that exercise, especially when you are getting to my age, is most important to do.
- Ray Woolley, BSAC member


If you need help finding a club please email membership@bsac.com and we'll send you your three nearest scuba clubs. Or if you fancy a chat call us 0151 350 6226 (Mon - Fri, 9 - 5:30).