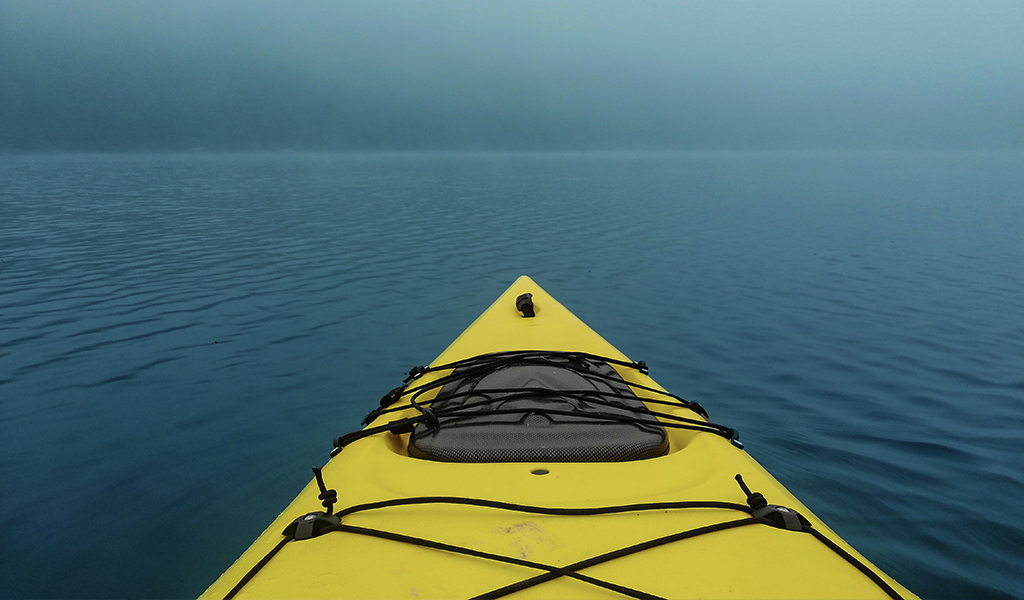 Andy Torbet considers the best mode of self-propelled transport when snorkelling around the UK's shores and waterways.
Eight years ago I wrote my snorkel column on a trip myself and Dan Bolt took around the South Devonshire coastline. We began at Salcombe and finished at Thurlestone, a trip of around 15km. This would seem a rather extreme distance to try and fin in a day but thankfully that was not our plan.

We'd loaded out snorkelling equipment on our sea kayaks and paddled the distance, stopping along the way to snorkel six shallow shipwrecks along our course. Since then, I've used my sea kayak to snorkel offshore islands; sea caves; with seals and even more shipwrecks. But I've not restricted myself to a sea kayak in these eight years. There are other forms of paddling we snorkellers can use to cruise the waters of this nation. And those waters need not be restricted to the saline variety.
Sea kayaks
This is my main form of transport when it comes to the snorkel commute. However, I have the advantage of having quite a bit of training and experience in this type of craft. Their main advantage is speed and efficiency generated by their long, narrow shape. This means you can cover more area in a day and expend less energy doing, leaving you more to unleash on your dive. They're also the best at coping with big waves, rough seas and inclement weather, although it must be said these are not the conditions in which we want to be snorkelling. They do require some tuition to use safely. The use of a spray-deck means you need to be able to extract yourself should you capsize. And the relatively small access hole, coupled with their lack of stability, means getting out and in while at sea takes some practice.
Sit on top kayaks
These tend to be less fast and efficient than a true kayak, but they offer a large, stable platform in which to store equipment and get kitted-up; they are easy to get off and on at sea. They are relatively easy to use and should a capsize occur, you simply fall in without any need to extricate yourself from the kayak. They are a great recommendation for snorkelling.
Stand-up paddleboards
This type of 'boat' has the same advantage as a sit on top kayak, in fact, many come with attachment points for a seat so they can be turned into a pseudo-sit on top. When standing your perspective is raised, allowing you to see much further. This is handy for spotting potential hazards or if you're out looking for basking sharks. You can also get inflatable ones which roll up, making them the most transportable of all. As with the sit on tops, they are safe if you capsize. However, they are the least speedy and efficient of the lot and are often hard to handle in the wind. Another good recommendation when the weather is favourable and you're not going too far.
Canoes
These high-sided, open boats are great for river travel and the flat waters of lochs, lakes and llyns. You can store a great deal of equipment in them and get kitted-up easily. However, those high sides make it very difficult to get in and out of the water without causing the boat to capsize. However, I have used these on rivers and lakes by simply landing my craft on the bank and shore diving from there. So as long as you're not intending snorkelling in the middle of a huge lake they're a great option.
Whichever craft you choose, bear in mind tides, current and winds. Also, think about anchoring your boat. In the conditions I normally snorkel - nil to light winds, little or no current and tide - I tend to just leave my boat to float around, shepherding it back to me every now and then. If you want to go off then I'd recommend tying it to a rock, landing it on the beach or bank, or investing in a small kayak anchor.


Snorkel with your local BSAC club!
Not yet a BSAC member? Let us help you find your local BSAC club
Send your postcode to hello@bsac.com and we'll help you find the right scuba club for you. Or if you fancy a chat call us 0151 350 6226 (Mon - Fri, 09:00 - 17:30).
For more information on snorkelling with BSAC go to bsac.com/snorkelling. Looking to introduce snorkelling into your club? Find out more at bsac.com/snorkellinginstructor.
If any of you have any suggestions, I'd love to hear them. Drop a note to me through the editor's email at SCUBA or on my social media below:
Facebook: OfficialAndyTorbet
Instagram: @andy_torbet
Twitter: @andytorbet
Article by Andy Torbet for SCUBA magazine, Issue 101 April 2020.

Find out more about learning to snorkel or discover snorkelling in the UK.