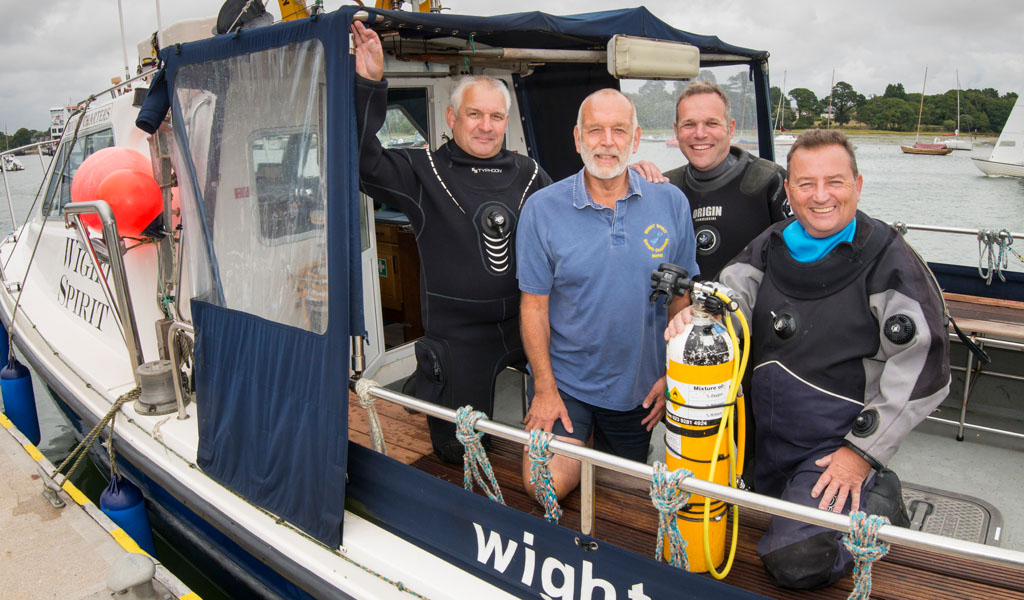 Members of Wight Dolphins Sub-Aqua Club have joined forces with charter boat skipper Dave Wendes, to launch the historic Thorness Bay shipwreck underwater dive trail.
It means divers from around the globe can now explore a marked route around the wreck following a chart which describes the historic features on the wreck, which is rare because it is so well preserved. The wreck which is submerged in 21 metres of water and is among 53 wrecks in the UK protected by English Heritage.

Wight Dolphins Sub-Aqua Club is the licensees for the Thorness Bay wreck, and have been working for years to solve the mystery of how the vessel, believed to be Dutch, sank off the Isle of Wight 125 years ago in 1893.
Wight Dolphins back Save Our Skippers (SOS) campaign
Now the divers are backing the Save Our Skippers (SOS) campaign launched by BSAC which is the UK governing body for scuba and snorkel, to support the UK charter boat industry.
We couldn't have done this without the charter boat.

This wreck is interesting because it gets covered up and revealed depending on the tides, so one day you will be able to see the windlass and the anchor pump, another day you can't because they are covered up with sand.

The only people who can find it are people like Dave who have the local knowledge and who know the tides and the underwater geography.

He helped us do everything from map and film the wreck that will guide divers around, plus making the best cup of tea available on the Solent.
- Garry McGinty, Wreck Officer and BSAC Instructor of Wight Dolphins Sub-Aqua Club.

BSAC launched the Save Our Skippers (SoS) campaign to support the UK charter boat industry by encouraging UK divers to use their services – or eventually risk losing many of the boats for good. BSAC Chief Executive Mary Tetley says,
Several charter boat operators have raised concerns with us that the industry is struggling due to low booking numbers.

We launched the SoS Save Our Skippers campaign to raise awareness of this plight, and encourage more divers to use charter boat services.

The skills and expertise of skippers and crew are crucial when it comes to many mission-focused expeditions run by some of our more experienced divers. It also keeps costs down as you don't have to maintain the boat year round.
Charter boats are also a great way to organise a fun club day trip, helping you to keep the focus on safe and sociable diving rather than running the boat!

We are keen to do all we can to minimise the risk of losing this vital resource from UK waters, so we are encouraging BSAC divers to support the charter boat industry by using them whenever appropriate.

We are also pledging to celebrate collaborations between charter boat companies and BSAC divers, by sharing some of these stories, and in the process also highlighting the best and most exciting diving the UK has to offer.
Aged 67 and diving since the 1960s, Dave Wendes previously served with the police for 30 years and rose to the rank of Divisional Commander.

He now runs Wight Spirit Diving Charters based at Lymington on the Isle of Wight. Dave said,
If you lose charter boat skippers you lose so much local knowledge. We understand the importance of the likes of changing tides and shifting sands

We also know when we direct divers to the site of a wreck it will be the right one.

There's such a huge a variety of sites to explore off the UK coastline, dating back as far as the late stone age. When I say a wreck is there, it's there.

People who say diving in UK is a waste of time because it's so dark and murky must only dive in February.

There's so much to see it's absolutely staggering. There's also a diverse range of wildlife.

When I pack it in my knowledge retires with me. And believe me I know these waters really well, probably better than anyone.

If you are a BSAC diver working on a project with a charter boat company which you would like us to showcase, please email Mary Tetley.
Want to support BSAC's campaigning? The more members we have, the stronger our voice is.
Feature images pictured in Lymington, Hampshire: Aboard the charter boat 'Wight Spirit' are left to right:
Richard Slinn (committee member), boat skipper Dave Wendes (in blue top), Gary Paddock (diving instructor) and Garry McGinty, Wrecks Officer for BSAC club 'Isle of Wight Dolphins'.