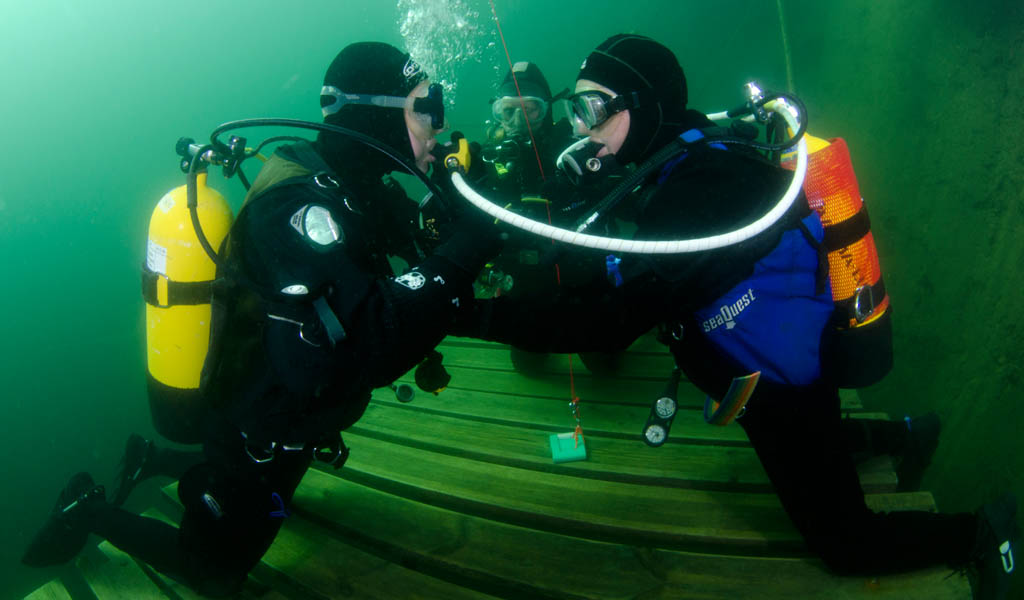 Newbury Scuba Diving Club is excited to have two new active Assistant Diving Instructors (ADIs) in the club following Sylvie and Simon's completion of the BSAC Instructor Foundation Course (IFC).
Newbury Scuba Diving Club tells us why the ability to provide instruction within the club is critical, as the future of the club (and ability to dive self-sufficiently) depends on their experienced members passing on their knowledge and skills to newer members.
David Parker, the club's Media Officer, got together with the new ADI's Sylvie Burton and Simon Picken to find out what they think of it all.
What was the Instructor Foundation Course like?
Straight away, it felt welcoming and we were relaxed. On the first day we learned the structure and steps to building lessons, then for our homework, we had to prepare theory and practical lessons following the processes that we had been taught that day.
On the second day we had to deliver the lessons, which meant spending time in the pool demonstrating skills underwater and teaching our colleagues a theory lesson in the classroom. It was challenging and we learned a lot in a short time, but it was a really rewarding and enjoyable weekend.
And as a bonus, the teaching and presentation skills taught in the course are also eminently transferable to the workplace to help in passing on ideas and skills to work colleagues.
What made you want to do the course?
We both felt that one of the best ways to learn and remember skills is to teach them regularly. Teaching demands that you know theory and skills well enough that you can be challenged and answer questions about how and why we do them.
We have benefited from our club instructors giving a lot of time and effort and excellent quality teaching from them. Not only do we want to give back to the club in the same way we have benefited, but we also want to achieve the same high standards that our instructors have.
We are very aware that as a self-sufficient club, our future depends on more experienced people being able to pass on their experience to newer members.
What have you been doing since you qualified?
Within a few weeks of doing the Instructor Foundation Course we were in the classroom training new Ocean Divers. We quickly realised how much preparation and attention to detail goes into making a good lesson.
One thing we have done a lot of is Try-Dives for younger people such as Scouts and Girl Guides. This is a unique experience for them and they really enjoy it. It's been very rewarding seeing how excited they are and how much they enjoy themselves.
In September the club organised a Sport Diver rescue skills day. It was a great opportunity to practice critical skills that could save a life.
As new Assistant Diving Instructors, we were given the opportunity to lead our own group of trainees. Whilst, on the one hand, we were allowed to teach independently, we also had close support from our senior instructors.

Photo by Newbury Scuba Diving Club
What next?
Before we can go on to become full instructors, we need to pass our Dive Leader, which is a natural progression from Sport Diver. We started in February this year and are well into it now, hoping to complete it this dive season.
We both want to build our personal experience and skills as divers, as well as teaching skills as instructors.
Discover all scuba instructor training courses
Join the fun and train to become an instructor with BSAC.
If you're already a diving instructor BSAC welcomes you and it's easy for you to become a qualified BSAC instructor. Check out the Instructor Crossover Course.
Let us help you get started by emailing hello@bsac.com with your postcode and we'll send you info on your nearest scuba clubs. Or if you fancy a chat call us 0151 350 6226 (Mon - Fri, 9 - 5:30).