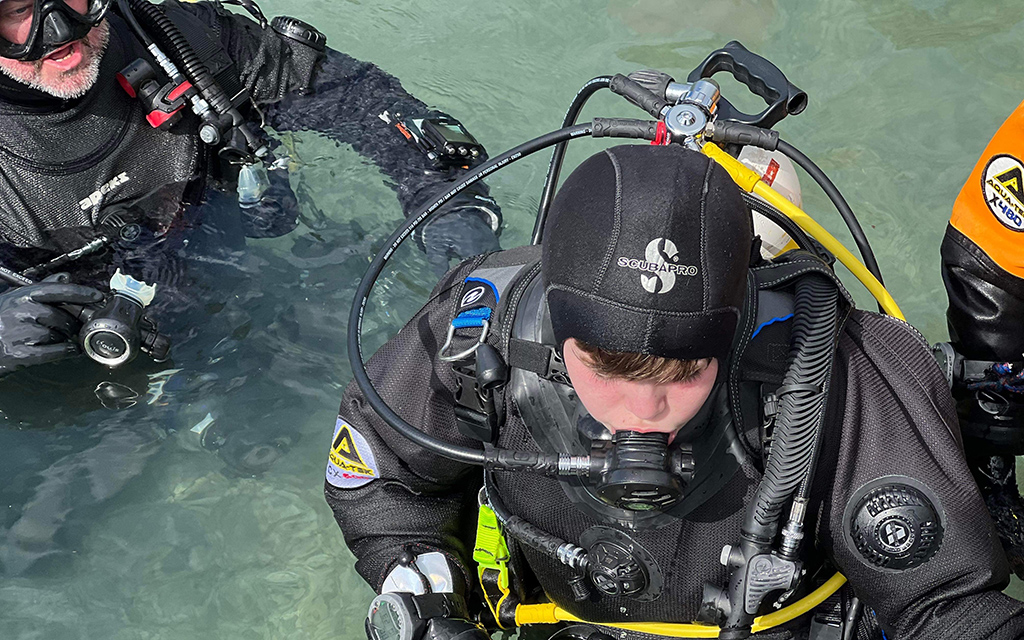 Dropping your child into a tank full of sharks may seem like unconventional parenting - but for 12 year-old Fraser Mckechnie it merely ignited his love of scuba diving.
Fraser's parents took him to the Blue Planet Aquarium near Chester for a try dive in August 2021. The experience left such an impression that he immediately joined BSAC branch Chester Sub Aqua Club and has been diving ever since. The enthusiastic youngster achieved the significant milestone of qualifying as an Ocean Diver before he had even reached his 13th birthday.
Fraser said:
I want to encourage more people to scuba dive especially younger people as it's very exciting and teaches you a broad range of skills that gives you confidence in other aspects.
There are a lot of things I like about diving but probably my favourite is diving shipwrecks and learning history about them as it's really interesting. I also going love out on the club's boats and exploring the sea.
Together with fellow club members, Fraser took part in this year's Menai Boat Run which raised £1,350 for the RNLI Beaumaris lifeboat and gave participants a chance to test the club's boat ready for the start of the diving season.
Not one to rest on his laurels, Fraser has already begun his Sports Diver training which will open up new experiences, including a max depth of 20m until he's ready to progress deeper from the age of 14.
Hopefully his next shark encounter will be in the open ocean…
Interested in learning to scuba dive?

It's super easy to start learning to scuba dive with BSAC. The entry-level BSAC Ocean Diver course can be taught in a club or training centre in the UK or overseas. Submit a learn to dive enquiry and start your underwater adventure today!