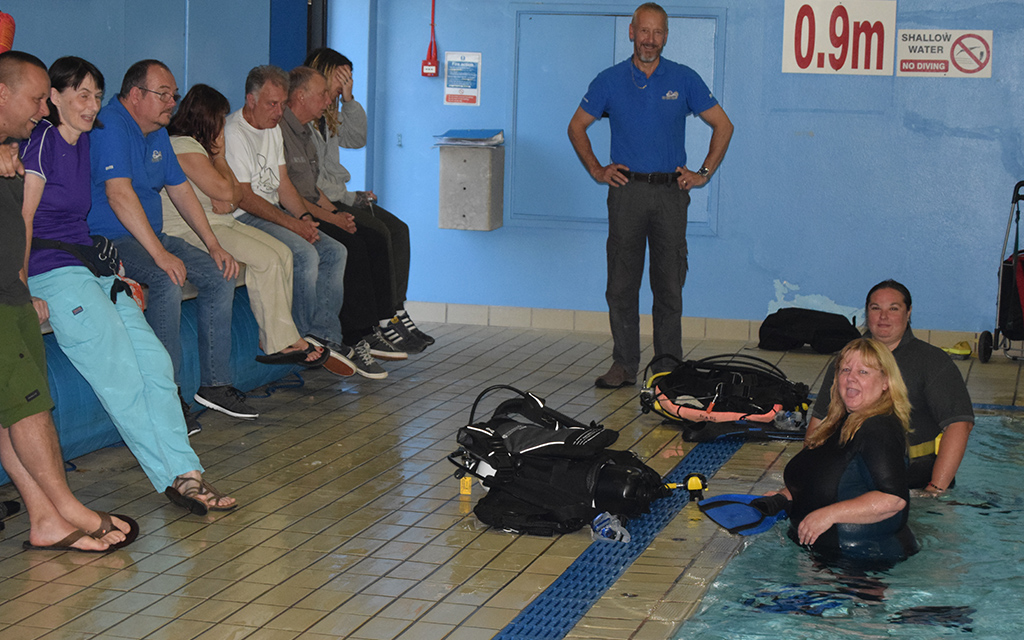 Bolton-based Westhoughton Sub Aqua Club's bid to get all its instructors trained for Diving for All has been boosted with a £10,000 National Lottery grant.
Diving for All is BSAC's programme designed to promote scuba diving to people with disabilities as well as to support their training and diving within a BSAC club.
All six Open Water Instructors in Westhoughton are now working towards becoming Diving for All (DfA) instructors, with another 12 members having either signed up for or completed the DfA Buddy course, thanks to the funding. Once their in-branch DfA team is in place, the club plans to offer try dives and scuba instruction to ex-service personnel as well as members of their local community.
As well as covering the cost of the DfA training, the club has used the lottery funding to buy six new sets of scuba kit and additional training equipment, with money also set aside to support their planned try dives and training sessions for people with disabilities.
Club Chairman, Robbie Lucas, who devised Westhoughton's DfA project with fellow member Paul Wilkinson, said the funding meant the club could now share the workload across its membership.
Going through the grant application, we made contact with a lady whose husband works with Armed Forces veterans, so we are looking to help with try dives or get qualified divers back in the water after their life changing trauma. We also want to offer free try dives to the local area and offer scuba to people who are less able-bodied.
Paul, who was injured in an accident that left him needing a stick to walk, joined Westhoughton SAC in 2016 where Ronnie, who has just qualified as a DfA Instructor, taught him to dive. The experience prompted the pair to devise the club's DfA project so others could learn to dive.
Paul explained:
For me, diving is a world away from being on land, where I'm in constant discomfort and pain when I walk. Walking with sticks sets me apart from others, but when I'm in the water, I feel equal.

In 2018, Ronnie and I hatched a plan to encourage all WSAC instructors to become DfA trained and get at least as many DfA buddies into the club, and I will also soon be one of those.
Want to find out more about the Diving for All programme?