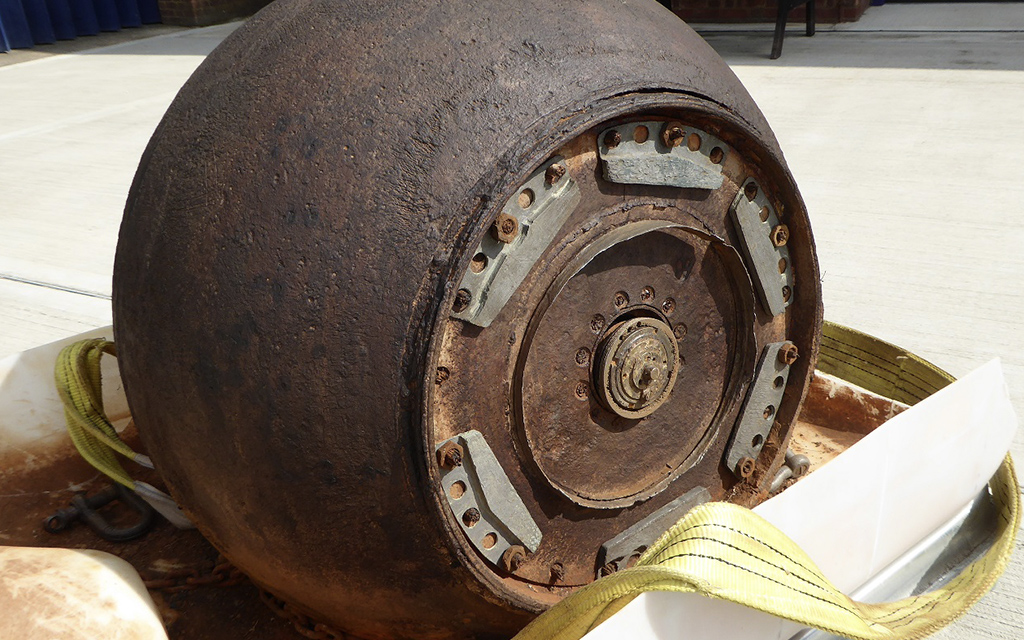 An unexploded World War II bomb, known as a Highball and retrieved by a team of BSAC divers from a Scottish loch, has revealed one final secret before finally going on display.
Restorers at the De Havilland Aircraft Museum in St Albans have discovered a pistol hidden in the base of the Highball bomb. If live, it would have been triggered by the pressure of the water to fire the explosion.
Retrieved from Loch Striven, the Highball bomb was one of two to be lifted as part of a BSAC diver-led expedition, known as Project Highball, back in 2017. The team of 12 BSAC divers behind the ambitious expedition said they were amazed by the latest development in the Project Highball story.
Speaking on behalf of the expedition team, Mark Paisey of East Cheshire SAC, said the discovery of the pistol had come as a complete surprise.
When we lifted the Highballs, we didn't know about the pistol. The bombs carried no explosives as it was a test run, but it makes complete sense that the pistols were tested with the inert rounds at the time.
It has since been revealed that the pistol was intended to detonate the bomb's charge when the Highball reached a certain depth.
"At the time we described Project Highball as 'the project that kept on giving' and this discovery just proves the case!" Mark added.
More than 200 Highballs were dropped into the loch back in 1943 as part of a test run by the Royal Navy with many settling in more than 50m of water. The bombs were the naval version of the Upkeep bouncing bombs used by the RAF in the famous Dam Busters raid and inventor Sir Barnes Wallis designed both bombs to bounce across the water.
While the Highballs were never actually used in combat, it is archive footage of the Highballs being tested at Loch Striven which can be seen in the 1955 film, The Dam Busters.
The fully restored Highball bomb with its hidden pistol is now on display at the De Havilland Museum, almost four years after the Project Highball team lifted it.
Mark said:
We always knew that once restored the Highball would go on display.

The whole team is very pleased that the project circle from inception through execution, delivery and finally restoration, will help the De Havilland Museum and is now complete.
The BSAC network is working together to keep people connected to the sport. With online training, special interest webinars, competitions, support to clubs and the trade, and much more...we'd love you to join us.