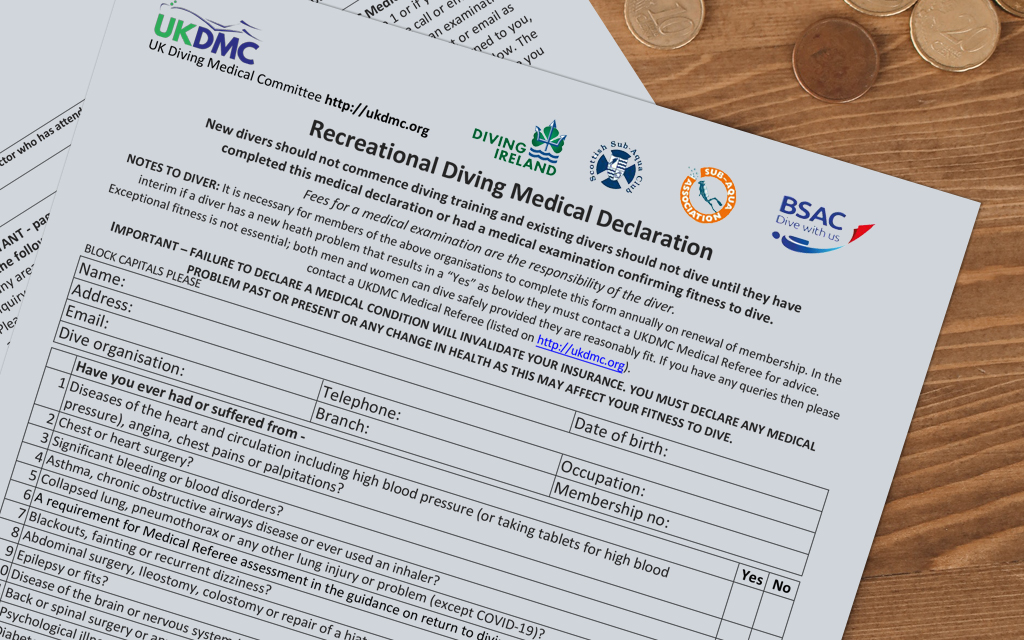 The UK Diving Medical Committee (UKDMC) has advised that there are significant changes to their guidance regarding return to diving following Covid-19 infection.
UKDMC advise BSAC, SAA and ScotSAC on medical matters for diving and snorkelling.
Previously anyone experiencing mild conditions was required to wait three months before consulting a referee, extending to 12 months for those experiencing more severe symptoms.
The UKDMC revision takes into account the growing, but still limited, evidence base currently available, the Covid-19 vaccination programme and the reported outcomes from the HSE guidance on return to diving after Covid-19 for working divers.
The main changes mean that those with asymptomatic (tested positive with no symptoms) or very mild symptoms now need to wait only one month after returning to full fitness before considering returning to diving. Those who experienced moderate symptoms or required hospitalisation now need to wait two and three months respectively before consulting a Referee.
Check out the full UKDMC guidance
Do I need to consult a medical referee before returning to diving if I had no or mild symptoms?
For those who experienced no or mild symptoms, the UKDMC have produced revised tables to determine the minimum period for recovery and to advise divers on the need for Medical Referee assessment.
The factors are:
Able to answer 'no' to all questions in the medical declaration = 2 points
Age < 45 or full primary vaccination = 1 point
Physical fitness measure, as per UKDMC standard:
– 'Good' (run 1.5 miles in 12 mins 30 secs) = 2 points
– 'Satisfactory' (run 1.5 miles in 20 mins 30 secs) = 1 point
Anyone with a score of 0-3 would still be required to be assessed by a medical referee.
What about the medical declaration form?
The UKDMC have updated their medical declaration form to reword question six relating to Covid-19 to, "have you ever had a requirement for Medical Referee assessment in the guidance on return to diving after COVID-19 at ukdmc.org?"
This now means that if you had no or mild symptoms and score 0-3 on the tables or you had more severe symptoms you would need to tick "yes" to that question and consequently need to be assessed by a referee.
Full details of the changes, including detailed Guidance for Referees, which explains more of the background and health concerns informing the guidance, can be found on the UKDMC website.
Any questions regarding the UKDMC guidance please speak to a referee or use the contact form.