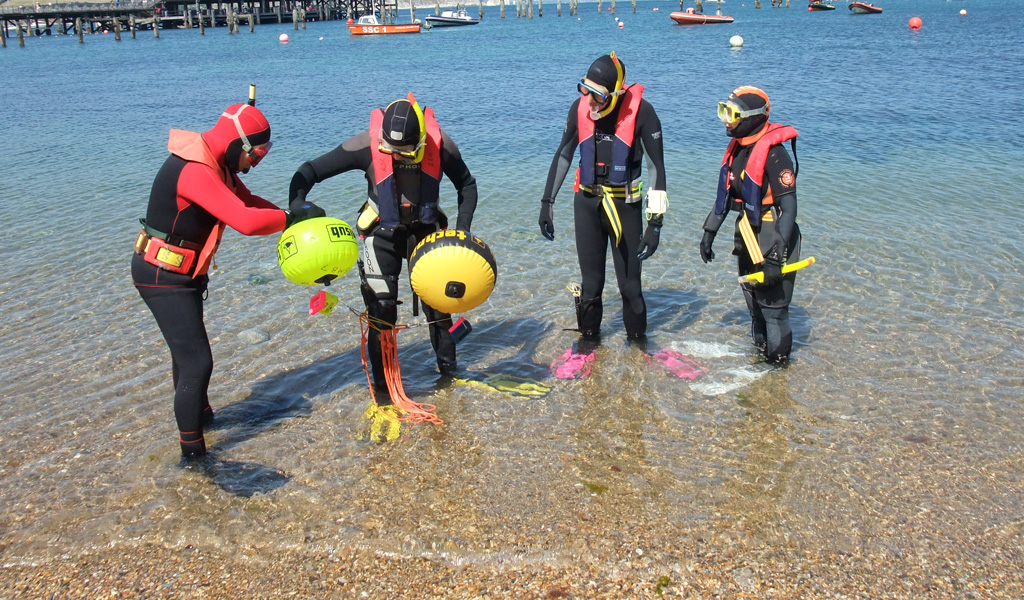 Andy Torbet casts an eye over BSAC's snorkelling programme, and considers the importance of a solid grounding in this skillset
I remember going to the Cornish Scuba Fest in 2015, when the weather was far from stunning – but as luck would have it my main job at the event (other than taking my 12-week old son on his twice-weekly swimming practice) was to help run a BSAC Beachcomber session for the kids over both Saturday and Sunday.

These courses in themselves are great initiatives and I can testify to the interest in the sessions, and the enthusiasm they generated. Many of the children, being sons and daughters of divers, had already had a go at snorkelling and now, armed with more information on the inhabitants of the rock pools, were even more excited to get out snorkelling.

But it seems that most of the kids and their diving parents were only vaguely aware of the BSAC Snorkel programme, and some of them thought it was overkill for a skill that they thought could be picked up in minutes. Personally, I would disagree.

You'll have seen mass tourist snorkels in places such as the Blue Hole in Dahab. Having hired their mask and snorkel they flail around the surface, wasting energy and breath and generally scaring off the wildlife they have no idea is there since they are aware of little more than the small space directly in front of them.

What's worse is they commit acts like walking over the reef, grabbing coral and other environmental crimes. This is ignorance rather than malice, and it's mostly down to poor technique. We need the training to be better, and to be safer.

Back in 1988, I was too young to start diving as the BSAC rules said not before 14. So as a keen 12-year-old I joined the club and began my snorkel training. The BSAC snorkel course is nothing new and the skills I learned not only allowed me to explore the coastline of Aberdeen more effectively but also more safely, often following the club on shore dives.

It also stood me in very good stead when I started my Novice Diver course (since replaced by Ocean Diver). My finning technique, understanding of basic diving physics and physiology, diving operations from both shore and boat and my confidence in open water were just some of the things bolstered by my time training as a snorkeller.
Torbet on the Tube: Get with the programme
Naturally, the course has developed over the years and even I was unaware as to just how much is now on offer in terms of training, literature and support. The potential course list now encompasses:
Experience Snorkelling (try-snorkel) sessions
Dolphin Snorkeller course, a purely practical course for those too young or too keen to bother with theory
Snorkel Diver, similar to the Dolphin course but with added theory. This is the most similar to the course I took in the late Eighties
Advanced Snorkeller touches on more advanced skills and the management of trips
Snorkel Dive Manager covers organising and managing snorkel dives, including Snorkel Rescue Management, Snorkel Dive Planning and Management.
Snorkel and Diving instructors (from Open Water Instructor upwards) can conduct these courses, providing they are comfortable with their snorkelling; BSAC has produced a comprehensive manual to assist in the delivery.

The BSAC Snorkel programme has come a long way since my original, single course, and is open to a greater range of ages, skills and desires. We even have a number of dedicated snorkelling clubs running courses and snorkel-specific expeditions and trips. Not only is this a superb way of getting young people involved, they also provide a way of improving skills you probably thought you were already good at – so why not give it a go.
I'm ready to learn to snorkel, help me find my local BSAC club
Send your postcode to membership@bsac.com and we'll send you your three nearest scuba clubs. Or if you fancy a chat call us 0151 350 6226 (Mon - Fri, 9 - 5:30).
If any of you have any suggestions, I'd love to hear them. Drop a note to me through the editor's email at SCUBA or on my social media below:
Facebook: OfficialAndyTorbet
Instagram: @andy_torbet
Twitter: @andytorbet
Article by Andy Torbet for SCUBA magazine, issue 81 August 2018.

Images in this online version have been substituted from the original images in SCUBA magazine due to usage rights. Featured image by Margaret Baldwin.

Find out more about learning to snorkel or discover snorkelling in the UK.