Image courtesy of Colin Garrett
Snorkelling is a fantastic way to get up close and personal with the UK's amazing marine life. And, with the right training and the essential pieces of kit, it is also an affordable and accessible pastime for all the family.
The beauty of snorkelling is that you don't have to travel to far-flung places to get your water fix. We have some of the best snorkelling sites for all abilities right on our doorstep.
So, if you are planning to have a few more snorkel adventures closer to home, then check out our guide to the top UK snorkelling destinations to try in 2023.
Swanage Pier, Dorset
Best for: marine life and great viz
Swanage Pier on Dorset's Jurassic coast is an iconic British dive site that's perfect for all levels. And, with its shallow depth, sheltered location and plethora of marine life, it can also be a superb snorkel spot.
A restored Victorian pier, this picturesque seaside attraction has plenty to offer snorkellers, from easy access – either via steps or a low stride entry - and shallow waters to a post-snorkel ice-cream. And, as it is known as a nursery site for marine life, you are sure to have some memorable encounters, so don't forget to pack your underwater camera!
The underwater visibility can be up to 10m, which is perfect for scouting out some of the UK's most iconic marine creatures, including the cute tompot blenny, spider crab, cuckoo wrasse, lobsters and even cuttle fish. A great introduction to just what UK snorkelling has to offer.
Lundy Island, Devon
Best for: seal encounters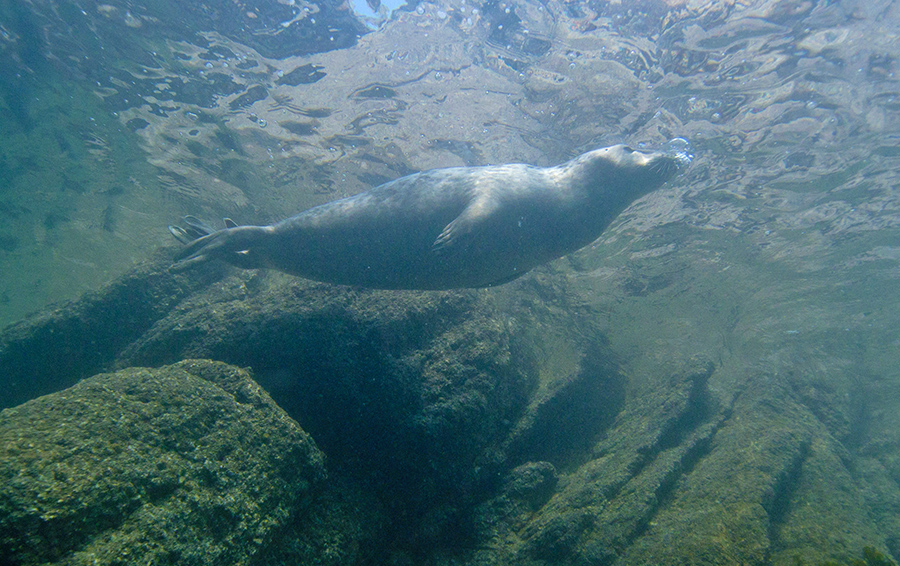 Known for its bird life, the isle of Lundy, just off the north Devon coast, is also the UK's first designated marine conservation zone, so has plenty to offer the wildlife lover, above and below the water. It is the island's resident colony of Atlantic grey seals that are one of the main attractions for snorkellers.
The best seal action takes place in five metres of water – or less – so ideal for a snorkeller to take in the view. Better still, if you are lucky, these inquisitive creatures may just well come close for a better look or a playful tug on your fins. A truly magical experience!
Stackpole Quay, Wales
Best for: the spectacle of mating spider crabs
Protected by the fresh northerly winds, Stackpole Quay in Pembrokeshire is the place to find spider crabs. And get your snorkel timings right, and you could well be marvelling at thousands of the critters as they gather, heaped on top of each other, or scuttle at pace across the seabed to breed.
With its dramatic cliffs, this wildly beautiful inlet is a favourite site for many seasoned snorkellers as it has much more to offer than the spider crab spectacle. With its gullies and swaying kelp, you also get plenty of other marine life, including pipefish, velvet swimming crabs and even sea hares.
The Caves, Loch Long
Best for: walls, pinnacles, marine life
With underwater visibility which can top 10m or more, this snorkel and dive site has some of the clearest water you can find. Which makes its stunning underwater topography a delight to snorkel.
With dramatic cliff walls and pinnacles that sit just 1m below the surface at low tide, the Caves at Loch Long, on Scotland's western coast, are a confident snorkeller's paradise. Expect carpets of plumose anemones and starfish, shoals of saithe, crabs, and conger eels. You may even catch sight of seals, porpoises, and the occasional sea otter, for a truly magical snorkel.
Argyll, Scotland
Best for: basking sharks
Photo by Jane Morgan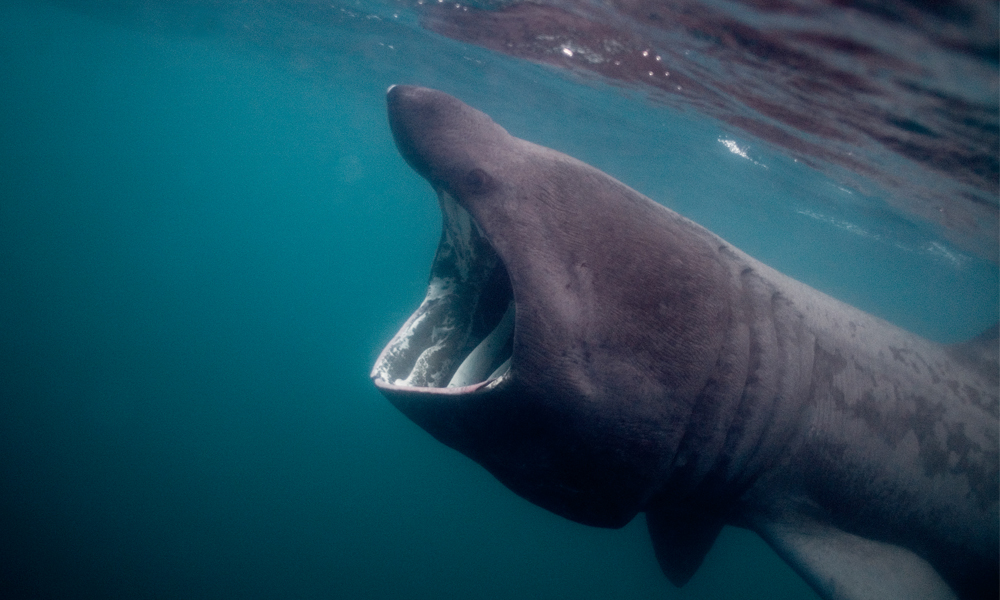 From April to October every year, the west coast of Scotland becomes part of the migratory path of the basking shark. As part of this migration, these gentle giants can be seen in the waters around Argyll, including the isle of Coll and Tiree. Book on a snorkel tour with a guide, and you could find yourself in the water with these magnificent creatures – a snorkel experience that will take your breath away.
But this coastline is not just about baskers, as there's a whole host of other things to see. Natural reefs, sheltered bays, clear lochs will be your playground, with snorkel trails, with marine-rich seagrass beds and kelp forests, to name just a few, just waiting to be explored.
Thurlestone, Devon
Best for: snorkelling on a wreck
Thurlestone beach in South Devon is a lovely snorkel site in its own right, with its golden beach, rocky reefs and shallow, sheltered water. But what sets this Devon beach apart is its star snorkel attraction – the wreck of the Louis Shied.
About 200m from the shore, the Louis Shied is ideal for snorkelling as it breaks the surface at low tide, meaning you get the chance to circumnavigate a wreck without the need for scuba gear.
Sunk in 1939, this Belgian steamer has been colonised by a host of marine life, most notably colourful wrasse as well as spider crabs. And on a clear day with good viz, simply snorkelling on the surface should be enough to work out the metal framework of this sizeable wreck.
Have you been inspired by our guide to some of the best snorkelling around the UK? Then take the plunge and have your own snorkel adventure in 2023!
Not yet a snorkeller?
Check out BSAC's Snorkel Training Programme or
find a BSAC club near you
that can get you started.

Or call us on 0151 350 6226 (Mon-Fri, 9am-5.30pm).