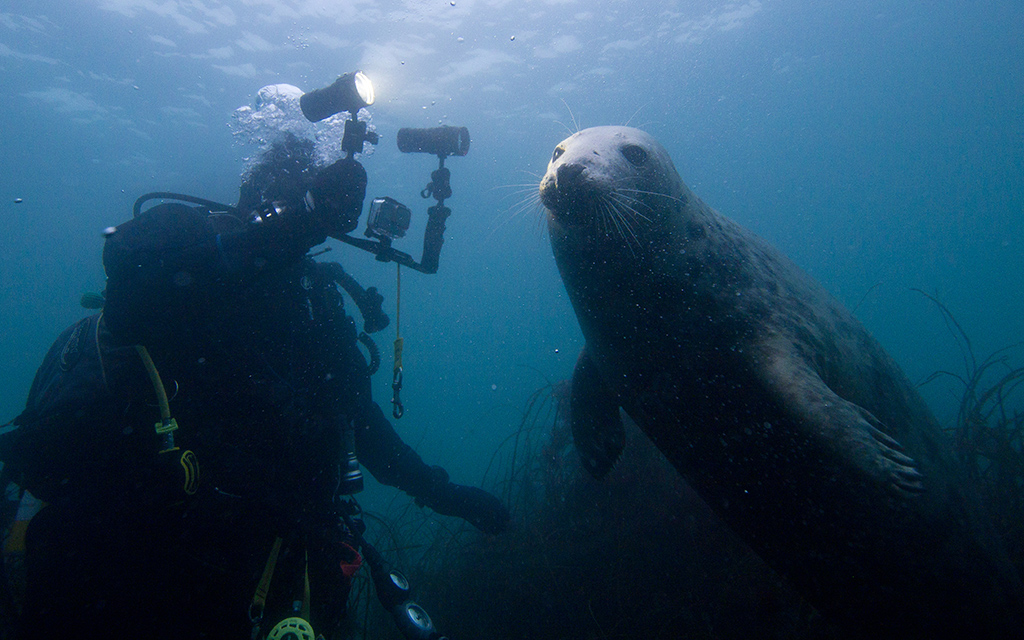 Who doesn't love a scuba adventure? Whether it's the thrill of a new dive site, indulging in an old favourite or the simple enjoyment of the great outdoors and hanging out with your diving friends, a dive adventure is food for the soul.
When it comes to our own UK coastline, we have more than enough diving opportunities to whet the appetite. From the more iconic sites to those a little less known, the UK is a world-class scuba destination for both wrecks and marine life just waiting to be explored.
So, if you are planning your New Year's diving resolutions (because of course scuba diving is good for your health and wellbeing), here are some of the best UK scuba adventures to try in 2023.
Farnes, Northumberland
Best for: seal encounters
Photo by Jane Morgan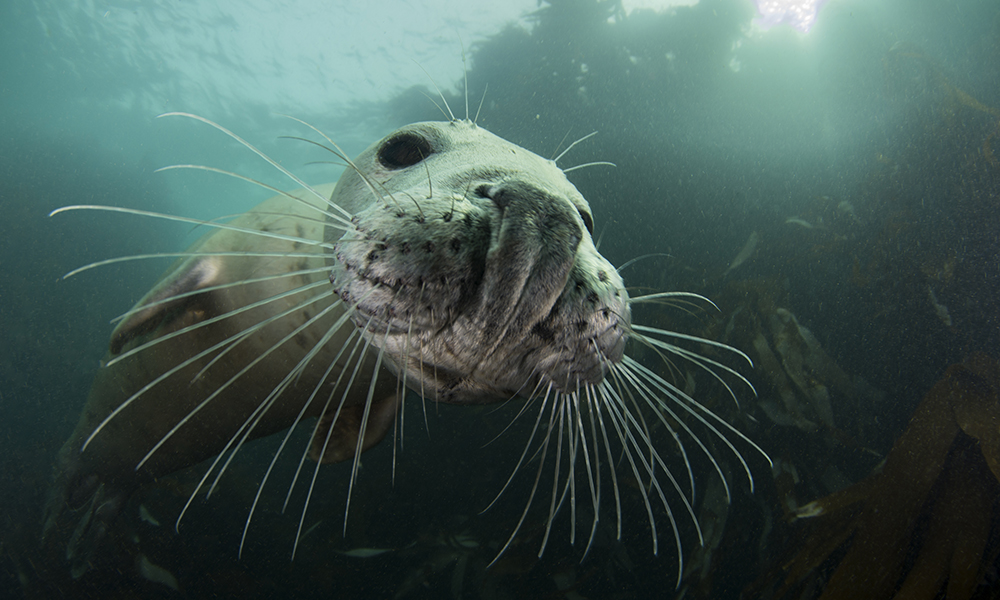 A list of the best UK scuba adventures would not be complete without the Farne Islands. Located just off the Northumberland coast, this collection of 28 islands is a staple of most divers' UK logbooks. And for good reason as it offers something for divers of all levels.
There is, of course, the irresistible potential of an encounter with one of the curious, fin-nibbling grey seals that have made the Farnes their home. But this coast is also rich with other marine life, from soft corals and anemones to porpoises and dolphins. During the breeding season, you may also encounter diving guillemots to add an extra dimension to your safety stop. Add in some enticing wreck sites, including the Second World War cargo ship, the Somali, and there are plenty of must-dos in the Farnes to tick off your resolution list.
Swanage, Dorset
Best for: club or family trips
Photo by Alison Pettitt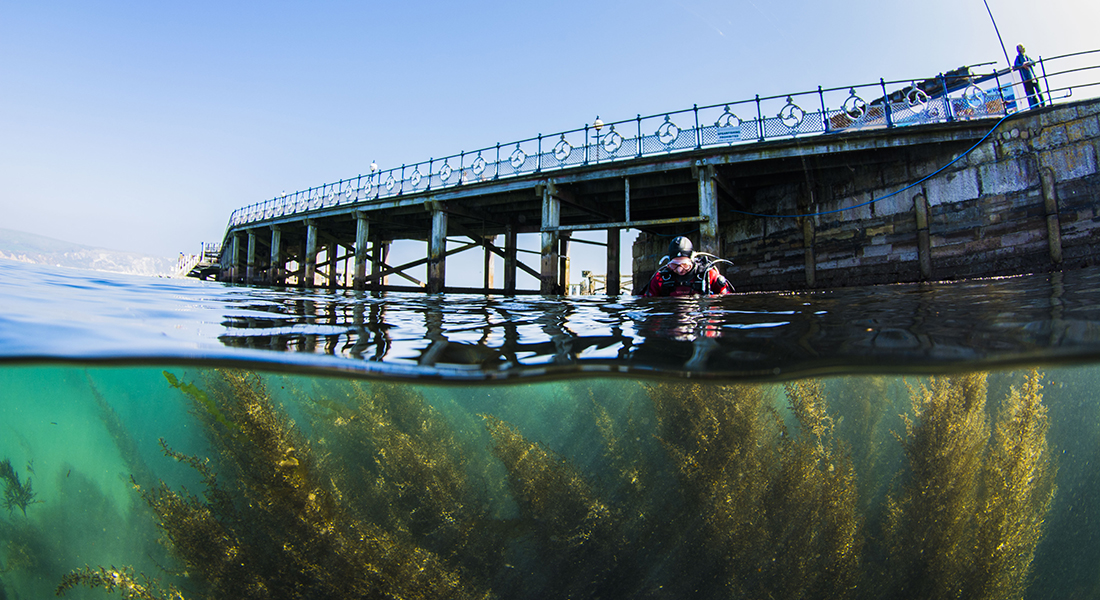 Swanage, with its famous pier and range of wrecks not too far off the coast, offers a neat scuba adventure for all members of your dive club or if you are a little limited on time.
The restored Victorian pier should be the starting point to your trip as it is an ideal shakedown shore dive or a training dip for newer members. But do look beyond those drills and kit checks, as the pier's underwater pillars have created an irresistible aquarium of marine life.
Here you can find the irresistible tompot blennies alongside other UK critters such as red-eye velvet crabs, ballan wrasse, and even squid and cuttlefish. Add in swaying kelp, good viz and wreck sites such as the Kyarra and the Fleur de Lis, and you have the makings of a great British scuba adventure for the whole family.
Pembrokeshire
Best for: marine life
Home to the only coastal national park in the UK, Pembrokeshire is a stunning location that ticks so many diving adventure boxes. And it also offers accessible yet adventurous diving for all club members, from trainees through to technical divers. From shore diving at St Brides, Stackpole Quay and Martins Haven to the deeper wreck sites of the Lucy and the Drina, there really is something for everyone.
And if marine life really is your thing, then you are looking in the right place. Just off the Pembrokeshire coast, you will find the protected marine reserve of Skomer island and its abundant reefs. With caves, wrecks and drop-offs, this is a diving adventurer's dream, with the added potential of a seal, gannet or dolphin encounter, making Pembrokeshire hard to beat.
Scapa Flow, Orkney
Best for: wreck diving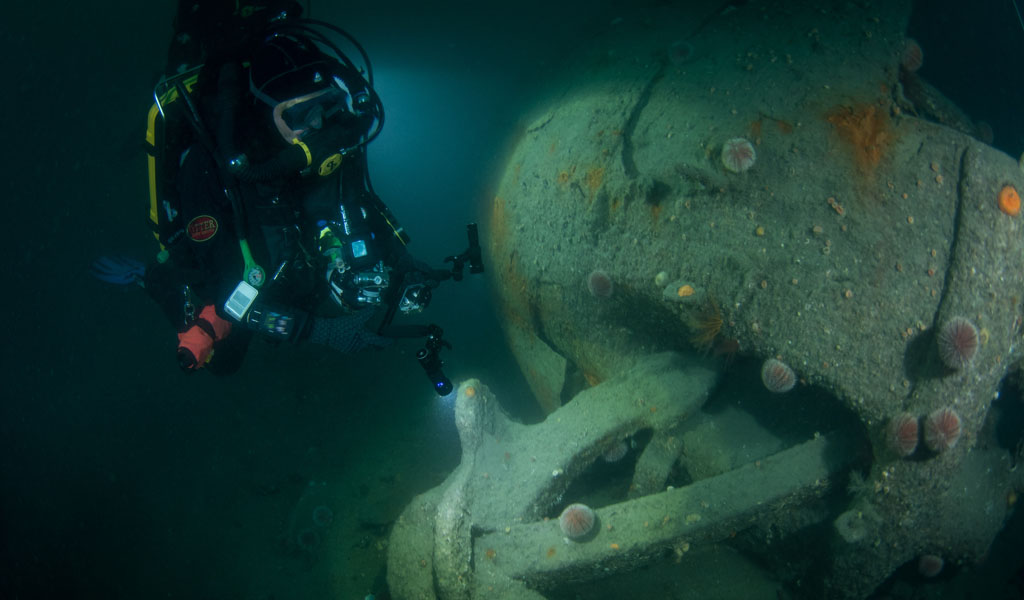 Scapa Flow is on many divers' bucket lists, and it is easy to see why. The historic location for the scuttling of the German high fleet during the First World War, the flow is home to a plethora of military wrecks from both world wars. And the six remaining High Fleet wrecks - three battleships, three light cruisers and a mine-layer – are just some of the stars of Scapa Flow.
Best done via hard boat, Scapa has a choice of liveaboards or day charters, meaning it offers both clubs and individual divers an extraordinary wreck diving adventure. Not one for new divers – you really need to be a confident Sports Diver or above to get the most out of what Scapa has to offer - but we can promise a scuba adventure that makes the journey more than worth it.
Porthkerris, Cornwall
Best for: shore diving
If you are looking for a scuba adventure closer to shore, check out Porthkerris in Cornwall. A renowned base for some top-quality shore diving, this is a little bit of scuba paradise on the southwest coast.
Porthkerris is a beautiful, sheltered cove on Cornwall's Lizard Peninsula which often provides calm seas and good viz, meaning there's plenty to see and do, topside as well as underwater. The reef is ideal for new divers but also has enough to keep the seasoned scuba enthusiast entertained. Invertebrates, anemones, urchins, sponges, wrasse, pollock, even cuttlefish make the most of the cove's sheltered waters, while sightings of basking sharks and dolphins are not unknown. And once your shore diving adventure is done, you can settle back and make the most of all that Cornish hospitality and delicious food!
Ready to dive into your own scuba adventure in 2023? For more inspiration check out our guide to the best of UK diving.
Want to learn to dive?
Great! It's easy to start learning to scuba dive with BSAC.
Submit a learn to dive enquiry
and start your underwater adventure today.
Diver but not a BSAC member?
Find like-minded people to join on your next scuba adventure, with BSAC's club network.
Find a club
.

Or if you fancy a chat call us on 0151 350 6226 (Mon-Fri, 9am-5.30pm).