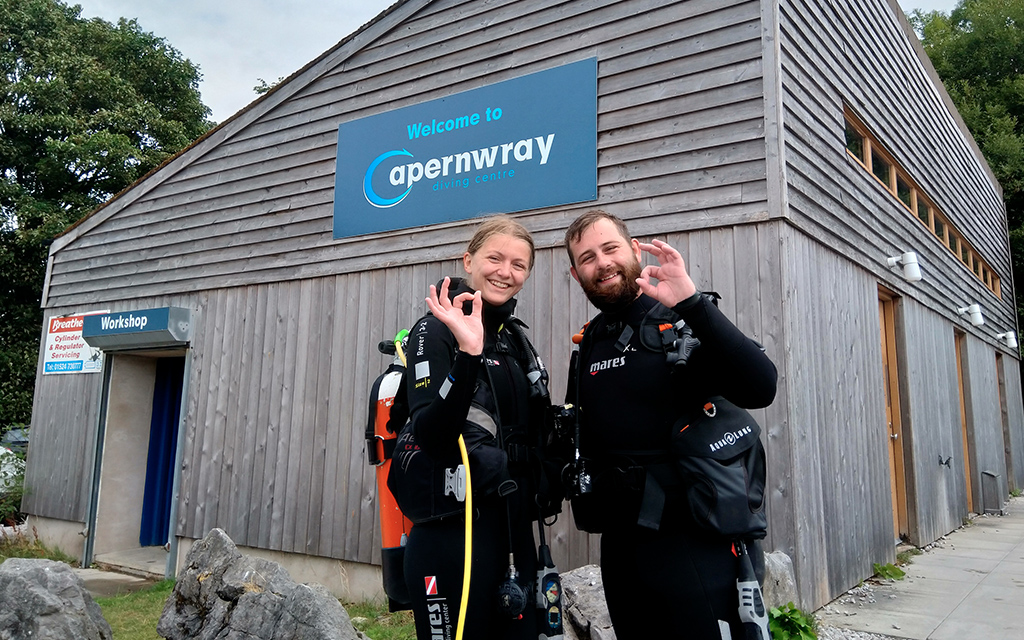 So, you're ready to take the plunge and learn to scuba dive. Well, with BSAC you are certainly in the right place!
Whether it's a 'bucket list' ambition or something you have recently been inspired to do, learning to dive is an experience like no other. And if you want to dive the UK or add a new dimension to your overseas travel, scuba is also your passport to a lifetime of amazing aquatic adventures.
To help get you started, we answer 10 of the most common questions we get asked about learning to scuba dive. You can click the links below to navigate to the section you're looking for.
1. How do you learn to scuba dive?
If you've never tried scuba, then a Try Dive taster session is the recommended first step to learning to dive as it gives you the chance to test out breathing underwater using the SCUBA equipment. From here you can sign up for an entry-level diving course – with BSAC you will do your Ocean Diver course which will equip you with all the essential skills to safely dive to a maximum depth of 20m.
To achieve your Ocean Diver qualification, you will need to complete six classroom theory lessons – or opt for our eLearning if you prefer to study the theory in your own time from home. There are also five pool lessons and four open water lessons. However, as our training is progressive, your club or centre will be able to build in more time if you need more practice.
Once you get your Ocean Diver qualification, you can dive, within the limits of your qualification, anywhere in the world, as well as move on and progress through the other BSAC diver grades.
2. Who can learn to scuba dive?
Anyone aged 10 or over can learn to dive with BSAC, although there are depth limits for younger divers who are under the age of 16. And the beauty of scuba diving is that it's an inclusive sport; all you need is an ability to swim, a desire to learn and a curiosity about our amazing underwater world!
3. Do I have to be a good swimmer to scuba dive?
You don't have to be an Olympic swimmer to scuba dive, but you should be able to swim and be comfortable in the water. To learn to dive with BSAC you will need to be able to swim 200 metres – or eight lengths of a 25m pool – in any stroke you choose. And it isn't a race, you can do the swimming assessment at your own pace and will be given plenty of time to practice if you need to. Learning to dive should be fun, after all!
4. Is scuba diving safe?
Although it is considered an adventurous sport, scuba diving has a good safety record, backed by thorough training, safe practices and sound equipment. BSAC training is world-renowned for being extremely thorough and has all the essential safety skills and training built-in right from the start to ensure you have everything you need to become a competent and safe diver.
5. What gear will I need to scuba dive?
While you will need to buy specialised diving equipment, when learning to dive you won't need it all right away. A mask, snorkel and pair of fins are the basic kit you can buy when starting your training, and the BSAC club or centre you are learning to dive with should initially be able to lend you the rest. For your pool training, that means a cylinder, regulators and a buoyancy compensator (BCD).
Then, as you progress with your training, you will need to add the rest of your gear – eg. wet or drysuit, weight belt, hood, masks, gloves. By the time you get your Ocean Diver qualification, it is a good idea to have all your own dive gear, although many dive shops can help initially by offering kit to hire.
Elaine White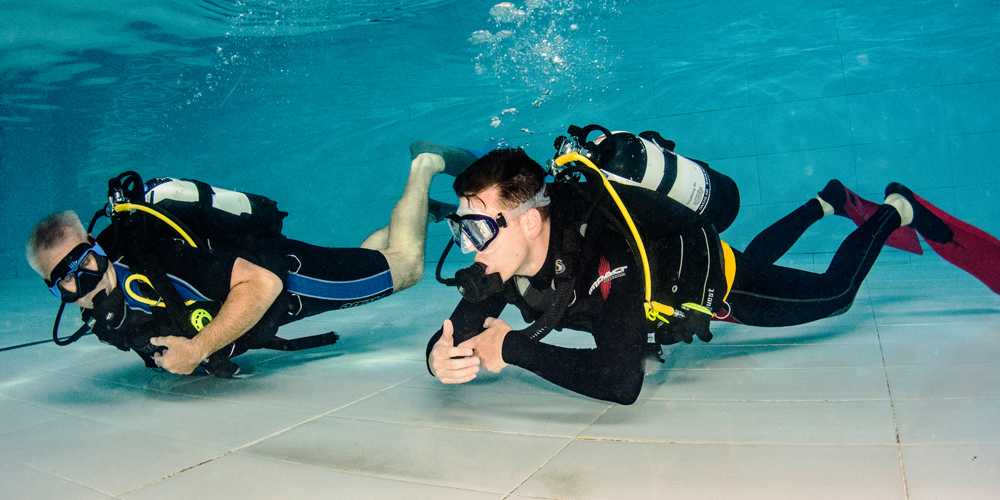 6. How long does it take to get qualified?
How long it takes to gain your Ocean Diver will depend on your BSAC club or centre as well as the amount of available time you have to learn. With a BSAC club, you will be trained by volunteer instructors and the course can take between two and six months, depending on your club and your own availability.
You can also shorten the time it takes by opting to complete the theory online in your own time with BSAC eLearning. Training with a commercial BSAC centre is quicker and you can learn in as a little as four or five days, typically spread over a couple of weekends.
7. What does it cost to learn to scuba dive?
Compared to many other adventure sports, scuba doesn't have to be expensive and is good value for money, particularly if you join a BSAC club. Local club fees vary but typically you could learn to dive (and get other club benefits such as pool access, events and diving opportunities once you've learned) for between £200 and £300. Learning to dive with a BSAC centre will be in the region of £400 but you will be able to complete your training in around five days.
8. Why choose BSAC?
There are numerous training agencies offering quality diving instruction but with BSAC you get the added benefit of belonging to a diverse and passionate network of diving clubs who want to get you – and keep you – diving! And not only do you get what we think is the best scuba diver training in the world, but you also get a ready-made group of like-minded people to go diving with.
As a member of a local club, BSAC diving and training is safe, accessible, affordable and great fun, giving you access to a host of benefits, a great social life plus regular diving and endless opportunities to progress your skills and explore our sublime underwater world.
9. I'd love to do it but feel really nervous, is that normal?
Nerves when learning to dive are perfectly normal, in fact, many qualified divers will still admit to getting a few butterflies before getting into the water!
Your BSAC instructor will ensure you go at your own pace when learning to dive so you can be comfortable with every stage of your training before moving on to the next. And with our progressive approach to scuba training, you will be amazed at how quickly your skills and confidence will grow.
However, we always recommend having a Try Dive – a short scuba taster session – before committing to a full Ocean Diver training programme. This way you can try scuba out in the comfort of a local swimming pool to see if it is really for you.
10. And finally…. what about sharks?
Ah, the shark question! When first learning to dive, the ocean can seem like an alien environment, and so it is understandable to be wary of its many and varied inhabitants. But marine life, and in particular sharks, is often one of the main reasons people learn to dive. And your scuba training with BSAC will include how to behave around marine life when you are a visitor in their aquatic space.
Scuba diving is a wonderful way to develop a deep appreciation of our marine world and an understanding of the many challenges our seas and marine wildlife, including sharks, face. And as a scuba diver, you can actually play an active role in ensuring its conservation and protection.
Inspired to take up scuba?
You can either do a Try Dive taster session (restrictions permitting) with a local BSAC club or a BSAC Diver Training Centre first or get started straight away from the comfort of your own home with BSAC eLearning! If you'd like to talk through your options, call us on 0151 350 6201 (Mon-Fri, 09:00-17:00) for a chat!