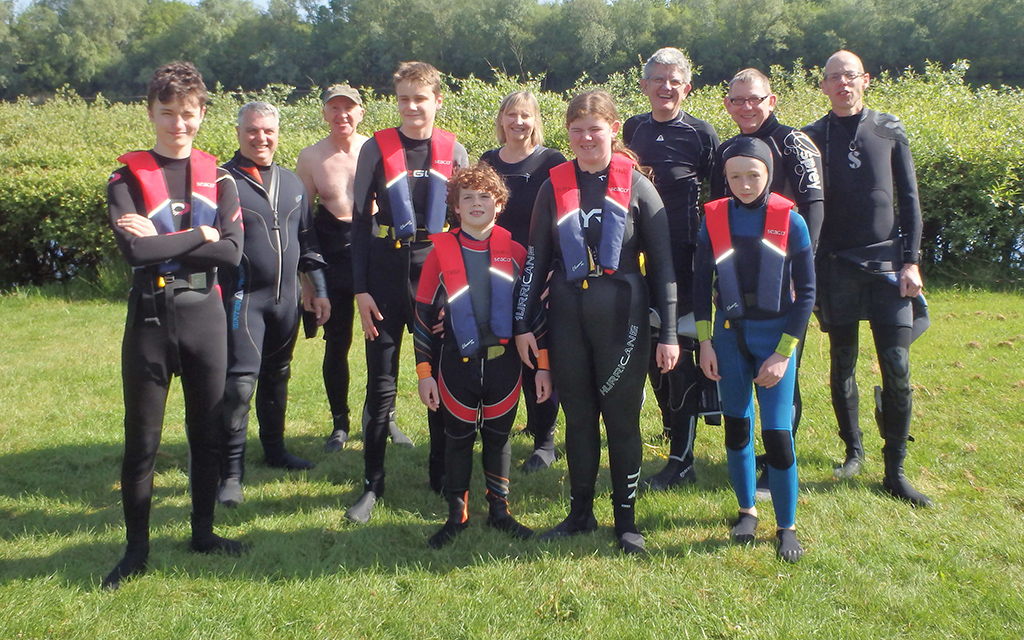 Dorking in leafy Surrey may not seem like a hotbed of snorkel activity, when in fact it's home to one of the most impressive snorkel clubs in the BSAC network.
Part of the Dorking Snorkelling Club's success is its approach to attracting and retaining junior members, as well as an active programme of training and adventurous snorkelling to keep participants happy. Diving Officer Anthony Hulcoop has shared what makes the club so successful.
Start them young
The balance at Dorking is very much in favour of the young, with 25 juniors to eight adult members. In an era when there are so many pastimes and sports to pursue, the club has worked hard to attract young people through smart targeting. To draw people in the club offered free snorkel trial sessions, which were advertised on local Facebook groups. Letters were also sent to local schools, especially those with Duke of Edinburgh (DoE) Scheme coordinators, highlighting the club's place in the community and what it can offer.
Members have use of the pool at Dorking Sports Centre, and signs were displayed in the building to advertise snorkelling to interested swimmers. The club is good at highlighting its activities through articles in the local paper and online, but no matter how clever its initiatives, a lot of old fashioned word of mouth is deployed!
Snorkel training and co-operation
Dorking has an active training programme, which is delivered thanks to the hard work of three volunteer Snorkel Instructors and three Advanced Snorkel Instructors. Access to the pool allows for snorkel training, although it means Dorking can also enjoy other water-based sports such as water polo, underwater hockey and finswimming.
Training in the pool happens year-round, mixed up with games and activities. There is a challenge getting people to Advanced Snorkel Instructor (ASI) level as there are many hurdles (Advanced Lifesaver/ALS, Snorkel Dive Manager/SDM) and very few ASI courses – this year's course has been cancelled, for example.
Anthony Hulcoop

[L] Pool photography training; [R] lifesaving preparation
Older members are mentored in coaching skills, which could be part of a DoE course, or because they have expressed a preference to work with the younger members.
There is a Dorking Scuba club (so two Dorking BSAC clubs, both scuba diving and snorkel diving!) and there are close links between the two. At Dorking Snorkel Club, two of the instructors are members of the dive club, and members of the snorkelling club regularly join the other club to learn scuba diving. The dive club have also run boat handling courses for snorkel members, whilst one of the snorkel instructors became the dive club's regular boat handler – demonstrating that co-operation is a two-way street.
Anthony Hulcoop

Training trip to Wraysbury - clockwise from [L]: surfacing actions; stride entry practice; a local inhabitant; dive down to the cockpit
Snorkel club life
Dorking Snorkel Club has a family-friendly ethos, and families are invited and encouraged to bring their youngsters along to the dives - often a parent will join with their child. With so many young people, members love letting their hair down and at Christmas there's a party with a giant inflatable in the pool, followed by awards afterwards.
Social events include taking part in Sport Relief, where members have undertaken sponsored events including snorkelling a mile (64 lengths in an hour), and underwater mile. Parents get involved in counting and the kinds of charity challenges offer a fun event for all ages.
Anthony Hulcoop

[L] on the club RIB and [R] fundraising for Sport Relief
Snorkelling expeditions
Ultimately, the snorkellers signed up for a snorkelling adventure and Dorking delivers this through open water expeditions. Recent examples include day trips to the Mulberry Harbours (off the West Sussex coast), weekends in Pembrokeshire, and trips to Dorset/Swanage and Devon. Highlight of the calendar is typically a Cornwall wreck snorkelling weekend. Family trips are organised for the bank holidays, with senior/experienced snorkel weekends away at other times for more advanced members. The club has its own RIB, which is used primarily at Pagham and Swanage.
Challenges
The biggest challenge the club currently faces is administration, in that there aren't enough volunteers to manage all the club roles: for example training usually sits with Diving Officer, and the Diving Officer is currently covering Treasurer, Membership secretary, and website manager as well.
Dorking Snorkel Club – get involved!
While numbers are healthy, new members are always encouraged to drop by and experience snorkelling for themselves. More members will help this successful club continue to offer snorkel experiences to families and young people, giving them an affordable and accessible way to see sights above and below the water.
If you live in the Dorking area and would like to experience the British coast and other more exotic places around the world, please contact the Dorking Snorkelling Club by email.