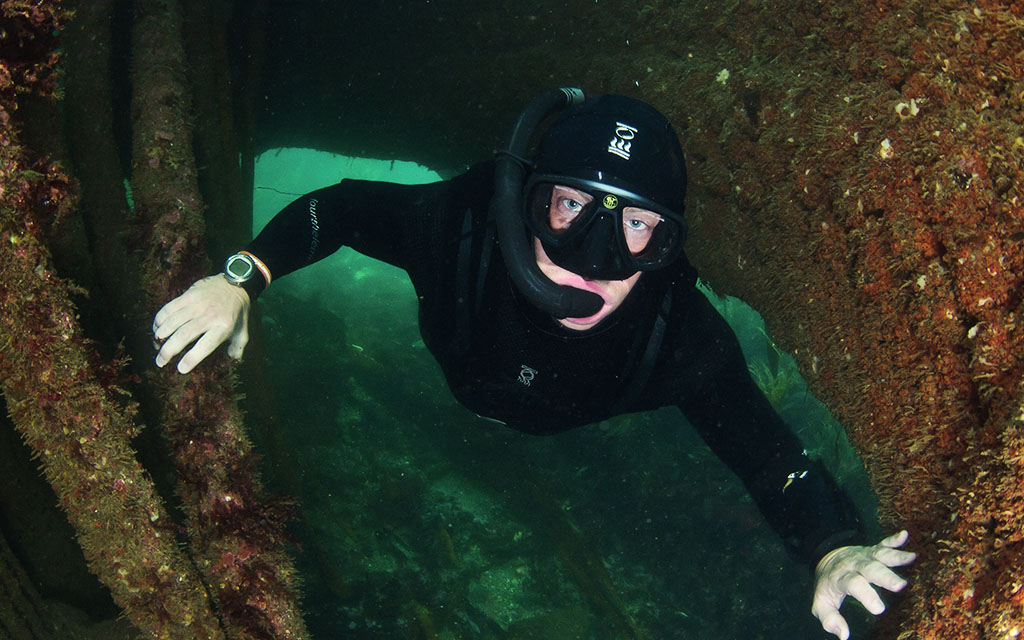 Should snorkellers visit shipwrecks? Andy Torbet says yes, but we are each of us responsible for determining and addressing the risks posed
Shipwrecks... Evocative, steeped in history and often festooned with wildlife. The idea of diving shipwrecks is one of the reasons many are attracted to the underwater world. Even as children the idea speaks of adventure, discovery and, of course, treasure. But we needn't go to pirate boltholes in the Caribbean, or don deep sea diving gear. The rich, long sea-faring history of Britain has left thousands of wrecks scattered around our shores and a few of them are shallow enough to be accessed by snorkellers.
I have snorkelled a number of wrecks the length and breadth of the country. The HMS Port Napier is a great example. Sitting in the relatively sheltered waters of the Kyle of Lochalsh, this Second World War mine-carrier is surprisingly intact and breaks the surface at low tide, making it accessible even for those not willing to duck-dive. On the other side of the UK, we have the Louis Shied off South Devon, or the small submarines in Falmouth Bay. We even have a snorkel-friendly plane wreck in Red Tarn, Britain's highest lake.
I have found these man-made, metal monuments to have become, rather than an environmental eye-sore, an oasis of wildlife. The underwater edifice acts, initially, as a virgin site to be colonised; the structure offers the equivalent of caves, cracks and walls to a wide array of creatures.
But there are some things to consider when investigating wrecks. The high energy nature of the shallower parts of the seas around the UK mean our wrecks are often well broken up.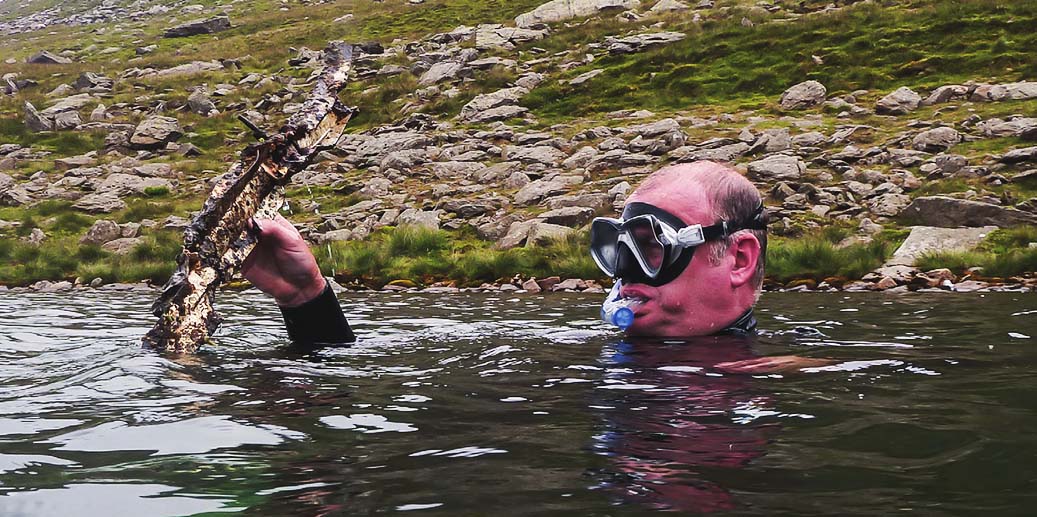 Snorkeller Ian Tannock finds some aircraft wreckage in a mountain lake, replacing it where it had been found.
And unless the wreck has been purposely sunk – such as the Leander class frigate HMS Scylla off Plymouth – it may still be full of wires, pipes and other snag hazards. This, combined with the broken nature and potential instability of the wreck, means entrapment is a genuine risk.
I have snorkelled into a number of shallow shipwrecks, but I always peer inside to ensure there are no major entanglement threats, and that I can get back out.
Keeping to the outside of wrecks is undoubtedly safer, unless we're talking about the tide-blasted block ships of Scapa Flow. But snagging hazards are present all over a wreck, and the exposed ribs of old wrecks have a tendency to attract lost fishing nets. In fact, some fishermen target the wrecks on purpose, in the hope of trapping some of the resident schools that envelop the wreck.
The relative shelter offered by the inner parts of a wreck will attract some wildlife but it can also attract the build-up of silt. The wreck may even be snag-free and clear, but swimming into a silt-out can make it very difficult to find the way out. These are all major issues with diving but, on a single breath, are even more serious when on a duck-dive.
I don't want to put anyone off, but all of us who enter the water have decided on a level of acceptable risk. Most of this column's readers are likely to stay outside the typical intertidal wreck. As for those contemplating the next level, my role here is to equip you with a sense of caution. You and your snorkel manager must make the call on what level of risk taking is acceptable - it's all relative to the wreck, the sea state and your own and your buddy's level of experience and fitness.
If you are going to venture inside something no matter how benign, your buddy is your first line of assistance.
Every wreck is different; indeed, a wreck can change in nature. Any part of it could collapse at any given moment; new hazards can be introduced without your knowledge. You need to be aware of your movement in such a dynamic maze of metal. All the same, I have found these sites to be some of the most rewarding for the British snorkeller. A mix of antique engineering, human history and plenty of local wildlife.
Find out more about snorkel training.
BSAC promotes and develops 'best practice' in snorkelling safety for snorkellers in the UK.
If any of you have any suggestions, I'd love to hear them. Drop a note to me through the editor's email at SCUBA or on my social media below:
Facebook: OfficialAndyTorbet
Instagram: @andy_torbet
Twitter: @andytorbet
Article by Andy Torbet for SCUBA magazine, Issue 126, June 2022. For more membership benefits, visit bsac.com/benefits.
Images in this online version may have been substituted from the original images in SCUBA magazine due to usage rights.

Find out more about learning to snorkel or discover snorkelling in the UK.