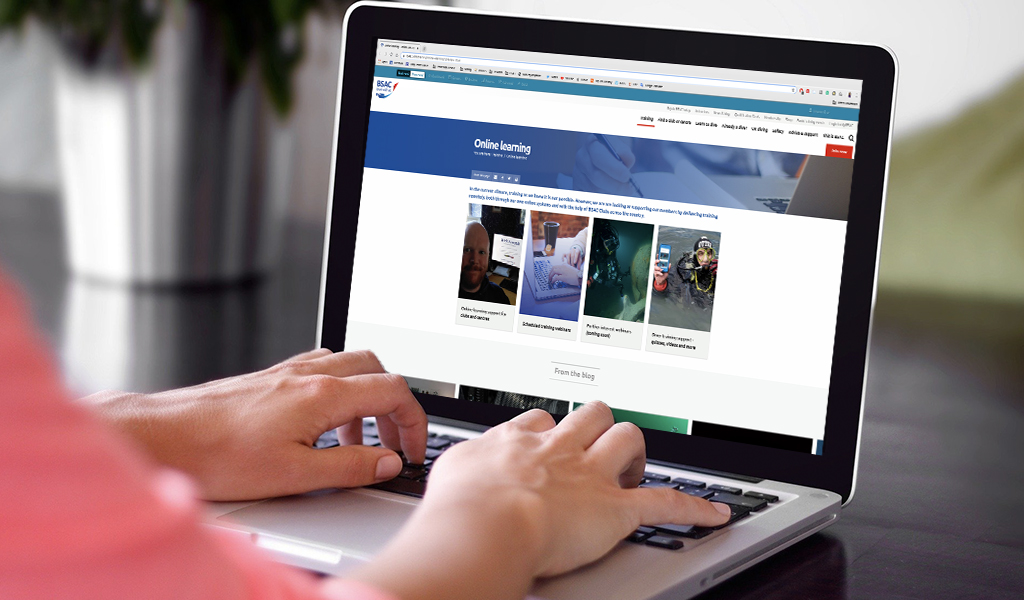 One positive that has come from the new world we've found ourselves in, is the race to get BSAC training online. Here's a lowdown on the current status and the ongoing plan.
Many BSAC training courses could have the theory element delivered online and there is no reason why that can't be done. Indeed, many clubs are already offering this. If you're not sure what your options are as a member or as a club, we hope the following will help you understand the broader plan.

The plan with BSAC online learning has three main threads to it, as follows…
1. Supporting clubs to deliver their own theory lessons
Some clubs are already up and running with this, others are not yet and others may not be planning on it. For clubs keen to keep members engaged over the lockdown/social distancing period, this will be a great way to keep members in touch with your club. There is some online learning support already online for clubs, and more in-depth 'how-to' guides, possibly webinars, and videos to support clubs and centres in this are coming soon. We will email instructors when this more in-depth support becomes available.

Already running online training? If you are a club or centre already doing this and are happy to open the (online) doors to other members, please submit some simple event details and we'll create a centralised listing of online learning being delivered by our network of clubs to share with all members. Get your event listed online.

Check out the online learning webinars you could attend
2. Delivering centrally-organised theory lessons using webinar software
Soon there will be a centrally-organised programme of theory lessons for members to sign up to. These will be delivered by volunteer instructors including from clubs, Regional Team, and the Instructor Trainer Scheme, and will be administered centrally. Diving for All (DfA) Dive Managers and Buddies course webinars and Dive Leader lessons are already online.
For the further programme, to help us understand demand, we plan to send a survey to members asking what courses they would like to do online. This will help us to prioritise the schedule.
3. Developing an integrated online learning platform
In addition to the above, we are progressing a platform that will enable online learning in members' own time, rather than attending webinars at a given time. This is a more traditional online learning platform that will enable members to take lessons in their own time, to take any 'quizzes' online and receive feedback. Work has started on Ocean Diver, BSAC's most popular course. Once we're further ahead with this we'll be updating clubs, centres and instructors.

If you need any additional help please get in touch. You could email the Diver Resources Team or call them on 0151 350 6203.

We'll be in touch with further developments as they happen.
Are you a member and like what you're reading?
Go to your MyBSAC page and click 'Email options' to check you're signed up to receive emails.