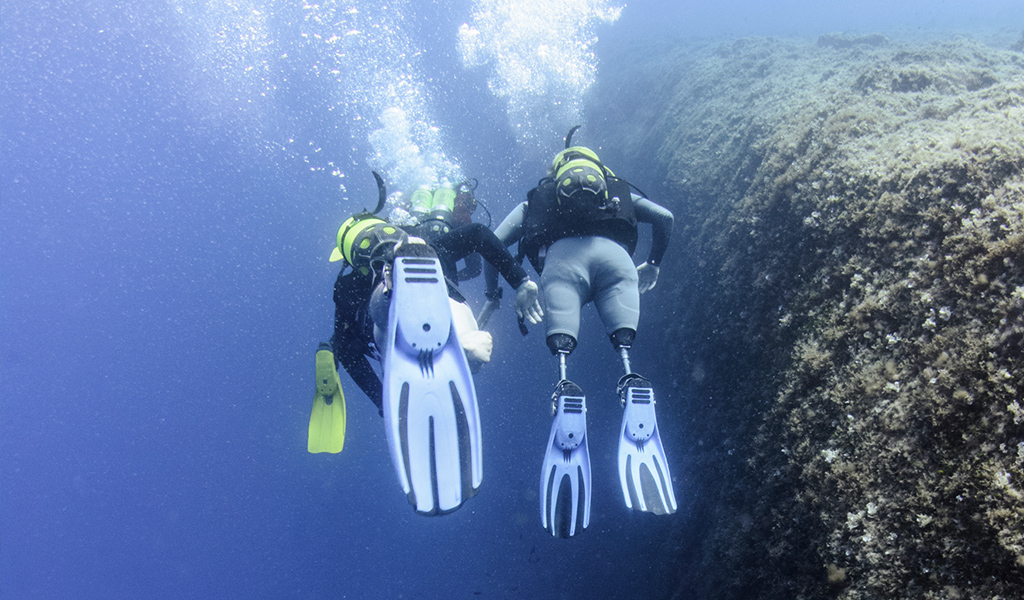 BSAC is working to deliver online learning for members. We'll keep you updated on that but to get you started…the first course in our new online-only training schedule is the Diving for All (DfA) Dive Managers and Buddies course.
As a two-hour theory course, this course is ideal for the current climate of self-isolation and social distancing. We have set up three dates at present, but we are looking to arrange more for the near future.
What is DfA Dive Managers and Buddies?
This course is a great way to enhance your buddy and dive management skills, specifically focussing on skills and techniques which can be used to dive safely when buddying or dive managing people with a range of disabilities.
The course will cover a wide variety of topics including disability in the context of diving, communication, equipment considerations and expedition planning. The aim is to provide divers with the awareness and skills to aid them when diving with or managing people of varied physical abilities and allow them to consider ways to plan and prepare that are inclusive to all.
Who is this course for?
To enrol you must be a BSAC Ocean Diver or above (or have equivalent certification from another recognised training agency).
Sign me up! What do I need to do?
We are making this course free, but there are limited spaces to ensure you can interact effectively during the session and the online system is working as well as possible.
I already have experience buddying divers with disabilities, do I have to take the course?
Not necessarily. If you'd like this qualification on your record, please email the DfA Chief Instructor detailing your experience, number of dives and managed dives and the considerations you have taken into account when diving and managing a diver with disability.
Are you a member and like what you're reading?
Go to your MyBSAC page and click 'Email options' to check you're signed up to receive emails.