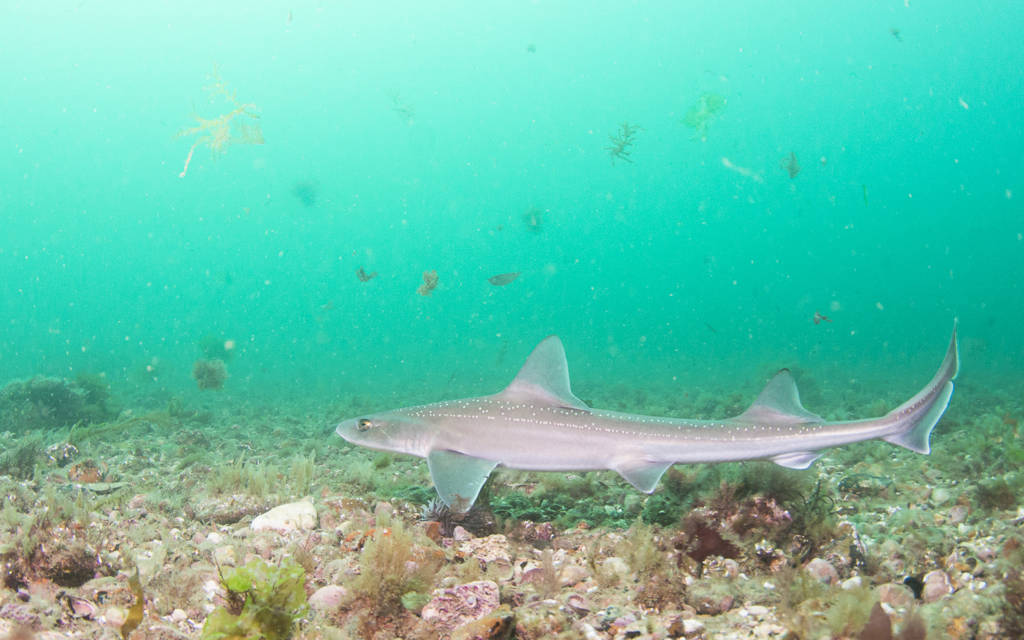 Kirsty Andrews is a woman of perpetual motion as she sings the praises of drift diving.
To the uninitiated, the prospect of entering the water when it's moving at speed could be a bit terrifying. It's not what I'd recommend for a try dive… but once you've got a hang of your buoyancy, built up your confidence and want to progress your diving, give drift diving a go.
A gentle current is optimal for a lot of dives. Fundamentally, currents bring food. All those marine animals that feed on bits and pieces drifting by (which is most of them) will open their polyps, reach up their claws and generally you will be seeing the sea at its most alive. A slightly stronger drift does, I will admit, spark the adrenaline a little. Sharks and other pelagic animals are very much at home in a current, so this is a good type of dive to spot them, whether you are drifting as well or if you've carefully hooked into the reef to watch them sinuously glide by.
The key, of course, is to go with the flow. Nobody likes to huff and puff against a current - this is a sure way to suck through your gas supply and not the sign of a great dive plan. Yet, if you are drifting along in the direction the waters take you, there is a feeling of flight that is like no other. It can be relaxing and wonderful, and of course, you cover a lot more ground (or, well, seabed).
One of the classic British drift dives is the wreck of the Tabarka in Scapa Flow. The dive plan involves a negative entry (enter the water negatively buoyant and get down quick before you miss the site), hide under the upturned hull which protects you from the flowing tide, and when you've finished exploring the wreck, send up an SMB and enjoy the ride as you speed away. In fact, this dive can be three wrecks in one as the current can take you past the wrecks of the Doyle and the Gobernador Bories for a rusty bonus.
Sometimes a drift dive can take second billing to the main event of the day. Perhaps you planned a wreck dive on slack water and then you're just popping in somewhere after your surface interval when the tide's picked up a bit. Don't dismiss these opportunities. I did just such a second dive off Old Harry Rocks in Dorset and was amazed at the number of starry smooth-hounds I saw; I'd never seen them at slack water. It took a bit of juggling of my camera, torch and SMB to capture the moment as I and the sharks sped past boulders and other potential obstacles, but I loved it.
If drift diving, you do need the reassurance of reliable boat support, and you need to have an agreed plan to ensure they know when and where to pick you up. It doesn't necessarily feel like it when you're underwater but you can cover several miles on even a gentle drift if you're down there long enough. Spare a thought for the boat handler who has to keep an eye on your marker buoy and maybe several others, and then endure you waxing lyrical about the amazing drift once you're back on the boat.
Not yet a BSAC member? Let us help you find your local BSAC club
Send your postcode to hello@bsac.com and we'll help you find the right scuba club for you. Or if you fancy a chat call us 0151 350 6201 (Mon - Fri, 09:00 - 17:30).
This column article was originally published in SCUBA magazine, Issue 109 December 2020. For more membership benefits, visit bsac.com/benefits.
Image credit: Kirsty Andrews
Images in this online version may have been substituted from the original images in SCUBA magazine due to usage rights.