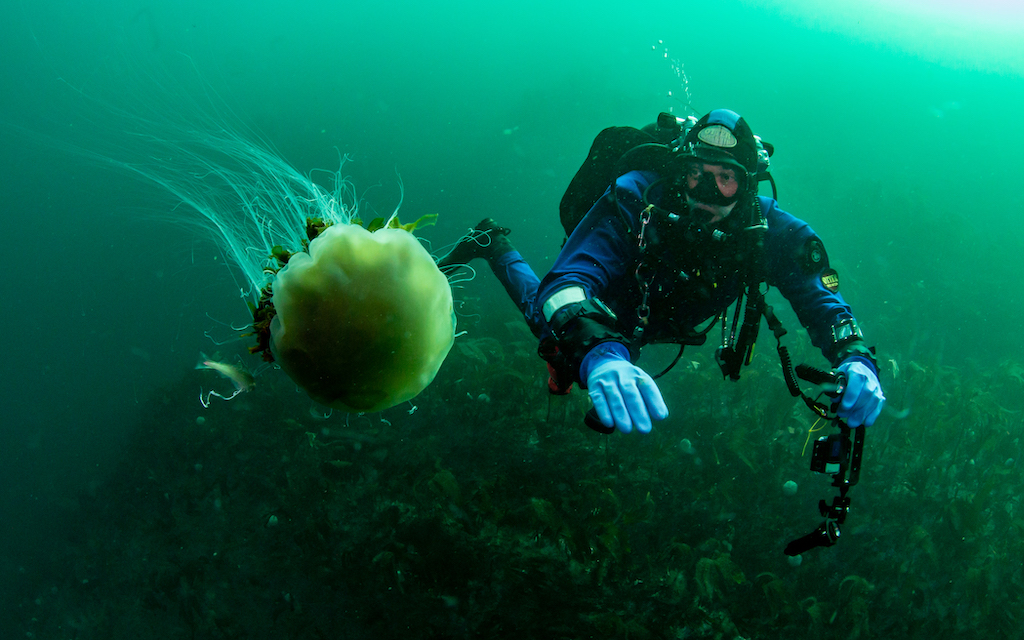 Yo-Han Cha has an enduring fascination with lion's mane jellyfish that often leads him astray…
Apparently, after seeing a lion's mane jellyfish, the normal reaction is not to swim directly towards it. But they're so pretty and colourful, I can't help myself – it's like a moth to a flame. But I wasn't always drawn to lion's manes, I first came across them as a child when I read the Sherlock Holmes story, The Adventure of the Lion's Mane, where I read that they can be rather deadly (this was, definitely a work of non-scientific fiction).
So, when I first saw these big jellies in real life, I treated them with caution and gave them a wide berth. But on one particularly boring safety stop, I found that they can be fascinating to photograph and their colours make them very pretty. It was the start of a beautiful friendship. Their tentacles might be very long, but they usually can be easily avoided by approaching them from the optimum angle. That being said, I've emerged from a dive very occasionally with slightly stingy lips when I've got it wrong, but that's only very occasionally.
I've found them great to photograph both up close and wide-angle, as they move relatively slowly. Up close, the lion's mane's umbrella is a lovely blue or red and to me, they can look like ruffles. If I have my wide-angle lens on, they can look quite striking and if I'm lucky, I'll come across one with some fish using its tentacles for protection.
They also look good next to a diver, however, the main issue I've found is that whoever has the good fortune to be my buddy usually disagrees with my fascination and doesn't want to go anywhere near them. I've found that trying to convince a buddy to swim closer to a stinging jellyfish is much harder than I thought it would be. I don't see why – I'm pretty good at guiding my buddy safely towards the jellies. I'd hate to accidentally harm them, and my buddies have always preferred not to get stung as well.
I never fully appreciated lion's manes until now. Having done most of my UK diving in Scotland or Northern England, lion's manes were a common sight. But now that I've moved down south, I've found that the southern waters are generally too warm for them and other, less colourful jellyfish are more abundant. You only realise what you had when it's gone, right? So on what is probably my only Scottish dive trip of 2020, I saw my first Lion's mane in more than a year. I got far too excited in seeing what is, after all, a very common species that most people avoid and on my first day managed to get the whole boat looking at me like I was some kind of weirdo.
I apparently should've been raving about the jewel anemones. Sadly, it wouldn't be the only time I failed to spot jewel anemones that week... and I do love seeing jewels. But it was so good to see the lion's manes again. After a year of not diving in Scotland, it was great to see the familiar species and habitats that first got me hooked on UK diving. It was like seeing old friends again, albeit the kind that sting you if you venture too close.
Not yet a BSAC member? Let us help you find your local BSAC club
Send your postcode to hello@bsac.com and we'll help you find the right scuba club for you. Or if you fancy a chat call us 0151 350 6201 (Mon - Fri, 09:00 - 17:30).
This column article was originally published in SCUBA magazine, Issue 108 November 2020. For more membership benefits, visit bsac.com/benefits.
Images in this online version may have been substituted from the original images in SCUBA magazine due to usage rights.