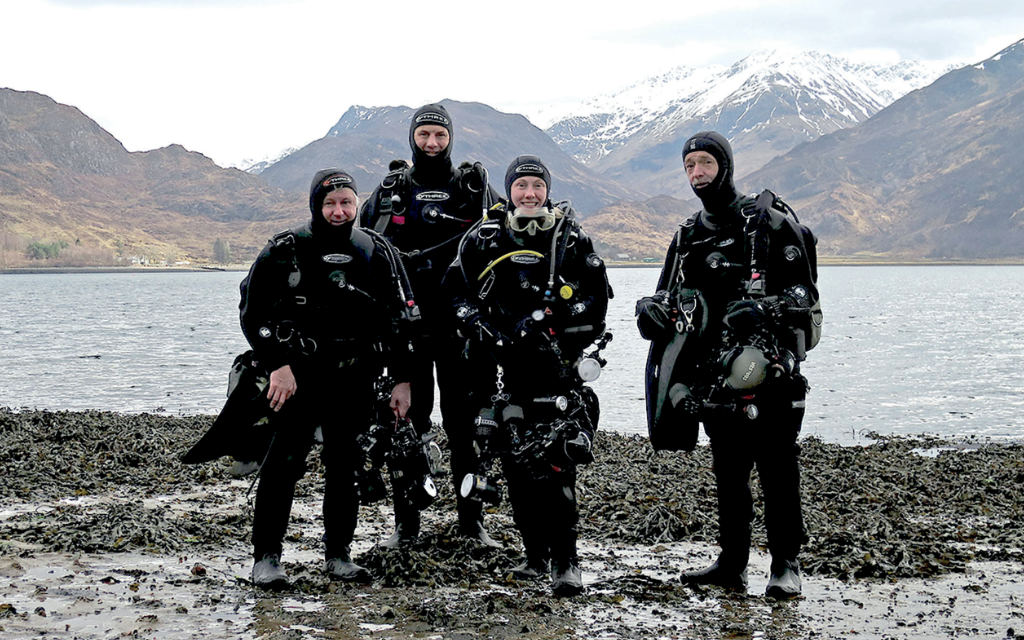 With the sea now warming as the summer months approach, Kirsty Andrews looks back on the challenges presented to divers in early spring, the traditional time we unleash trainee divers on open water.
March can be an inhospitable month for UK diving, even for those of us who like to dive all year round. The water has been chilling slowly but surely over the winter and tends to be at its coldest in March; often closely matched by the air temperature. Only the hardiest diver is tempted to submerge.
We all have our ways of managing the cold. It might be prudent to aim for a slightly shorter dive time to minimise chances of hypothermia; I don't usually follow this tip myself but I am mellowing as I get older. Some divers recommend keeping a spare hood and gloves dry and ready for a second dive. Another option is to have a bucket of hot water on hand to heat up that gear before putting it on.
Many a lengthy discussion has been had as to the merits of dry gloves, thick neoprene or three-finger mitts (I swear by the latter). There has been a surge in popularity recently of warm waterproof robes, which can be a real benefit on a windy RIB or for the surface cover team. This year I have regularly been seen in mine and I'm also loving my 7mm hood to keep my brain cells at a functioning temperature throughout winter and spring.
I especially feel for trainee divers at this time of year. Any cold is compounded by ill-fitting leaky rental drysuits and borrowed or hired unfamiliar kit, which may be difficult to operate with numb fingers. Mask clearing drills in particular are more fearsome than ever with the threat of brain freeze from icy waters. My top tip for this is to splash cold water on your face before you get in -then it's less of a shock when your face is exposed for a second time.
The instructors have probably spent years fine-tuning their optimal preferred combinations of base layers and post- dive warm-up routine. They are also at an advantage, as their experience tells them that conditions are not always so tricky and that diving doesn't always come with the threat of an ice-cream headache. More seasoned club members may speak of the enticements of warm summer waters, but to newbies, these delights seem purely theoretical at this point. If whilst reading this, you are one of those beginning your diving journey, then take heart, you've proved your worth and easier times will come. Even if the cold has proved too much of a trial at first, don't be disheartened; give it another go when the environment is more conducive to success.
Is it unnecessarily cruel to conduct training in March when the learning experience is toughest? Perhaps, but there is a logic there; divers who qualify in spring can enjoy some fun trips in the summer months and progress their experience with the club. British-trained divers have a good reputation around the world for solid reliability; skills honed in single-figure temperatures become a breeze to perform in warm clear seas.
I do feel though that learning to dive shouldn't be an endurance test. On balance, we shouldn't make our novices experience the most difficult conditions before they get to enjoy the best. I suspect most clubs' training regimens will be disrupted this year with the unavailability of swimming pools and difficult distancing restrictions, so one upside may be a later and milder start for this year's trainees.


The BSAC network is working together to keep people connected to the sport. With online training, special interest webinars, competitions, support to clubs and the trade, and much more...we'd love you to join us.
This column article was originally published in SCUBA magazine, Issue #112 March 2021. For more membership benefits, visit bsac.com/benefits.
Images in this online version may have been substituted from the original images in SCUBA magazine due to usage rights.