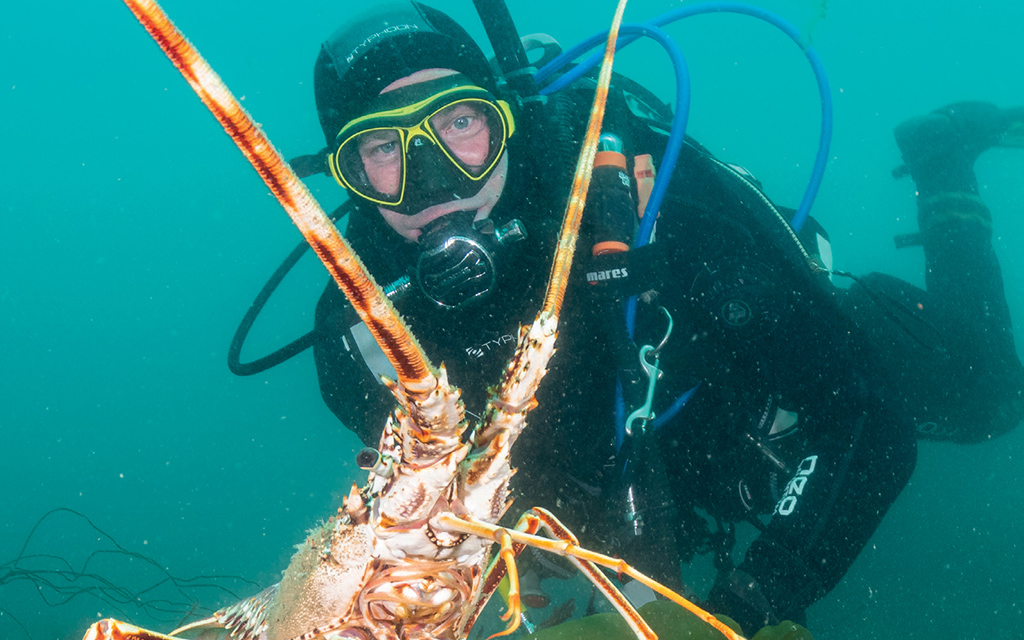 Kirsty Andrews returns to the theme of the South Coast's resurgent crawfish (as she has now decided to call them).
For this month's column I'm following up on one which provoked a bit of feedback a few issues ago. If you can cast your minds back to the June SCUBA magazine, I described my early dives of this season, the highlight of my first weekend being an array of friendly waving antennae from a seemingly burgeoning population of Palinurus elephas on the Mewstone Ledges outside Plymouth.
This column notably struck a chord with some of you, as I have been approached a few times since, both in person and by email [thanks to my editor for passing on] with more stories of recent crawfish interactions. Firstly, thank you for getting in touch - it's great to hear your tales, especially positive ones of wildlife success stories.
One email did raise a blush though, and that was from my friend Dr Keith Hiscock. Now, Keith is certainly the man to consult regarding wildlife in the South West; he has a background of around half a century of marine ecology and biology scientific contribution, authoring many books and reports. These include the handsomely illustrated and informative tome gracing my own coffee table, 'Exploring Britain's Hidden World: A Natural History of Seabed Habitats'.
The scale of the crawfish apocalypse between the 1960s and early 2000s really was disturbing
Keith pointed out to me, very politely I must say, that according to the World Register of Marine Species, the accepted common names for Palinurus elephas include "spiny lobster; sea crayfish; red crab; langouste; European spiny lobster; crawfish; common spiny lobster; common crawfish"… but not crayfish. I'm happy to be schooled in this instance as loose language doesn't really help, does it? Common names can be easier, until they cause confusion. For now, I'm reverting to 'crawfish', with apologies.
The scale of the crawfish apocalypse between the 1960s and early 2000s really was disturbing. Fisheries statistics showed an 87% decrease in landings between the 1960s and period of 1998-2008 (borrowing from Keith's research here, and his article in December 2019 British Wildlife magazine) and the size of caught individuals decreasing as well. As a result, crawfish were listed as a vulnerable species on the IUCN Red List and a UK Biodiversity Action Plan species (under a previous biodiversity regime).
The recent bounceback is encouraging, but it's difficult to know the combination of diver-catching, potting and bycatch, as well as other factors that caused the decline last time, and how to avoid it recurring in the present day.
In addition to tempting predatory divers, it seems that crawfish are a favoured meal for the common octopus Octopus vulgaris. Shortly after the Mewstone Ledges trip I found myself at Porthkerris Divers in Cornwall, admiring a handful of crawfish and also one of reportedly a few common octopus on the house reef there. I've recently come back from a return trip and saw only two crawfish… coincidence, or nature in the raw, red in beak and craw?
Of course, anecdotal evidence only gets us so far. It would be very remiss of me whilst on the subject of these photogenic crustaceans not to remind readers that Seasearch is specifically tracking the progress of this species as it bounces back. Do record your sightings by contacting your local Seasearch coordinator or find more information here.
Right, time to pack my kit for another fun weekend in Cornwall, hopefully with some further fun crawfish action, if the octopuses haven't eaten them all.
Article by Kirsty Andrews first published in SCUBA magazine, Issue 129 October 2022.