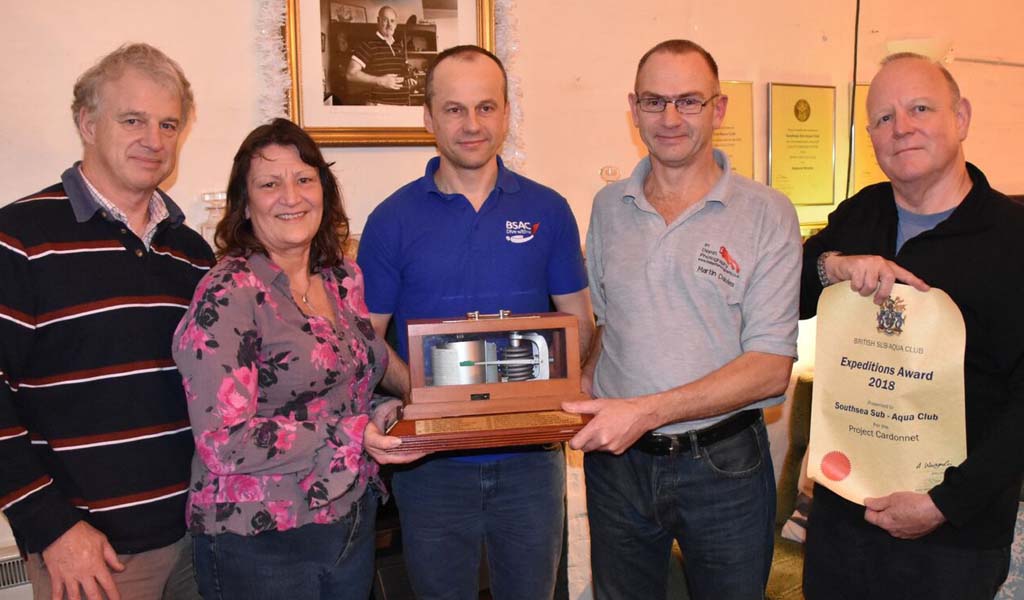 Southsea Sub-Aqua Club delivers again!
The BSAC Expedition Trophy was awarded at the Southsea Sub-Aqua Club clubhouse by BSAC Expeditions Office, Andy Hunt. The award was given to the Project Leader (Martin Davies) and other members of the Project Cardonnet Team.
Photograph: Doug Carter (far left), Alison Major, Andy Hunt, Martin Davies (Project Leader) and Tom Templeton (far right)
Southsea wins BSAC Expedition Trophy
Their expedition across to Channel to the Normandy beaches not only ticked the "true spirit of adventurous diving" box to win the trophy, but it was also an example of a great collaborative project with a team of French archaeologists at the Département des Recherches Archéologiques Subaquatiques et Sous-Marines (DRASSM).
The report is a fascinating read blending details of the actual dives with science, historical research and the human stories behind the wrecks. Without doubt Project Cardonnet demonstrates BSAC's core aims as a governing body for the sport in the UK in action: "To promote underwater sport, exploration, science and related studies, to promote safety in these activities and by co-operation with other organisations with related objectives to provide the widest exchange of knowledge and experience..."

Note the black and white photograph behind the group is that of Alexander McKee, a Southsea branch member and responsible for the Project Solent Ship Wrecks that led to the discovery of the Mary Rose. The branch legacy of exciting projects certainly lives on in Southsea Sub-Aqua Club and is one of the key selling points of the club in attracting and retaining new members.
Read Project Cardonnet Report About the Expedition Trophy
If you need help finding a club please email hello@bsac.com and we'll send you your three nearest scuba clubs. Or if you fancy a chat call us 0151 350 6226 (Mon - Fri, 9 - 5:30).