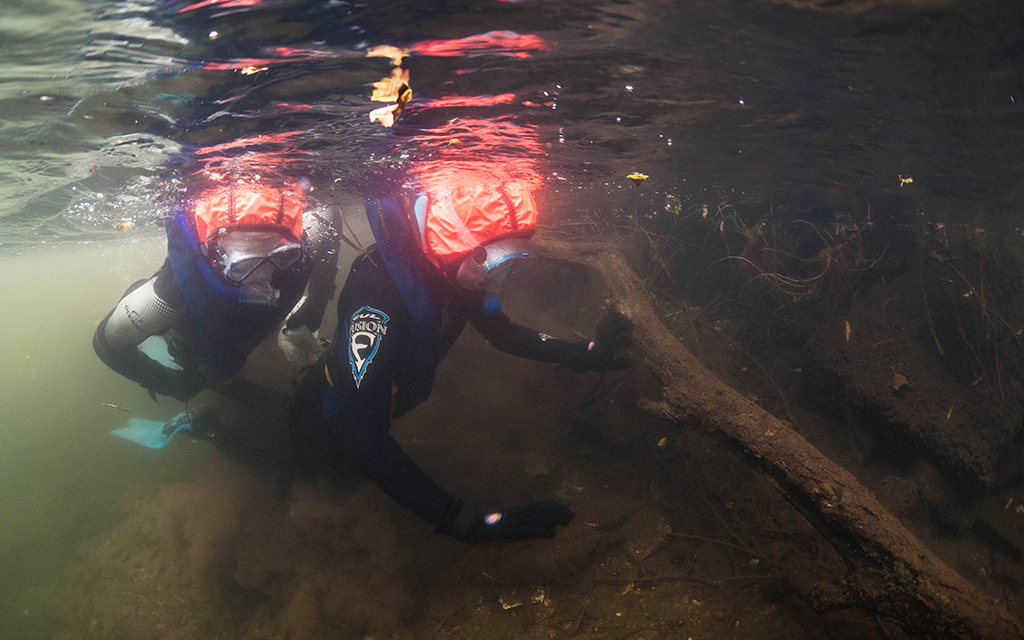 He's no troll, but Andy Torbet does have a predilection for hanging out under bridges, as long as he's equipped with snorkel, mask and fins.
Bridges – they've been around for an estimated 3,000 years, defined as a terrestrial-based construction to cross a river by foot, animal or vehicles, without getting wet. However, avoiding contact with the water is rather missing the point for a snorkel excursion, so bridges would seem to be a strange subject for a column on snorkelling. However, choose the right bridge, above the optimum stretch of the right river and you can discover some unique surface and submerged landscapes. And to make my point and whet, or wet, your appetite, here are a few of my favourites in the UK.
Bridge of Orchy, River Orchy, Highlands
This has to be my top bridge-snorkel spot. Consider conditions carefully, though: heavy rain in the mountains can make the visibility poor and the flow strong. However, in the summer months when I've visited – and I've done so several times – it's been whisky-clear (like gin-clear but with a golden tint). Up to six metres deep in places with little flow, and with incredible, large scale rock formations, car size boulders and slabs where big salmon can be spotted gliding along the riverbed.
Devil's Bridge, River Lune, Yorkshire Dales
A legendary bridge, dating to at least the 13th Century, said to be constructed by Lucifer himself after an old woman tricked him into agreeing to build it in exchange for the first soul to cross it. Once complete the old woman sent her dog over. Which presumably is seen as a win…unless you're the dog. The River Lune flows gently under it, unless local, heavy rain has been experienced, and the depth is never more than a few metres. Snorkelling the river under the bridge gives a unique perspective to this stone edifice not only in terms of seeing the submerged construction that tourists miss but also from the centre of the river to appreciate the symmetry. Underwater you'll find small water-carved sections, scalloped rock surfaces as well as trout and eels.
Holne Bridge, River Dart, Devon
I'm sure with rain the visibility can reduce and the difficulty can increase, but the many times I've visited this spot, it's always been idyllic. A small weir downstream from the bridge, one that's very safe in good snorkelling conditions, allows for some deeper water at around a metre or two. The deepest point is beneath the bridge where the sunlight and shadows make for some interesting vistas. Here, small shoals of minnows play among the tree roots and a duck-diving snorkeller can lie on the riverbed and look back up through the clear water at the bridge above.
Birk's Bridge, River Duddon, Cumbria
First recommended to me by Andy Clark, AKA Andy The Northern Diver, this 18th Century packhorse bridge arches over a little stretch of water that reminds of some of the spots I've snorkelled in the Lot region of France. It's smaller in scale to the others, but shares many of the geological features that make these sites work well. Underwater, you get clean bedrock or pebble bottom and rock banks, both of which give the best potential for good visibility. On top of this, you get some fascinating geology, generally clean water and the chance to view a piece of architectural history from a unique perspective.
Article by Andy Torbet first published in SCUBA magazine, Issue 135 May 2023. Images in this online version have been substituted from the original images in SCUBA magazine due to usage rights.