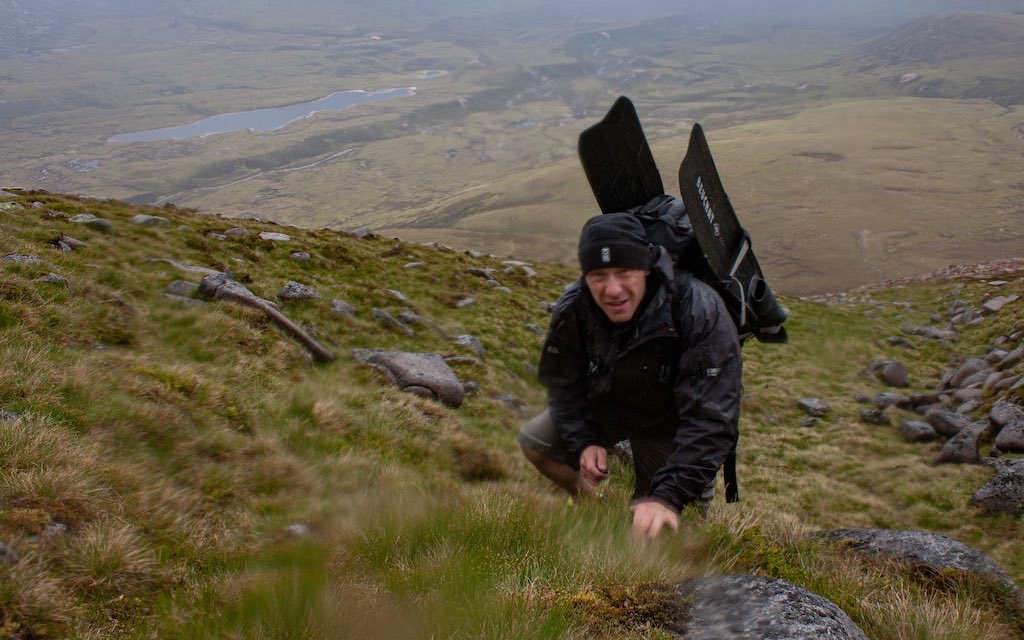 Andy Torbet kicks off a mini series on climatic considerations with some advice on snorkelling in the rain.
We British divers don't always have it easy, as the winter months demonstrate. The joke is always that the British love discussing the weather, but I feel we can be forgiven.
The UK has a maritime climate, which means that even if you live the maximum of 74 miles from the sea, you are still considered to be under maritime meteorological conditions. It means we are all subject to weather fronts coming from every direction of the compass, which leads to an unstable and unpredictable climate.
So you can choose to be a fair weather snorkel-diver, losing time and dives to the frustrating whims of the weather gods. Or you can learn to deal with whatever nature chooses to throw at you.
I spent a week in Cornwall in the summer snorkelling around the south coast. Over the six days we had two of glorious sunshine and flat seas, two with light winds and rain and two with heavy rain and strong winds. The whole spectrum, really. But the important thing is we managed six days of diving. Sometimes a little thought can mean an altered rather than cancelled dip.
Photo by Andy Torbet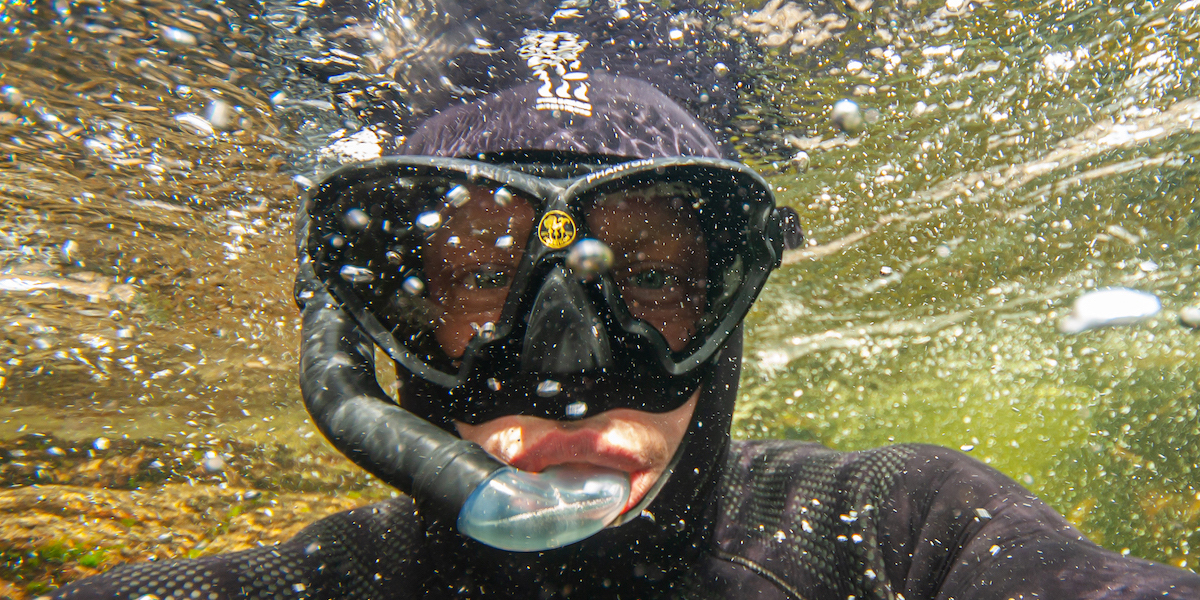 Rain isn't all bad...
In clear water the patterns made on the surface, viewed from below, can be mesmerising!
Next month we'll talk about how wind can affect snorkel sites but for now let's deal with the rain. Rain? In the UK? Surely not! On those 'rare' occasion the heavens open it shouldn't put you off. You're not going to get any wetter. In fact, I love snorkelling in the rain, especially when you surface from a duck-dive and can see the patterns on the water from underneath.
Heavy rain can cause a few potential issues, such as...
Run-off
As the rain percolates through the ground, running into the body of water you wish to dive (the sea, lake, river, inland dive site) it collects visibility-limiting sediment. It's worth looking at where this might occur, such as the mouths of rivers and streams, and avoiding not just those areas, but also shore dives down-current from them. Run-off can affect rivers along their length and the visibility of some inland lake sites, across the entire body of water, stirring up the lake bed and further reducing water clarity.
Increased water flow
I'm a big fan of river snorkelling but after heavy rain these sites can become death traps. Raging rapids and tree trunks in zero viz do not make for a grand day out. So look at the river conditions before jumping in... and not only the present conditions. Rivers can have large water catchment areas so heavy rains up in the mountains now may mean your seemingly calm stretch of river may become a torrent imminently.
Photo by Ian Tannock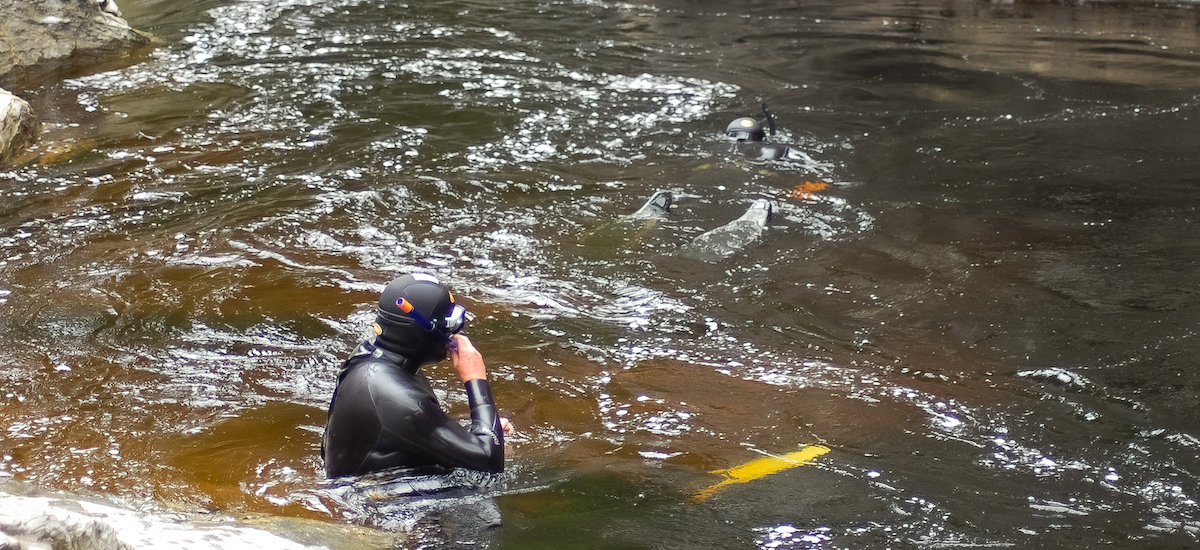 Heavy rain can cause increased water flow in rivers
Always assess water levels and flow conditions in rivers to make sure it's safe.
Entry
Usually less of a problem but depending on your group's ability it's worth considering accessibility. Rain can wash out paths and banks and make entry points slippery and more difficult to negotiate.

It should go without saying, but I'll say it anyway, that sometimes you just can't win. Sometimes there are no safe options and there's no shame in withdrawing, then prepare to fight another day. The chances are that under these conditions the visibility would be so poor anyway you'd be risking a lot for no return.
That said, in my 30 plus years as a British diver, I've come to appreciate we are generally philosophical about having to alter or cancel our plans. We are powerless to stop the forces of nature, but we can choose how we react to these upsets.
We can choose not to let such frustrations affect us long-term, to lose the battle but not the war. We can choose to be more flexible, looking for alternative solutions or having pre-planned back-up ideas. Which, especially given the nature of the world these days, is a valuable skill to have in one's arsenal and a philosophy well worth a few missed dives.
Snorkel with your local BSAC club!
Not yet a BSAC member? Let us help you find your local BSAC clubSend your postcode to hello@bsac.com and we'll help you find the right scuba club for you. Or if you fancy a chat call us 0151 350 6201 (Mon - Fri, 09:00 - 17:30).
For more information on snorkelling with BSAC go to bsac.com/snorkelling. Looking to introduce snorkelling into your club? Find out more at bsac.com/snorkellinginstructor.
If any of you have any suggestions, I'd love to hear them. Drop a note to me through the editor's email at SCUBA or on my social media below:
Facebook: OfficialAndyTorbet
Instagram: @andy_torbet
Twitter: @andytorbet
Article by Andy Torbet for SCUBA magazine, Issue #108 November 2020. For more membership benefits, visit bsac.com/benefits.
Images in this online version may have been substituted from the original images in SCUBA magazine due to usage rights.

Find out more about learning to snorkel or discover snorkelling in the UK.