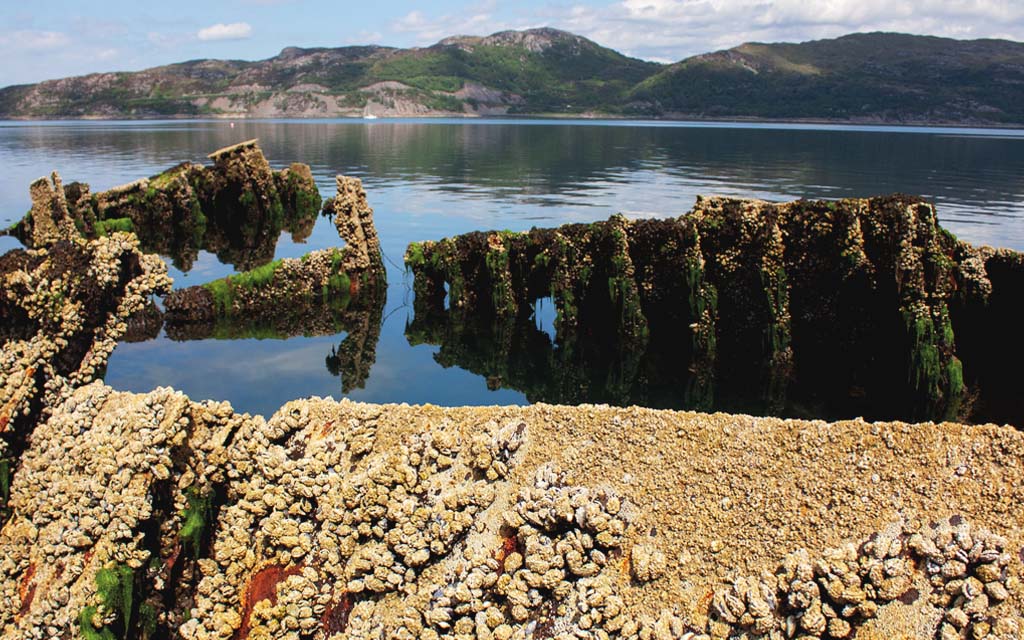 Shipwrecks need not be the sole preserve of scuba divers. Andy Torbet reveals his favourite UK locations where snorkellers can indulge their lust for rust.
Shipwrecks offer something for every underwater explorer. There's history and metal for the more traditional wreck-heads, but these structures quickly become artificial reefs that can occupy the most ardent wildlife enthusiasts. Most, unfortunately, are deeper than snorkellers can go. However, around the UK there are a number of snorkel-worthy wreck sites which are accessible to those of us who take the tube.
1. HMS Port Napier
Not the easiest wreck on the list, as for most Brits it involves a lengthy trek north, between the Isle of Skye and the mainland. The wreck's position necessitates a long swim or a boat journey to access the site. However, it's my personal favourite because of how accessible it is once you're there.
Lying on its side and breaching the surface at low tide, you can explore the 50-metre length of this Second World War mine carrier without even having to do a duck dive. Still, if you fancy going a bit deeper you can dive into the holds, opened up by the Royal Navy to extract the mines, without having to venture into overhead territory. Underwater visibility has always been good when I've visited, and there's plenty of life in the nooks and crannies of this relatively intact ship, which lies in conveniently sheltered waters. The topside scenery is pretty stunning too, making this a beautiful day out.
2. Louis Shied, Thurlestone, Devon
This Belgian Steamer, sunk in 1939, has cropped up at least twice in the last nine years of my curation of this column. But that's because it's such an easy wreck to get to, safe to snorkel with plenty to see. Head out along the rocky ridge that splits the beach at Thurlestone and swim out to the wreck that breaks the surface at low tide. On a sunny day, swimming among the metal frameworks is the highlight for me.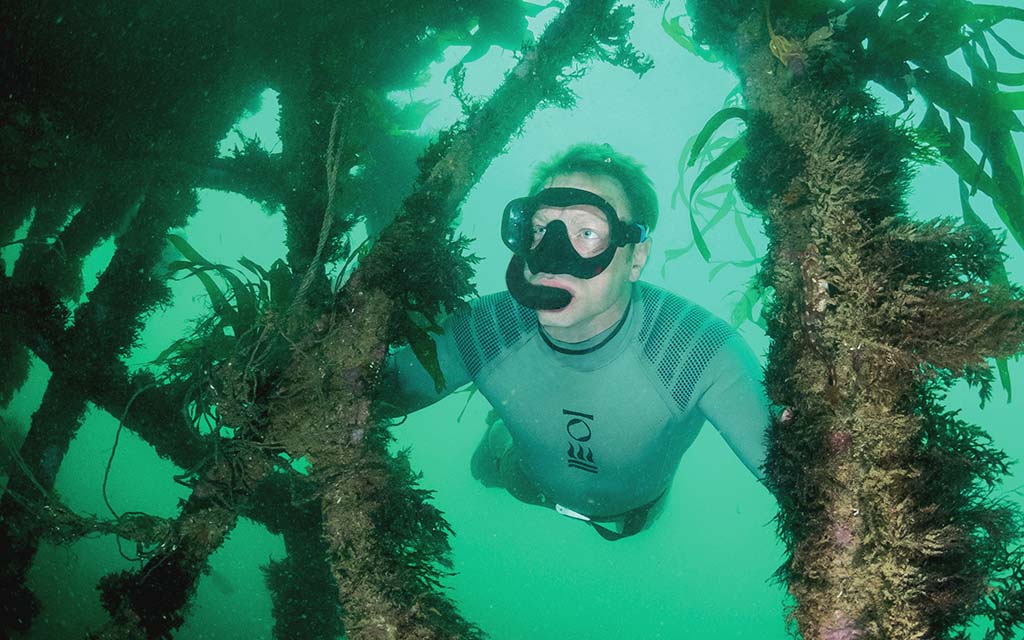 Swimming through the bars and beams of the Louis Shied, Devon

3. Falmouth submarines
Staying south, we move from Devon to Cornwall for something a little more unusual – a submarine suitable for snorkellers. They're not that recognisable as submarines these days but the rounded hulls are still discernible. We must forgive them, however, as they date back to the end of the First World War and, after the crews surrendered themselves and their subs to the British, the vessels were used for target practice by the Navy. Today, the wrecks sit in very shallow water off Castle Beach west of Pendennis Castle in Falmouth. This is a benign site, perfect for beginners. There are supposed to be seven of them scattered across Castle Beach west of Pendennis Castle, but I've never managed to find them all. Good luck!
4. The Red Tarn Plane
Advancing on the 'unusual' theme, how about a plane wreck, in a lake, up a mountain? In 1940, a Mosquito plane crashed on a training exercise on Helvellyn in the Lake District. It slid down and into Red Tarn, England's highest lake. The fuel tanks and parts of the skeleton of the aircraft still lie in about 5-6m in the southeast corner. It's a pleasant two-mile walk up from the Youth Hostel but you'll be glad you're not carrying a scuba kit!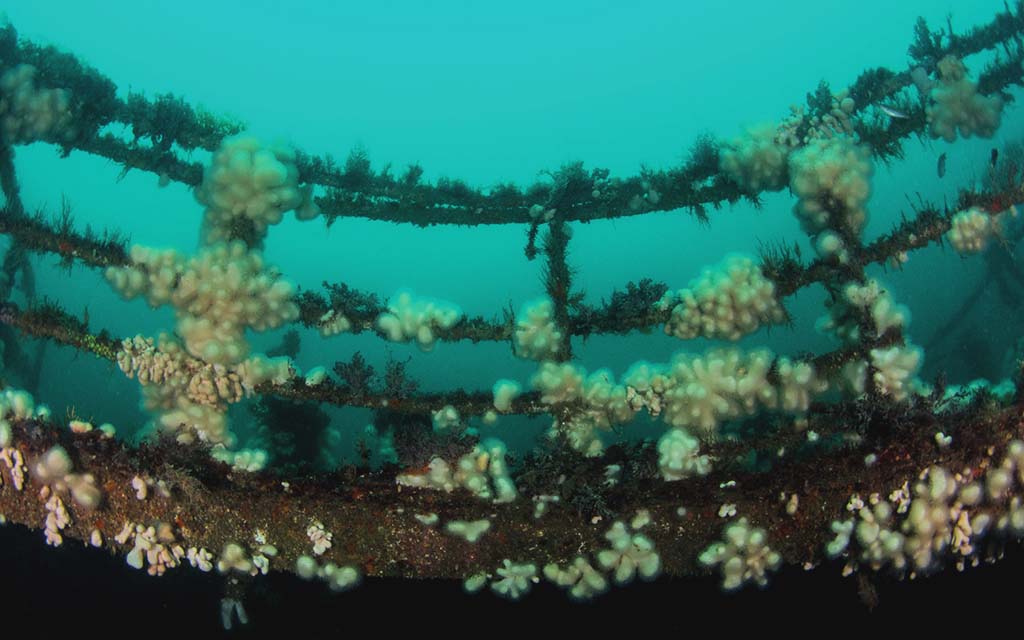 The stern deck of the Scylla is a challenging duck dive.

5. HMS Scylla
One for the advanced snorkeller here. The Scylla requires a duck dive of over double figures to reach, but for those with appropriate experience (and a boat to access this site off the Devon coast) it is worth the effort. Purposely sank as an artificial reef, the ship is completely intact and festooned with life. The windows and doors are all clear, but wreck penetration by snorkel is not advised.
Find out more about snorkel training.
BSAC promote and develop the 'best practice' in snorkelling safety for snorkellers in the UK.
These are just some of the wrecks I've visited by snorkel. If you have any suggestions of different sites please drop me a line via Instagram @andy_torbet as I'm always after new places to explore. I will report back in a later column on any recommendations I am able to follow-up.
Facebook: OfficialAndyTorbet
Instagram: @andy_torbet
Twitter: @andytorbet
Article by Andy Torbet for SCUBA magazine, Issue 118, September 2021. For more membership benefits, visit bsac.com/benefits.
Images in this online version may have been substituted from the original images in SCUBA magazine due to usage rights.

Find out more about learning to snorkel or discover snorkelling in the UK.