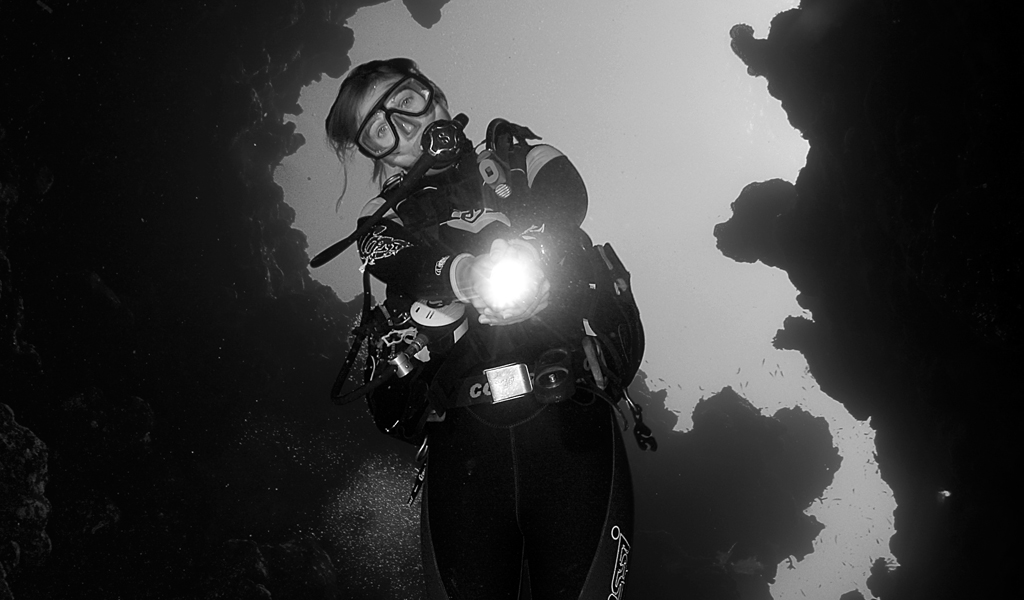 A fictional story set in the future by recently qualified Ocean Diver Adair Broughton.
This short story was an entry in the SCUBA shorts writing competition organised by SCUBA magazine. The competition was for short stories inspired by members' time underwater, whether fact or fiction; reportage or rant. Here's Adair's tale...
The sea, once it casts its spell, holds one in its net of wonder forever.
I looked at the picture again as I reread those same words inscribed below it, written in a calligraphy of ages past when ink and paper was our primary form of non-verbal communication.

That photo was a distant relative, too many generations past for me to have any familial memory. Yet her smile somehow spoke to me at the time, a three-year-old girl looking for hidden treasures in her great grandma's loft. Not understanding why, I put that sepia-coloured, faded and creased photograph in my pocket and never told a soul. The guilt has never left but at the back of my mind, even then, I knew it was fortuitous.

What haunts can also motivate, and I was fascinated by the history of those explorers and how people wore those huge tanks of compressed gas on their backs rather than our simple catalytic 'Evolution Reactors'. How could she even move with all that weight and cumbersome gear?

Technology advances in incremental steps, until there comes a giant leap. Constant electrolysis via the ferrous metaphosphate nickel platform means that the provision of breathing gas is no longer a limiting factor.

I'm not sure how I would have coped in her era. Diving seemed so limited and inhibitive back then. Perhaps that profound lack of time would have made everything more special and, ultimately, enduring.

I presume she also lived in a time when colour still speckled the sea with coral monuments and ephemeral flashes of light, as reflections shimmered and bounced off the fish, in their inquisitive and hungry worlds, dazzling the floating people who were trying to escape their polluted skies to find peace in the silent mystery of the sea.

I am an explorer now for hope. Our world has changed but we always seek out what is new in trying to regain the old.

I put the photograph in my pocket, now 30 years older. It is the last thing I do before launch countdown begins. When I return from Europa, I will look for her history and wonder if she ever thought of other worlds and moons and how we need to find new species to repopulate our seas. Did she ever realise how dressing up in that dive gear, with a smile of hope and fun, could influence humanity's next great voyage?

Or would she feel this is a mistake, another we are making as a species? I am in conflict like all of you. I guess guilt never goes away, but neither will her smile.
Sponsored by O'Three
The journey through the entries of the SCUBA Shorts writing competition continues. SCUBA still haven't picked a winner, so these entries are all in the running to win an O'Three 90-Ninety Tri Lam Drysuit worth £1,795.
The winner will receive the much-praised new TriLaminate drysuit from this competition's official sponsor, Portland's masters of drysuit diving, O'Three. This is a prestigious, premium quality suit from a respected company with a proven track record in keeping divers warm and dry in the most demanding environments.


This SCUBA Short article was originally published in SCUBA magazine, Issue 107 October 2020.

Images in this online version may have been substituted from the original images in SCUBA magazine due to usage rights.