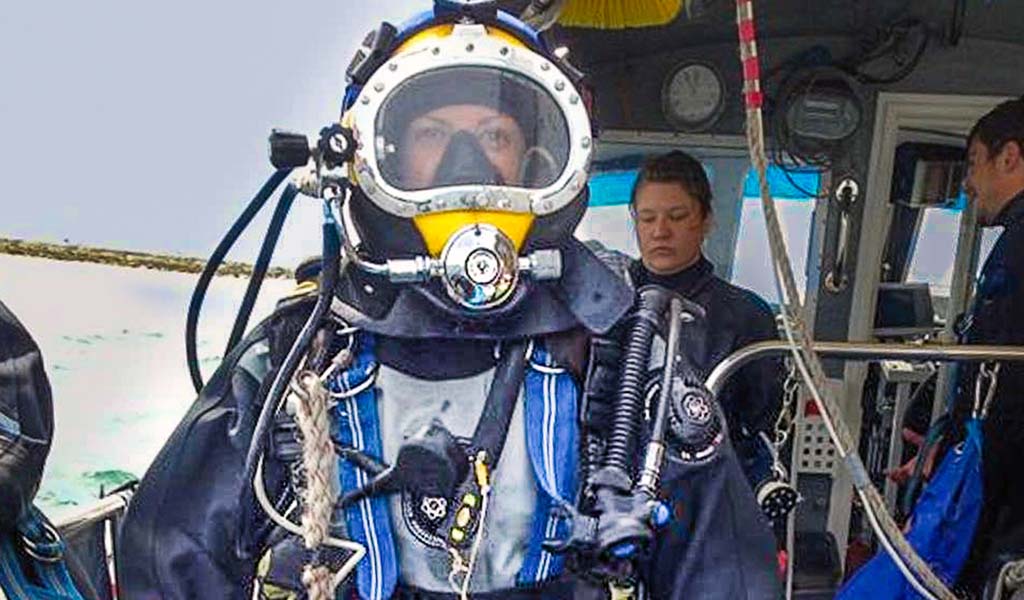 Underwater photographer and documentary maker Jenny Stock presents a poem inspired by an immersive experience in the Arctic Circle that left her chilled but inspired.
Day six; my adventure; my first Arctic trip,
I'm out on the deck of this ice-class tour-ship,
Camera in hand, snapping far away fjord,
When 'whoops' I lean out, then it's 'man-overboard!'
I'm tumbling, soaring, falling through air,
In the ocean I splash, I now know despair. '
Oh goodness' I say 'I've done something silly',
The ocean I'm in, it's colder than chilly.
I'm focused on freezing, but then I'm distracted,
Deep in the water, a shape, all refracted.
The form is expanding, its movement quite odd,
I suddenly realise it's thousands of cod.
They swim as a school then disperse in a scatter,
I dream of hot food, their bodies in batter.
A fish flashes past, his fear I can feel,
Then chasing behind him, a hunting harp seal.
This seal is a bullet, she's faster than light,
This cod in her cross-hairs, she's got him in sight,
She nips at his tail, intent on her dinner,
But he's off in a flash, he comes out the winner.
Then stranger than fiction, out of the blue,
The weirdest of sounds - is that a kazoo?
Clicking and trumpets - it's echolocating!
I blush as I realise the narwhal are mating.
This water is dark but something quite bright,
Is there in the distance, he's fluffy and white.
He cuts through the waves, I'm struck with awe,
He could tear me apart with a singular paw.
With icecaps a-melting this vision is rare
The muscly stock of a huge polar bear.
His fur looks so cosy, a snuggly coat,
In the fiercest of water, he's toasty afloat.
These sights are delightful, almost arousing,
Yet back in my room sits my Nauticam housing.
I'm kicking myself, my stomach all knotty,
My imagined entries in this years W-POTY.
From the ship I'm now seen, I'll admit I'm relieved,
This tale I will tell, but unlikely believed.
Soon from the sea, I'm about to be plucked,
'Awesome' I think, 'but one part of this sucked':
My shivering body, freezing cold skin,
Icy blue fingers and head all-a-spin,
There's something I've learnt: cold water's a brute,
If only I'd worn an O'Three drysuit.
Sponsored by O'Three
The journey through the entries of the SCUBA Shorts writing competition continues. SCUBA's winner had been revealed in the January 2021 issue which can now be read online.
The winner will receive the much-praised new TriLaminate drysuit from this competition's official sponsor, Portland's masters of drysuit diving, O'Three. This is a prestigious, premium quality suit from a respected company with a proven track record in keeping divers warm and dry in the most demanding environments.


This SCUBA Short article was originally published in SCUBA magazine, Issue 107 October 2020.

Images in this online version may have been substituted from the original images in SCUBA magazine due to usage rights.