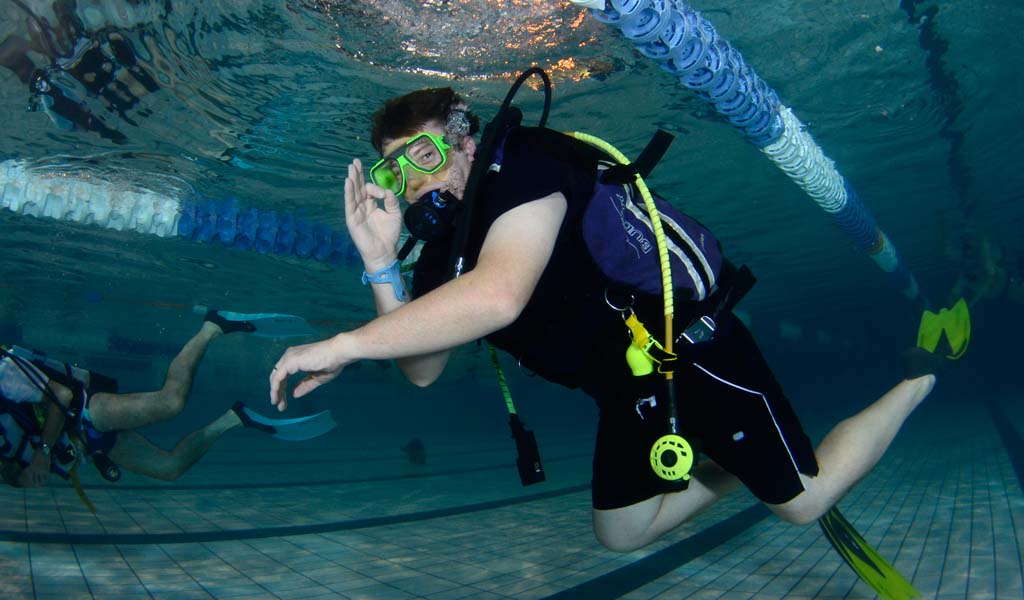 Adam Robinson recalls the series of events that led to him taking up diving.
After a manic day at work, I was drained of all energy, suffering anxiety attack after attack. 'Put the window down and get your breath,' I thought just as I drove past my in-laws, then I noticed a RIB parked up the drive so I popped in to see what was going on, also knowing my anxiety would drop soon as a brew hit the lips.
Despite seven years of knowing my father-in-law, I never knew he was a diver (it is strange – I know). I found myself engulfed by his stories of dives and the underwater world. After a long pause dreaming I was aqua man, I heard the question – "would you like to come along to my club for a try dive?"

My anxiety suddenly returned, flowing over me – 'not a chance' was my first thought. Suddenly my phone rang, and an excuse came to mind. It was my wife calling to explain that World War 50 was over in the house but 51 was on its way. I looked at my father-in-law, preparing my excuse and asked him when we would be going. But he was quicker than me – "Right now," he said. "Nip upstairs and get some shorts." I left it to him to explain to my wife and off we went.

After a fantastic brief from the Training Officer, I found myself at the pool, my anxiety levels at their highest in years. I was even struggling to breathe, but I heard the words "get in, Muppet" from a familiar voice, and I thought, 'okay, you can do it... one toe in... you can't bail out now.' Then – splash – I was in the water.

We kitted-up and then came the words "slowly... down you go". I had so much doubt but I went down on my knees and the water slowly covered me until I was fully under. I could breathe! My first thought was how quiet and peaceful it was with just the sound of the regulators.

Next, I was floating. The weightlessness and sense of freedom overcame me, my anxiety had gone and I felt utterly free.

Fast forward through four months of training with the greatest group of people I could ever wish to meet and here I am standing on a jetty. My anxiety has gone, I'm about to take my first quarry dive and the memory of that first dive comes flooding back. I smile, thinking how far I've come... then I hear the words – "are you getting in?" I turn to see my supportive wife cheering me on… splash! The water covers my face… let's do this.
Sponsored by O'Three
The journey through the entries of the SCUBA Shorts writing competition continues. SCUBA still haven't picked a winner, so these entries are all in the running to win an O'Three 90-Ninety Tri Lam Drysuit worth £1,795.
The winner will receive the much-praised new TriLaminate drysuit from this competition's official sponsor, Portland's masters of drysuit diving, O'Three. This is a prestigious, premium quality suit from a respected company with a proven track record in keeping divers warm and dry in the most demanding environments.


This SCUBA Short article was originally published in SCUBA magazine, Issue 107 October 2020.

Images in this online version may have been substituted from the original images in SCUBA magazine due to usage rights.