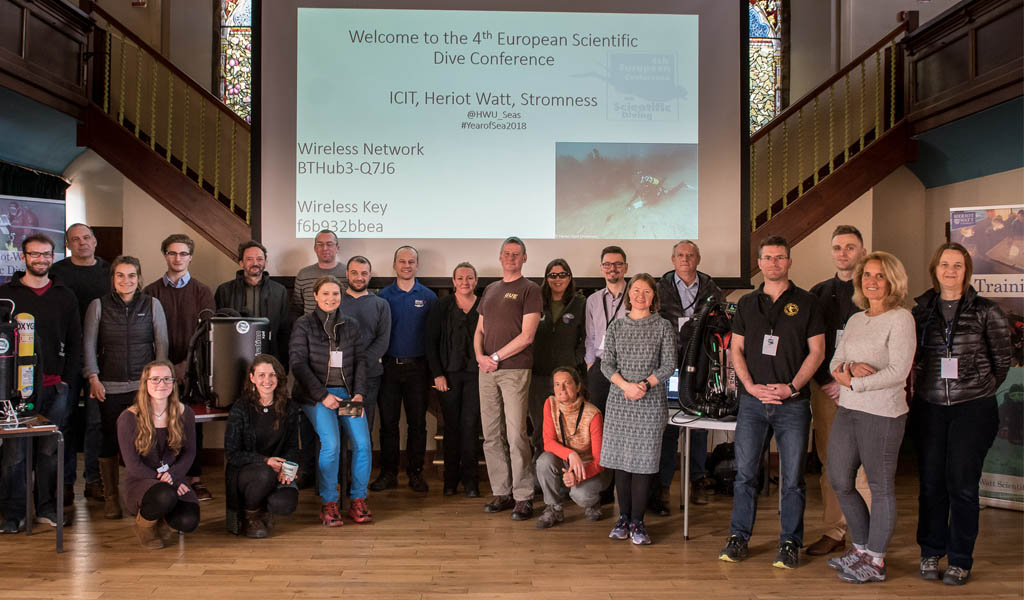 Heriot Watt University in Orkney recently hosted the European Conference on Scientific Diving with a theme of citizen science.
Dr Joanne Porter who organised the event invited representatives of a number of training agencies who would usually more likely be seen at the recreational/technical dive conferences. Rich Walker from GUE UK, Tim Clements from IANTD UK and Vobster Marine Systems and Andy Hunt from BSAC.
Kieran Hatton of Diving in Depth and Dr Richard Shucksmith were keynote speakers and treated delegates to some great underwater photography and the trials and tribulations of getting them.
A whole range of papers were presented on topics from HMS Vanguard, Ghostfishing, CCRs in Scientific Diving, Seasearch, Caves of St Kilda and North Rona, Native Oyster population restoration, Importance of Horse Mussel beds, Shipwrecks and Underwater objects of the Southern Baltic, Cave Diving in Italy and Human Factors in Diving.
Diving was organised by Bob Anderson the skipper of MV Halton and Andy Hunt the BSAC Expedition Officer with assistance from the North East Region Coaching team who brought up a RHIB to help showcase the Scapa 100 project and demonstrate to an international audience in practice how volunteer teams can contribute to bigger diving projects.
As well as showing off to our international guests some of Scapa's favourite dive sites, the team dived a range of unknown Scapa scrapyard sites based on information provided by Sula Diving to provide them with information for a Phase 2 of Project which is currently running in 2018.
More details to follow in due course on both the Scapa 100 project and the BSAC contribution.
The next scientific diving conference is planned for May 2018 in Poland.
Thinking about learning to dive, or already a qualified diver?
Send your postcode to hello@bsac.com and we'll help you to find the right club for you. Or if you fancy a chat call us 0151 350 6226 (Mon - Fri, 9 - 5:30).