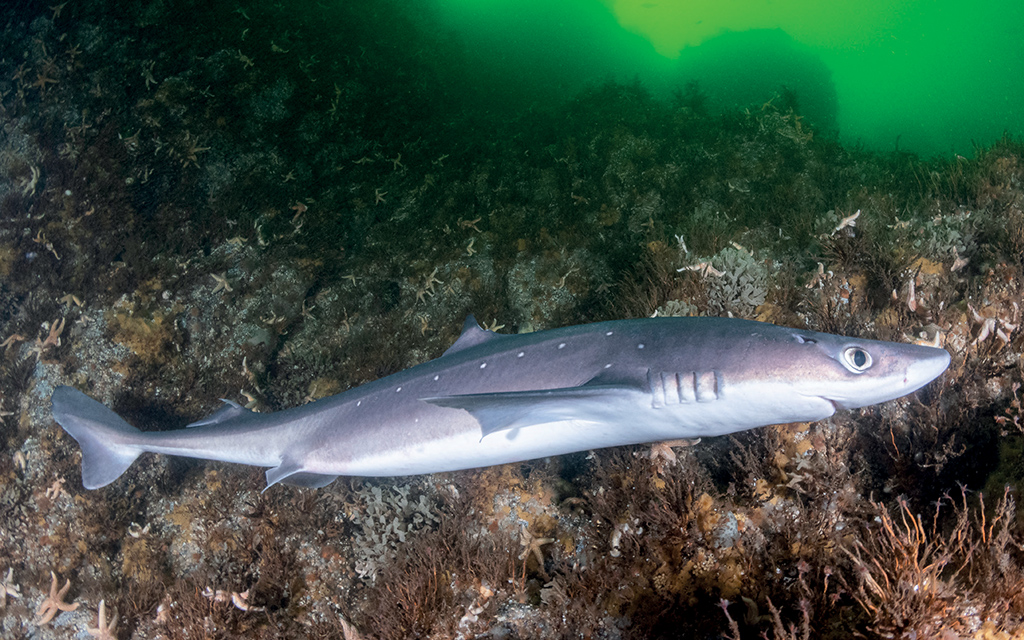 High energy hotspots… diving in current or tide is not for the faint hearted or inexperienced, but it has its advantages, says Kirsty Andrews.
As divers we are lucky enough to be able to explore a hidden world which very few have experienced; we visit the ocean realm. Even we, though, see only a fraction of what is below the surface. We generally stick close to shore and are limited to diveable depths. More than that, we choose our moments to descend, when the sea is at its most placid and welcoming; when the currents and tides have slackened to their calmest and diving is safest.
Have you ever wondered what your favourite dive sites look like beneath a turbulent storm, or at peak water movement? I wonder if we'd recognise our favourite spots when they are thrown about by surge and current. How do the bottom dwelling animals manage to cling on, and what mid-water schools fly by in the fast-moving waters, that we will never see?
In 'high energy' locations, different life proliferates. Only the hardiest seabed hangers-on survive
Increasingly I find myself drawn to challenging locations: areas where due to some natural phenomenon such as funnel-like topography, a lot of water is squeezed into a small space; where divers dare not enter the water, white water kayakers or surfers might better enjoy themselves. These spots take careful planning and safety precautions; dives here are at the mercy of moon and tide and the vagaries of weather conditions. They may not be as long as my usual meanders, but they will be worth it nonetheless. Because in these 'high energy' locations, different life proliferates. Only the hardiest seabed hangers-on survive, but if they can persevere, they prosper in great volume and diversity, with so many nutrients flowing by. Colourful sponges, sea squirts and filter-feeding barnacles cover every inch of sea walls that have been moulded into dramatic shapes by strong currents. Big ticket wildlife such as seals or sharks are unperturbed and even attracted by the feeding possibilities presented by pelagic life passing by. The ever-increasing current holds no fear for them.
If working from a boat, surface marker buoys and eagle-eyed boat cover are needed to monitor us as we drift by. Clear communication and a firm commitment to a pre-agreed dive plan are also essential. Shore dives in tidal hotspots are also possible, but require just as much careful planning to ensure that we can enter and exit safely as planned during the brief dive windows the tides allow. If we overstay our welcome down there, it's definitely better to be drifting past an alternative exit point than out to sea, for example, so we must be clear which way the tide will run.
Further afield, in places such as the Maldives or the Galapagos, drift diving is a key part of the dive itinerary. In these hotspots, where it is safe to do so I have deployed a 'reef hook' to anchor myself in place while incredible wildlife drifts effortlessly past me. I have yet to attempt this in a UK reef which is not laid out quite as conveniently for this tactic - but maybe one day. From select English gems on the South Coast to the Menai Strait in Wales to the Falls of Lora in Scotland's West or the blockships in Scapa Flow to its North-East, opportunities abound and I urge you to seek them out. These dives are worth the endeavour.
Article 'High energy hotspots' by Kirsty Andrews first published in SCUBA magazine, Issue 131 December 2022.